Library opens a cross-disciplinary Collaboratory space
Ryerson Library creates new forum for student and faculty collaborative learning and research
November 14, 2017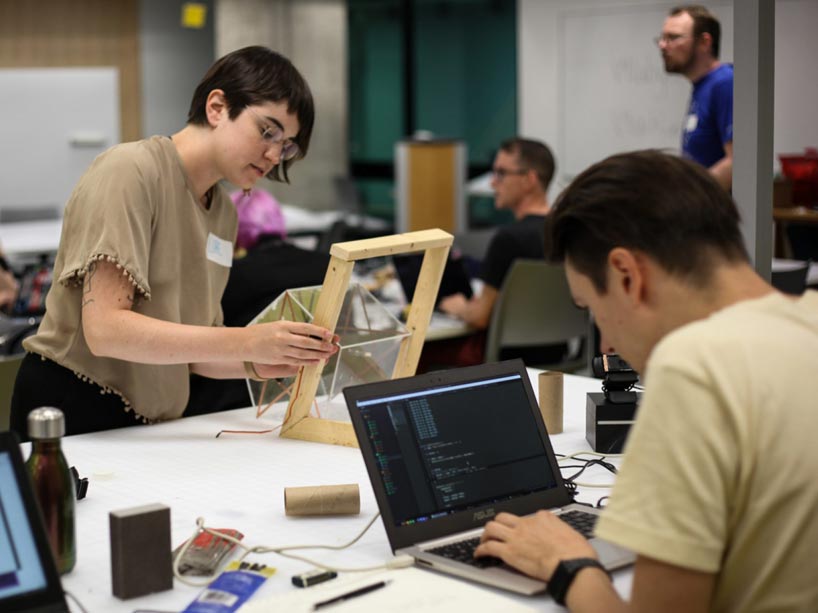 Ryerson's Library has created a new space for developing research projects, facilitating transdisciplinary collaboration and knowledge sharing about the next generation of technology.

Currently in its pilot phase, the Ryerson Library Collaboratory was created to provide a new area for faculty-supported technology-based learning projects with students, and resources for researchers who may not have their own lab to engage with emerging technology. Located on the third floor of the Library, the Collaboratory is a 21st-century space that embraces the Library's core values.

"This is a modern academic library space," said Fangmin Wang, head of Library Information Technology Services. "The Library always plays a very important role to support teaching and research. The core of the Library is about interdisciplinary resource-sharing, and about supporting knowledge-sharing and expertise-sharing. Our chief librarian, Carol Shepstone, sees the Library as a hub of community, and about integrating research with teaching and learning. That's the kind of concept we're developing."

The lab's facilities include 3D printers, a CNC (Computer Numerical Control) machine, external link, vinyl cutter, VR/AR equipment, high-end computers, and a digital embroidery machine, external link. Library staff are presently being trained to use the equipment. In addition to providing workspace, the Collaboratory's programs will include tutorials, workshops and consultation. The facilities are open to researchers from across the university: "We have a digital embroidery machine, and by placing it here, all faculties—not just the School of Fashion—are able to use it," said Marissa Frosst, community engagement and digital innovation facilitator.

The Collaboratory builds on the Isaac Olowolafe Jr. Digital Media Experience (DME) Lab, which gives students access to emerging technologies. "What we needed was a space where faculty and students could come together, in a shared space, and explore ideas—building those skills collaboratively," said Early Childhood Studies professor Jason Nolan, director of the Responsive Ecologies Lab and chair of the Collaboratory's faculty advisory committee. The Collaboratory is already home to several notable research projects, including the El-Hibeh digital archaeology project and eCampusOntario's Open Textbook Publishing Infrastructure Project.

For Nolan, the Collaboratory represents the logical continuation of the Library's mission.
"The mandate of libraries is to help people get access to ideas, and the curriculum and pedagogy of libraries have existed longer than the modern university has," said Nolan.

"Libraries have always been informal learning spaces directed towards the goals and interests and needs of people coming to the library. You don't go to the library and they tell you what to do; you say, 'I'm interested in this,' and they support you and provide access to resources."

Learn more about the Ryerson Library Collaboratory, including how to apply.