A culture shift in academia
Grad student invites Indigenous Elders to her research defence about disability services in First Nations communities
October 26, 2017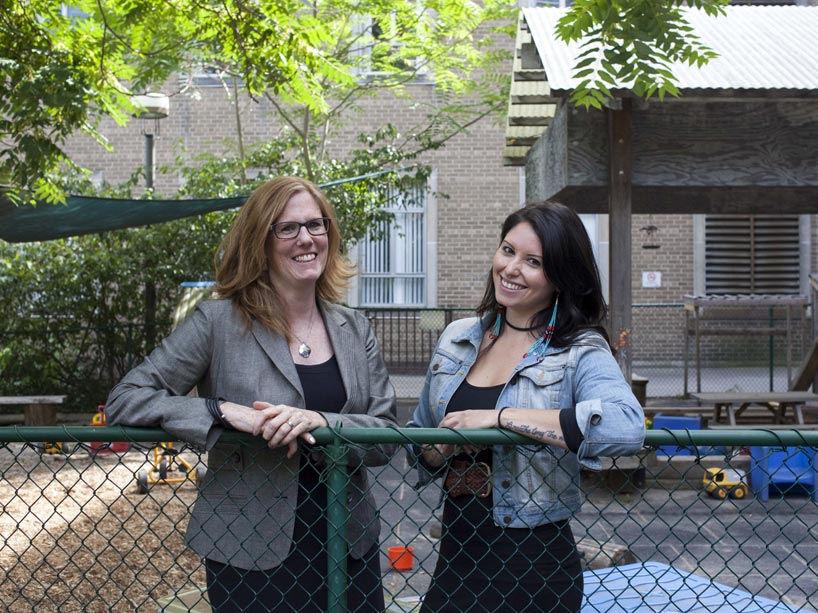 Like each member of the Elders Council for the District of Temiskaming, Marie Boucher has a unique role: she provides spiritual guidance and support to Indigenous people in the region who seek out her assistance. So, when Ryerson graduate student Nicole Ineese-Nash, Early Childhood Studies (master's) '17, a member of Constance Lake First Nation, asked the Elders Council to review her research on Indigenous children's experiences with disability support services, Boucher knew the process would create a strong emotional bridge between the two generations.
"It was a great honour to be in Nicole's presence [at the defence presentation] and to see how much she has achieved," Boucher says.
Last August, Ineese-Nash presented the findings from her major research paper (MRP) for her master's degree in Early Childhood Studies (ECS). Except, instead of defending her research in front of a few faculty members at Ryerson, she spoke in Temiskaming to a group of 20 people that included not only academics, but also her loved ones and local community members.
The location and audience weren't the only unique aspects of Ineese-Nash's thesis defence. The presentation also featured an opening prayer, song and cleansing smudge ceremony. What's more, rather than choosing a single second reader to sit on the oral examination committee, Ineese-Nash chose the six members of Temiskaming's Elders Council – Boucher (Matachewan), Mario Batisse (Matachewan), Marilyn Chevrier-Willis (Temiskaming First Nation), Marcia Brown-Martel (Beaverhouse First Nation), Tom Wabie (Beaverhouse First Nation) and Lilianne Ethier (Metis Nation Temiskaming Community Council).
Ineese-Nash's research presentation focused on her home Oji-Cree community of Constance Lake First Nation in northern Ontario. Ineese-Nash grew up in Toronto and so her research furthered a journey of renewed relationships with the land, the culture, and the people of her First Nation. Her work, along with the partnership established through the Elders Council, also marked a shift toward embedding the Truth and Reconciliation Commission calls to action into a multi-university research initiative led by Ryerson ECS Professor Kathryn Underwood.
The Inclusive Early Childhood Service System (external link) (IECSS) project has partnered with municipalities and service organizations in five Ontario communities – Constance Lake First Nation, the District of Temiskaming, the cities of Hamilton and Toronto and Wellington County – to understand disability in early childhood from the viewpoint of parents and other caregivers. The initiative, which is funded by the Social Sciences and Humanities Research Council of Canada, explores how early childhood institutions look at disability and how disability services can contribute to a positive view of disability in childhood from the perspective of families.
Through her research, Ineese-Nash learned many Constance Lake First Nation children and their families must leave the area to access disability support services. And often, those services aren't culturally appropriate or culturally safe for Indigenous families.
"The inclusion of Elders honours their traditional knowledge as equal to, but different from, the knowledge held within the university," says Underwood, who notes Elders have also been on dissertation and thesis committees at other Canadian universities.
Hosted by the Temiskaming Native Women's Support Group, with whom Underwood has had a relationship since 2009, the Elders Council guides the design and analysis of the larger study and how information is disseminated from Indigenous participants.
"I wanted the Elders Council's cultural perspective on child development and disability. I also wanted to ensure that, because I was using their ideas, I was being accountable to them and honouring their perspectives in a genuine way," says Ineese-Nash, who graduated in October and received two of the university's top honours – the Board of Governor's Leadership Award and Medal, and the Ryerson Gold Medal.
Ineese-Nash will continue on with the IECSS as a project co-ordinator. Her research, though, has already made a difference. Last summer, it was included in a formal policy brief the IECSS submitted to the Canadian National Engagement on an Indigenous Early Learning and Child Care Framework.
The engagement process aims to co-develop a federal framework with Indigenous Peoples that reflects the unique cultures and needs of First Nations, Inuit and Métis children across Canada.
Indeed, inclusion and reciprocity are critical parts of the research process in Indigenous communities, says Lynn Lavallée, who served as chair of the oral examination panel. A Ryerson social work professor at the time, Lavallee is now the University of Manitoba's first vice-provost of Indigenous engagement.
"This isn't 'helicopter research' – it's not about going into these communities and taking away information," says Lavallée. "It's important for the research to have a positive impact in the community and for the community to see how much the student has grown and learned. Similarly, it's important for the student to give back to the community."
For all those reasons, Arlene Hache, an IECSS researcher selected by the Elders Council to serve as a bridge to a non-Indigenous worldview, applauds Ryerson's openness to an innovative thesis-defence model. "The Elders felt confident in their traditional leadership role, and in the end, Nicole received a university education on traditional culture in addition to her master's degree from Ryerson," she says.