A 21st-century library
New librarian Carol Shepstone envisions Library as a forward-thinking community hub
October 24, 2017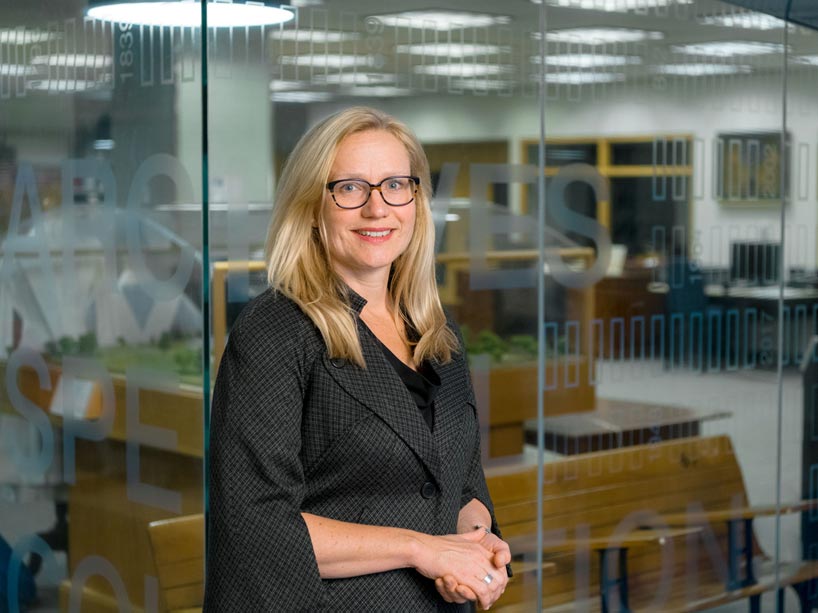 In 2015, the opening of the Student Learning Centre announced the next generation of academic libraries. As the way we create and share knowledge and information evolves, Ryerson's Library & Archives will continue to evolve too. As Carol Shepstone begins her tenure as Ryerson's new chief librarian, we posed the question: What is the role of the library in the 21st century?
In some ways, the role of the library has remained a constant. "The library really is that space for all and a place where learning and research come together and ignite," said Shepstone. "I see it as this wonderful intellectual hub—this great space of ideas coming together, and that exchange creates a spark of new knowledge."
Knowledge is eternal—but the way we exchange that knowledge changes. Shepstone wants the Library to continue as a space to experiment with new technologies. "One of the things that really interests me about Ryerson is the research mandate, and being able to connect and support the research mission of the institution in a more integrated way," she said. "At the Library, students will be able to work with information and data in all its forms—whether video or audio, text, data, or anything in a hands-on way, like in the Isaac Olowolafe Jr. DME Lab, where you're able to explore and work with all sorts of new tools and technologies and information. It's connecting that experiential learning, back with the research mandate, in a very natural progression."
Carol Shepstone has worked in academic libraries for more than 18 years. At Calgary's Mount Royal University, she was a leader in planning the Riddell Library and Learning Centre facility. She has also worked at the University of Saskatchewan, the University of British Columbia, and the UBC Museum of Anthropology. She currently serves as vice-chair of the Canadian Research Knowledge Network and is looking forward to joining the Council of Ontario University Libraries (OCUL).
Shepstone was drawn to Ryerson by its location in downtown Toronto, and the diversity of its community. "The mandate of a library—the opportunity to be that knowledge-sharing hub—is really interesting when you have this location in the city. There's a real sense of the campus engaging with the adjacent Toronto community, and I think there's great potential for the library to be a place where that engagement happens. There's great opportunity for experiential learning to thrive here."
She was also compelled by Ryerson's forward-thinking, multidisciplinary approach to education. "It struck me as a really innovative institution. I'm excited about the team in the Library and Archives, and about being able to build on that sense of enthusiasm and potential that the campus just seems to exude. There's a real enthusiasm for innovation.
"In academic libraries we keep transforming and evolving—certainly as information changes and our universities change, but I think that the nexus, that hub, that spark of ideas and knowledge-creation and knowledge-sharing has always been part of libraries."
For more information about the Library, visit Library & Archives.
*
Related Stories:
Carol Shepstone appointed Ryerson's next chief librarian
The next generation of library
Seven things you didn't know were in the Archives & Special Collections