From the military to the classroom
Canadian Armed Forces veteran Chris Munro helps other veterans transition to university
September 19, 2017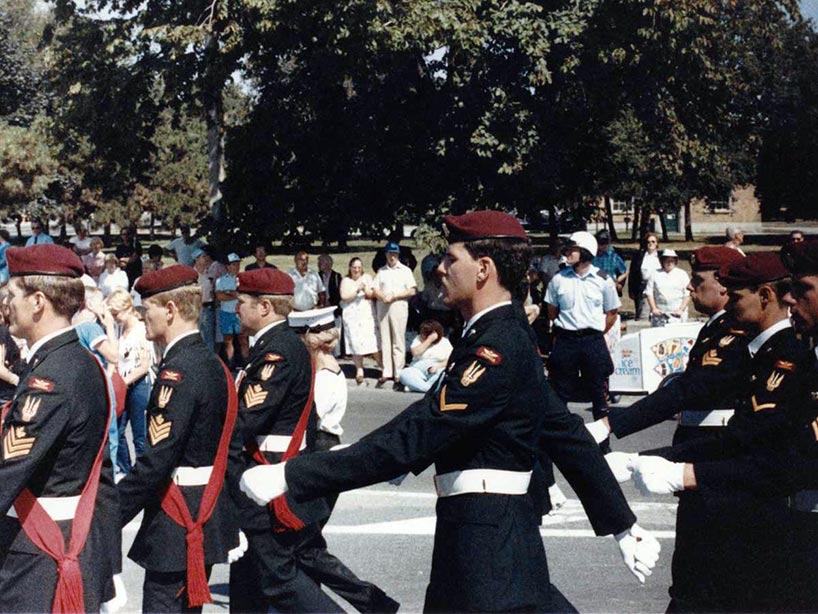 Chris Munro was 17 years old when he joined the Canadian Armed Forces, participating in Canada's 1980s peacekeeping missions for the rest of his early adulthood. When he left the forces in his 20s, he was in for a shock: "I didn't know how to write a cheque. I had no idea how to set up a bank account, or do any of these things we all take for granted. So I felt completely isolated."
At age 53, Munro is now a Master of Social Work student and a graduate from Ryerson's Spanning the Gaps (opens in new window) program, where he is now employed as a Veterans Transition to Education (opens in new window) co-ordinator. The new program offers a support structure for veterans transitioning from the military to a new career. Munro knows from first-hand experience how hard the transition can be.
"When I got out, I don't think I said 100 words for two years to anybody," he remembered. "The amount of anger and hatred… I was an airborne soldier, the best of the best, with the best training. By the time I got out and realized I wasn't qualified to do anything, I was working as a shipper/receiver at Sears and I just didn't talk. And nobody talked to me: 'That guy, don't talk to him, he'll kill you…'"
Munro took a long road to Ryerson. He enrolled in trade school, eventually building his own successful company, North Oaks Renovations, which he later passed on to his first employee. But after the breakdown of his marriage left him a single parent raising two young children—a situation made more difficult by post-traumatic stress disorder and addiction issues. A negative experience with a misogynistic divorce-support group led him to develop a program in The Men's Divorce Group focused more on personal responsibility.
A turning point in Munro's life came when he was reunited with his long-estranged biological father—who, it turned out, lived a block away. He was also a professor in Ryerson's philosophy department, and became one of the many people to encourage Munro to explore higher education.
"I was a street kid—I was not even 15 when I left home," said Munro. "You never believe that you're very smart. You're a survivor, you can navigate the streets, you can navigate your own survival, but something like this is completely unattainable. I didn't do well in school when I was young, so I didn't think I had what it takes to be in academia."
That perception changed when he enrolled in Spanning the Gaps in 2011 and took his first course with instructor Jenny Sampirisi. "Her course gave me enough encouragement to go on to the next course, and then the next course, and then into undergraduate. All the while, people are telling me that my life experience does count, which I completely didn't believe.
He started his undergraduate studies in 2012, and earned his Bachelor of Social Work degree. As a graduate student, his research deals with the culture shock of transition for veterans. "It's one thing to spend millions of dollars to train a soldier; it's another to spend very little after the fact. A soldier has to go into Veterans' Affairs and beg, cajole, and threaten legal action to get services, which is ridiculous. With my research, I hope to advocate for that group."
At Veterans Transition to Education, he's using his experience to break down the psychological barriers that he remembers facing. "You've got that male macho bravado that says, 'I will not ask for help. I will pick myself up by my bootstraps.' A lot of veterans when faced with coming to school will think there are too many hoops to jump through, and say, 'Too much—I'm out.'
"I think anybody who has gone through military training would do very well in school," he continued. "You have to think on your feet; you have to be disciplined; you need time management. … You also having a wealth of empirical knowledge. When I was learning theoretical concepts in a classroom, I had real-life experiences to compare and contrast, which allowed me to engage with the material on a very deep level."
He has also discovered that no matter when or where they served, he shares a shorthand with veterans. "It doesn't matter whether someone's an admin clerk who never left camp, or someone who's done three tours in Afghanistan, or someone who got out 25 years ago.
"When you get a group of soldiers together, we slip into a speak, and I watch everyone in the cubicle farm look over and say, 'Boy, they sure are swearing a bunch…'"
*
From September 23-30, Ryerson's Mattamy Athletic Centre will be one of the venues for the Invictus Games, a sporting event for wounded, ill, and injured active duty and veteran service members. Events at the MAC include competition finals for indoor rowing, powerlifting, sitting volleyball, wheelchair basketball and wheelchair rugby. Tickets are now on sale (external link, opens in new window) .
As part of the Invictus Games, The Chang School will offer career advising sessions for veterans at the Veterans Career Summit, held at the Sheraton Centre (123 Queen St. W.) from September 28-29. Spanning the Gaps staff members Wincy Li (program co-ordinator) and O'neil Edwards (program director) will be on hand as advisors, and Dean Marie Bountrogianni will moderate a panel on September 29, 1-2 p.m.