A broker for the north
Ryerson Prof Judy Finlay leads advocacy effort with First Nations communities
September 21, 2017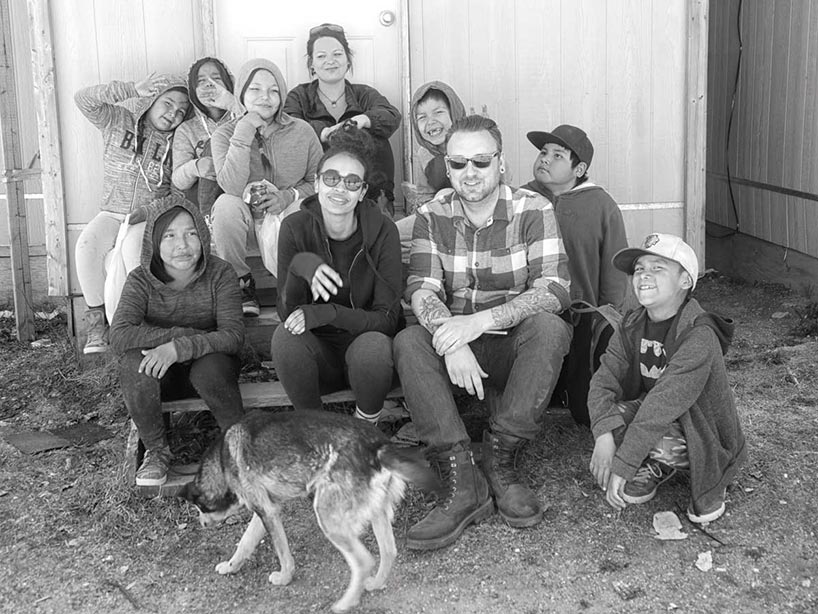 Judy Finlay has been visiting and advocating for Ontario's northern Indigenous communities for over 30 years, but a word like "ally" doesn't quite describe her role. "It's not like you can just drop into a First Nations community and say, 'I'd like to partner with you,'" said Finlay, professor and graduate program director in child and youth care for the Faculty of Community Services (FCS).
"When I asked a chief that I have known for a long time 'How do you see me—as a person coming into this community?' He calls me a broker. I broker the world from the south to the north, and the north to the south."
In 2010, she initiated Mamow Ki-ken-da-ma-win: Searching Together, a five-year project with 10 co-investigators across four institutions, that looked at the social determinants in First Nations communities, funded with a $1 million Social Sciences and Humanities Research Council Community-University Research Alliances grant. Now in phase two (with an additional $223,000 in funding from Ring of Fire Secretariat, Government of Ontario) the team led by herself and Shelagh McCartney, professor in School of Urban and Regional Planning in the Faculty of Community Services, is examining what resources these communities need to achieve wellness—on their terms.
"It was looking at what the outside world would term the 'social determinants' of health, and what we quickly understood from the community is that that's not the language they use," said Finlay. "We don't do 'research' because they've been researched to death and feel taken advantage of. So, it was a dialogue with the community, and very quickly it became about their priorities."
Finlay and McCartney have led four trips this year to visit Nibinamik First Nation—a reserve of approximately 500 people that is in a state of emergency. In just this past summer, the community (600km north of Thunder Bay) has gone without power after a hydro tower fell on a transformer; was evacuated due to nearby forest fires; has lost their food storage from hunting for the winter due to these incidents; and has seen multiple suicides and suicide attempts from its younger members.
"There's no high school in the communities in the north," said Finlay, "so young people at the age of 13, 14 have to leave their community, leave their language and culture, and go to another community in the south—usually Thunder Bay or Dryden—and go to school. Alone. They're already way behind in terms of their academic experience, and they're terrified of leaving their communities and families at such a young age."
Finlay and McCartney have partnered with the community to create a "wellness index," though the community calls it the beginning of their "roadmap to healing." Their priorities include basic rights that many of us take for granted: access to education near their homes, health care and clean drinking water that comes out of the tap; food security; preservation of their language and culture; more employment opportunities; responsible partners to foster economic development; protection of the land; resources to support grieving families; and the ability to keep their children within the reserve.
The project has been a learning opportunity for Ryerson students and graduates, including the 10 who have accompanied Finlay, McCartney and their core team during the last year on trips to Nibinamik. Nicole Ineese-Nash, a 2017 Faculty of Community Services graduate and current research assistant of Cree and Ojibwe heritage who is a band member of Constance Lake First Nation, observed, "You're always learning—there's never an endpoint—and every trip up north has its own challenges and rewards. I got involved because I wanted to do work with First Nations communities, especially in my home community, and this has taught me how these communities are very far apart, but also very connected."
"On one afternoon, we came together with the youth council for a community healing walk," said Sabrin Hassan, undergraduate student. "It was nice to see the community rally behind these youth. The Elders opened it with a prayer, and everyone was in the circle holding hands for a prayer, and the young people spoke about being disconnected from the Elders due to loss of language, and at the end it came back to that same place with the Elders. For me, that was the most transformative moment."
The team is raising money for a student and youth-initiated partnership to fund the production of a film screening and musical fundraising event at Ryerson University. The film screening fundraising event will bring together Indigenous musicians and artists from across the province to increase awareness of youth suicide in the community. The film is by and of Nibinamik youth, sharing their experiences and feelings of hope in order to reach peers who may be facing challenges, letting them know that they are not alone. All funds raised from ticket and auction sales will go directly to the community to support the youth suicide prevention initiative and for healing initiatives within the community. It will also help support youth retreats, which the community will use to teach traditional knowledge and facilitate healing. The fundraising link can be found here, opens in new window.

"It will bring to the community—not just the money, but also the fact that there are many people out there who genuinely care," said Sherry Prenevost, a photographer and member of the core team. "It's going to bring opportunity for some rebuilding, and if there's any way, after the loss of a child, give them some sense of momentary hope or a feeling of support."
"We have a responsibility to our First Nations people," said Finlay. "Their living conditions have been imposed on them. I'm not talking about reconciliation, because our work and this event doesn't even come close, but it's a way to begin to give back, honour, support, hear, listen and learn."