How to be a student entrepreneur
Can you balance school with a startup? Two students give advice
August 25, 2017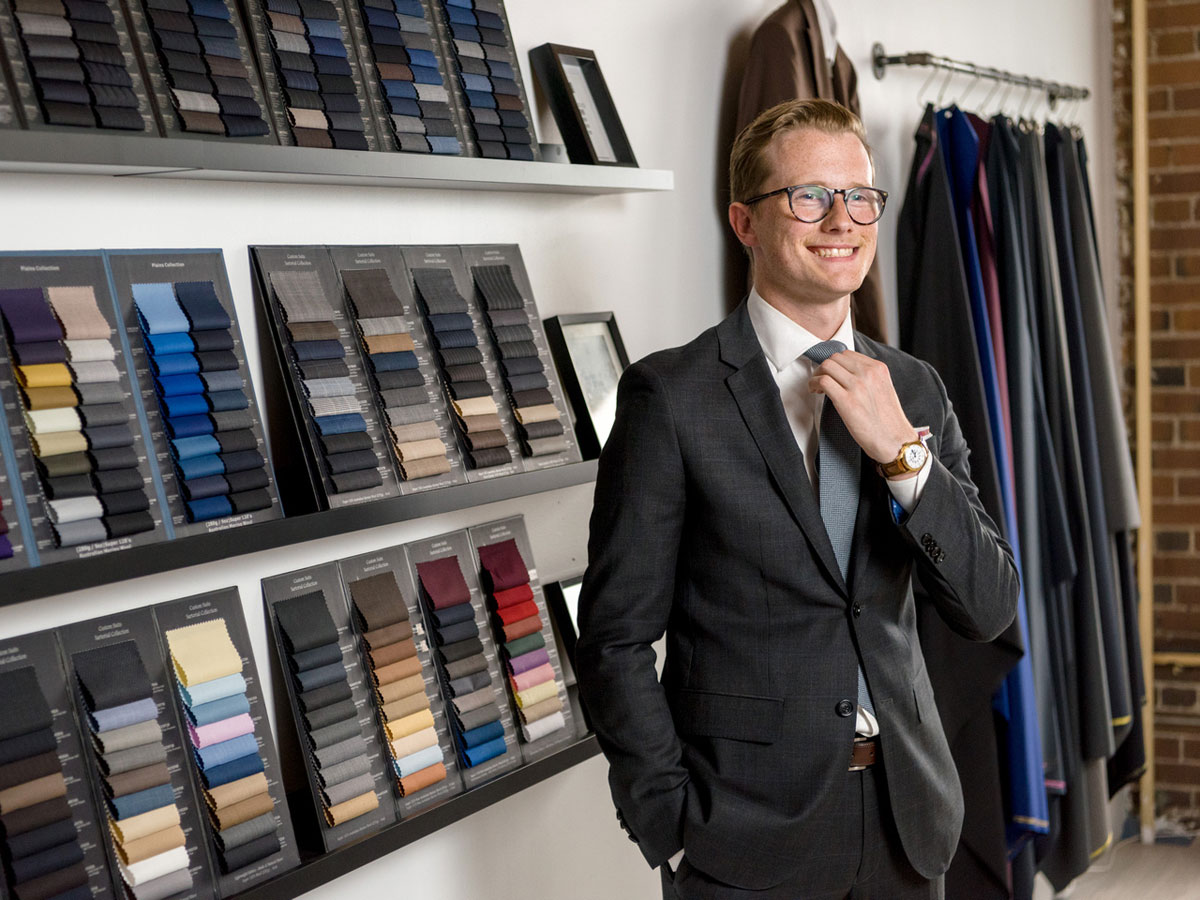 Is it possible to be a student while also running a thriving business? That's the case with two students at the Ted Rogers School of Management.
First: Noah Parker, a business management student (graduating in October) and creative director of the menswear startup Four Fifty Five, external link. The business, conceived as part of Parker's entrepreneurship capstone course, specializes in quality, affordable suits and accessories, tailored in a friendly, personal environment. Incubated in the Fashion Zone, external link, the business is now located at a boutique-style studio at 90 Ontario Street.
"The niche comes from people who can't afford this clothing from the status quo, and what we saw was a big lack of customer service in the industry," said Parker. "We try to make it quick, easy, and affordable with a great product, but also focus on what clothing shopping used to be like. Everyone in this business wants to be the next big thing, but up until 20 years ago, people wanted to go to that one guy who made really good suits. You'd go to somebody and they'd tell you what looks good on you, and then they'd make it."
Second: Blawal Aleem, a business technology management student (also graduating in October) and CEO of Tutourist, external link. Described as an "Uber for tutors," the app connects students with tutors in their area—at all hours, without having to preschedule appointments. The GPS-enabled platform will be introduced at Ryerson, York University, and University Toronto for a beta run from September to December before its release to 66 schools across Canada in January.
Tutourist is unique for its course-based approach, said Aleem. "Most tutoring services are subject-based: you can get an accounting tutor, but during that session there may be material that this tutor may not be familiar with because they haven't taken that course. If you launch Tutourist, you can search ACC100—first-year accounting—and it will connect you with someone who's also taken with that course and is familiar with the professors and the curriculum."
For Parker, the balance of school and entrepreneurship all comes down to keeping a rigorous schedule. "The biggest things that enable me to be so busy are Google Calendar and Gmail. It almost sounds cheeky to say that if you're not always on your email and your calendar you're not going to do well, but: if it's not in my Google Calendar, I won't remember it. Once you fall behind, you don't have the time to catch up, and I'd say you can't take days off."
Parker admits that balancing school and work is not always easy, but also finds that the two spheres can influence each other. "If someone's thinking of taking on a big extracurricular activities or starting a business, I'd say you're going to have to lose the idea of a perfect GPA. But a big piece of my aspirations wasn't a GPA. But I would also say: don't throw away the resources that school offers you because you're too busy. The resources that Ted Rogers School and the Student Society provides students are extremely valuable, and something that when I'm out of school I will miss very much."
Aleem's six-years in undergrad included demanding co-op positions at TD and IBM. "Tutourist was easy to balance compared to balancing a full-time job and a co-op position with school," he said. "I didn't have a lot of trouble balancing, because a lot of my communication's by email, or were downtown around Ryerson."
Aleem advises student entrepreneurs to work hard at your startups, but to also keep it in perspective. "Not every startup is a guarantee, and as much networking and planning as you may do, there's always a risk. Tutourist is looking very good, but at the same time, you shouldn't prioritize a business to the point where you don't have a backup.
"Complete your exams and complete your studies so that if you ever need to work a full-time job, you can do so. If you have those networks and contacts, and you won't have trouble finding a job."
Ryerson University also aids student entrepreneurship through its zone learning network, where Parker's Four Fifty Five was developed. "I would attribute a large part of our success to the incubation at the Fashion Zone," he said. "Before we had this studio, we were only e-commerce, and when people buy a suit, they want somewhere they can go. Having an address on Dundas was great.
"Even the email updates are a constant kick in the butt: people are counting on your business to do well, so you've gotta get going."
For more information about Ryerson Zone Learning, visit zonelearning.ryerson.ca.