Vanier scholarships aid community-engaged student research
Psychology students to explore migrant trauma/resilience, arts-based health programs with government support
July 11, 2017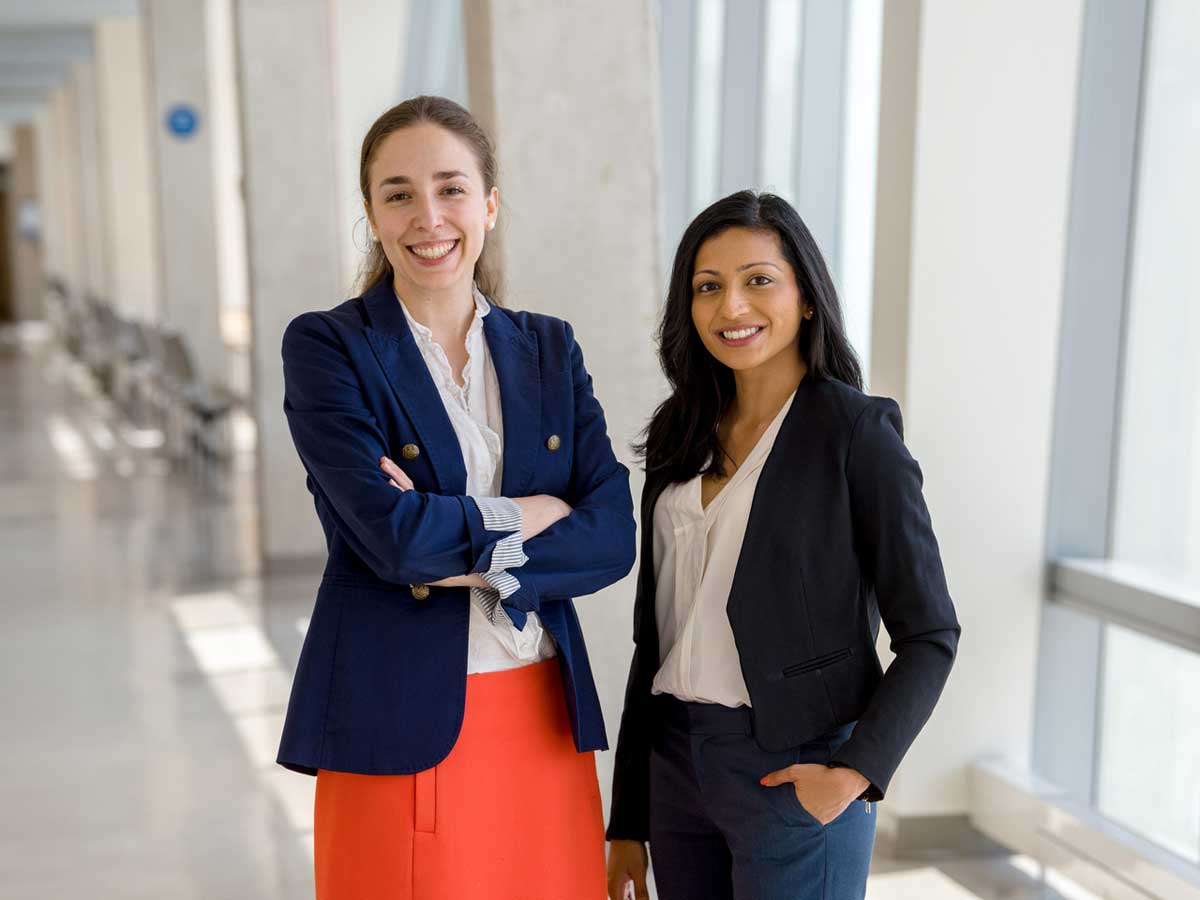 Two Ryerson psychology PhD candidates have received Vanier Canada Graduate Scholarships (external link) to support their cutting-edge research: Fiona C. Thomas, who will study trauma and resilience in post-conflict Sri Lanka, and Rachel Bar, who conducts arts-based health research.
Supported by the Government of Canada, the Vanier Canada Graduate Scholarship program awards scholarships valued at $50,000 per year for three years during doctoral studies. It weighs candidates on three criteria: academic excellence, research potential and leadership.
Fiona Thomas has done academic and fieldwork research with refugees in Nepal and Malaysia, and has accumulated extensive experience volunteering with displaced communities in Canada and abroad. "My family migrated here from the Middle East, and I think that was the beginning of understanding the challenges of relocating and moving countries," said Thomas. "But as I got more involved in that work in undergraduate studies—meeting other first- and second-generation immigrants my age and doing volunteer work—I realized that my family came with that choice. For refugees, there isn't a choice in where they'll be located, and often they don't have a lot of resources."
Thomas is conducting her PhD research as part of a larger project: Integrating mental health into primary care for conflict-affected internal forced migrants in Northern Sri Lanka (COMGAP-S) (external link) .
The scholarship will support Thomas's research in Sri Lanka, where almost 26 years of conflict ended in 2009. "A lot of people who were displaced by the conflict have now moved back to the Northern Province, which was the most affected in the country," said Thomas. "I'll be working with 'return migrants' to try to understand how different mental health issues, in particular trauma, have manifested in that population—and also, how they've coped in their situation." She dedicates the scholarship to the memory of Dr. Chesmal Siriwardhana (external link) , PI of COMGAP-S and her PhD co-supervisor until his sudden passing in April.
A former professional ballet dancer, Rachel Bar has combined her passions for science and the arts, driving dance programs for older and ailing adults with Canada's National Ballet School. "NBS' Sharing Dance for People with Parkinson's Program" engages people with Parkinson's disease in a weekly low-impact dance class, and Bar also co-developed a dance program for people with dementia at Baycrest Health Sciences, a long-term care centre.
Bar will use the scholarship to develop a research study on the benefits of dance programs for people with Parkinson's. The dissertation will use dance itself as a method of experientially understanding/disseminating research.
"When you're present in the class, you see people who were motionless moving and engaging," said Bar about her work with adults with dementia. "I've heard support workers from long-term care facilities say, 'I didn't know she could move like that.' So I'm seeing first-hand that they have dementia, but they still have the capacity to experience joy, and we will be exploring ways to capture this within a research study."
For Bar, the scholarship acknowledges the importance of innovative, outside-the-box research. "My research is arts-based research within the health realm. To see that acknowledged and validated through this award really reinforces that there is support and interest and understanding of the great opportunities the arts bring our healthcare system. That's exciting for me. I couldn't have imagined a clearer statement about this type of work."
A complete list of 2017 Vanier scholars is available online (external link) . Nominations for next year's scholarships are due November 1.