Ryerson's first Trudeau Scholar explores gender and immigration policy
Vathsala Illesinghe researches the intersection between immigration policy and violence against women
July 04, 2017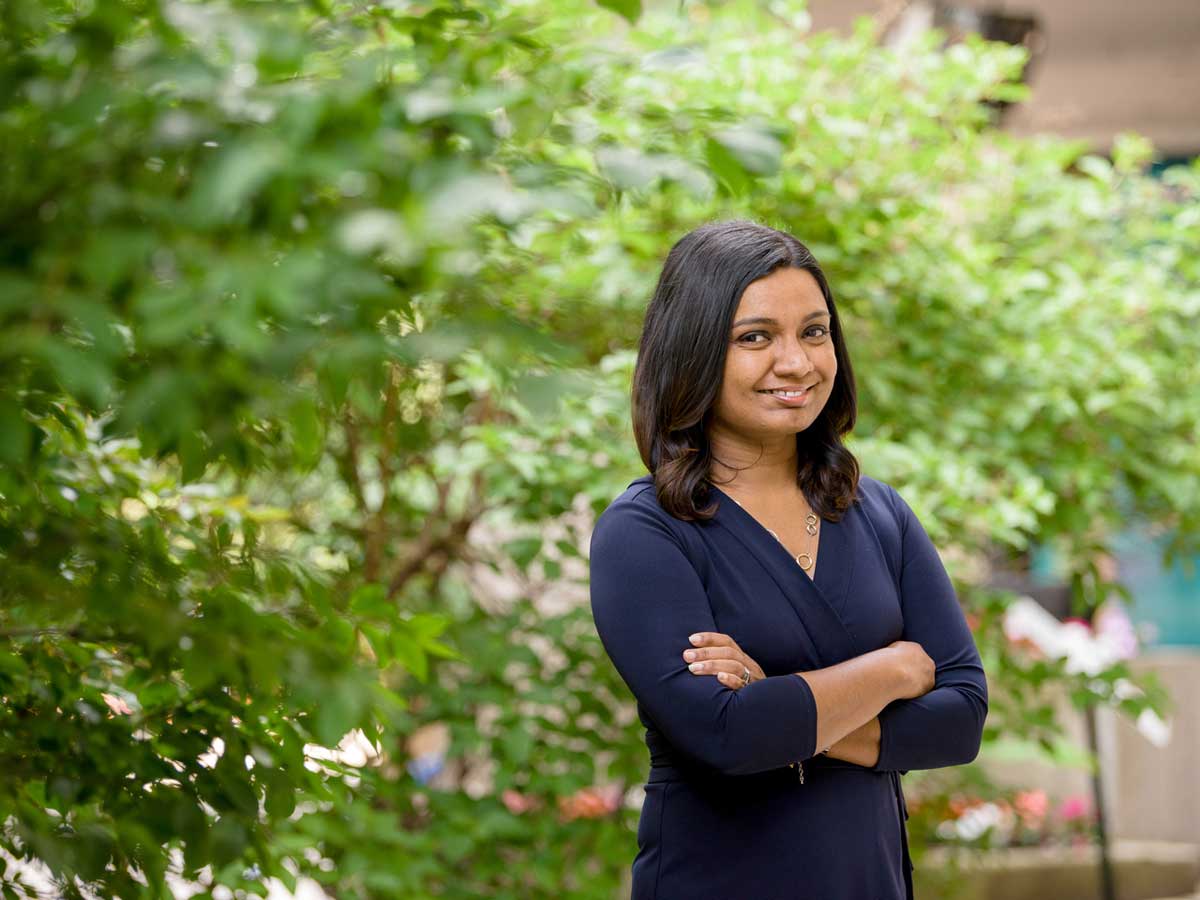 Vathsala Illesinghe has spent her career researching violence against women. This has remained central to her work since moving from Sri Lanka to Canada in 2013, but immersion in the immigrant experience has also given her work a broader scope.
"I've met many immigrant women who have decided, now that their lives have changed, they will adjust their plans and career paths," said Illesinghe, now a second-year Policy Studies PhD candidate at Ryerson. "They will become accustomed to their new life and work, however precarious it maybe, and as a result, find themselves in vulnerable positions, and also remain and become entrapped in them.
In her research, Illesinghe seeks to identify immigrant and refugee women's vulnerabilities: "Not only to violence, but also of becoming entrapped—being stuck in a place where they never imagined themselves to be. In my work in violence against women, I see that this takes away their ability to get out of an abusive relationship. To fully understand immigrant and refugee women's experience of violence and how immigration polices shape that experience, requires a new look at a complex set of, interrelated social, economic, and political factors, in ways that we have not done before."
Illesinghe is one of 15 doctoral scholars across Canada to be named as a 2017 Pierre Elliott Trudeau Foundation scholar (external link) . The three-year scholarship supports students for academic excellence and civic engagement, providing a $60,000 annual scholarship package with a $20,000 annual travel/networking allowance. Illesinghe is the first Ryerson student to receive the scholarship, and the funding will support her research, community engagement, and knowledge dissemination. "I'm planning to collect data both in Sri Lanka and Canada, and look not only at people's experiences, but also at the implementation of immigration policy in a country of origin."
Illesinghe took an unconventional route to academia, beginning her career as a doctor in Sri Lanka. She quickly became frustrated by the limited resources, and the lack of understanding around domestic violence. "I saw women who were facing abuse, coming to the hospital and not getting services. I remember taking them in my own car to the one shelter in the whole province, there was no other service that we could offer at the time. That told me that there has to be a health-sector response to violence against women."
In 2003, she went back to school, and by 2007 had earned a master of science and doctor of medicine at the University of Colombo. She became a prominent academic and activist in Sri Lanka, publishing widely cited papers on violence against women; helping establish care centres in hospitals, leading national committees; co-founding Shanthi Maargam, a non-profit community organization in Sri Lanka for empowering youth; and working with an international community of violence against women researchers.
In her research at Ryerson, Illesinghe hopes to develop a transnational approach to policy-making. "People's lives are no longer set in one country: people move back and forth and remain connected to where they come from. That has not been considered when make immigration policies or when we implement them. I'd like to learn, from a cross border perspective, how immigration policies shape people's experiences—and, as an outcome, how women become vulnerable to violence."
Looking at Canada's immigration policy, Illesinghe sees both progress and areas for improvement. "Removal of the two year cohabiting requirement for sponsored spouses is a positive step. … But, in a points-based immigration system, women in some parts of the world, like South Asia, who don't have access to the kind of work or education that is valued, will still remain disadvantaged before and after migration. In Canada, as a country leading in and shaped by immigration, there is more work to be done."
When asked about returning to school as a mature student, Illesinghe said, "I never imagined I'd go back to school after years of being away from studies, but I felt right at home with others in my cohort in the PhD program in Policy Studies, because it is an interdisciplinary program, it attracted many others who, like me, are going back to school or taking a new career path."
The Pierre Elliott Trudeau Foundation (external link) is an independent charity that grants doctoral scholarships and fellowships, and encourages action in four areas: human rights and dignity, responsible citizenship, Canada's role in the world, and the people and their natural environment. Since 2003, the Foundation has awarded 217 Trudeau Foundation scholarship, totalling $24 million.