Showing true grit off the court
Film studies grad wins sports video award for documentary series on women's volleyball team
Category:
Student Achievement
July 20, 2017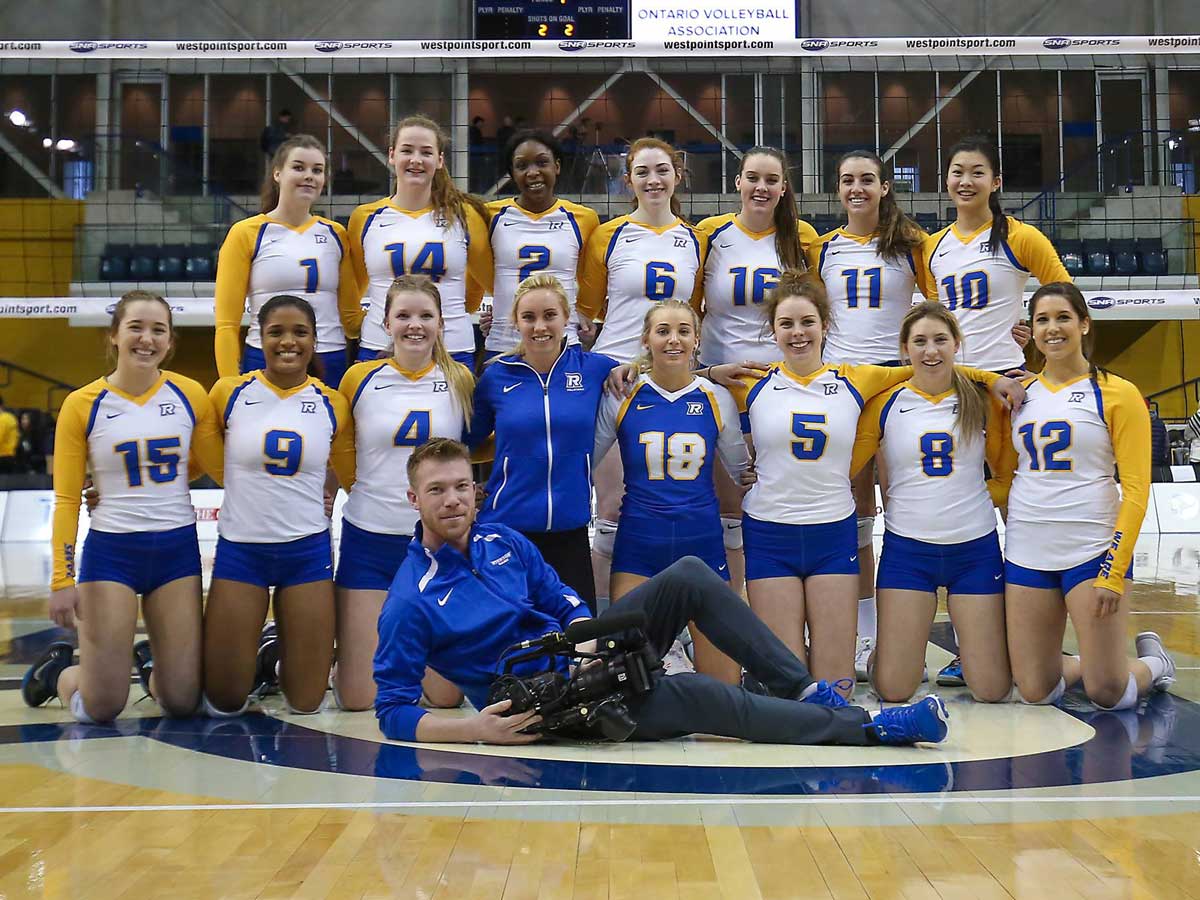 Film studies grad Elwin van Alst is truly proving his mettle in the competitive world of sport media.
On June 1, van Alst and the Ryerson Rams were honoured with the Sports Video Group College Sports award in the Collegiate Student category for his documentary series "Ryerson Women's Volleyball 24/7." The award recognizes the best in college sports video production.
van Alst was the sole crew member on the production, shooting and editing footage and sound by himself. The series provides an intimate portrait of the women's volleyball team's journey to the 2017 U Sports national championship.
Thanks to van Alst's work behind the camera, Ryerson is the first institution outside of the United States to be honoured with this award.
The reception of the award validates five seasons of hard work with the Ryerson Rams, allowing van Alst to finish his time with them on a high note.
"I really just strived to use my last season with the Ryerson Rams to make something special, as a thank you to the department," says van Alst. "In a poetic way it's like I was able to win one more championship for the team, not to mention forging long-lasting friendships with the athletes."
"One of the big highlights was being able to travel with the team to B.C. for a pre-season tournament," says van Alst. "In the series' first episode, the team talks about how that trip gave them the opportunity to bond as a team. The fact that I was along for the whole week as well, being with the team almost 24 hours a day, meant that we also quickly formed a bond."
For van Alst, the production of this series was an amazing professional and social experience, but as many filmmakers have come to know, any endeavour in the world of film is never without its challenges.
"I was a one-person team, so had to conceptualize, shoot and edit all by myself, and there were some weeks where I did nothing but work straight on the series," van Alst says. "You would shoot the practices and games Thursday to Sunday, log and sort through footage from Sunday to Tuesday, and then scramble from Tuesday to Thursday to try and get an episode out for Friday. Meanwhile, being in my final year of studies at image arts, I was busy working on thesis films and completing other works to make sure I graduated."
van Alst's accomplishment is no small feat when considering the time and effort taken, and the resulting work stands out from other sports shows.
"It is a production for the Ryerson Rams, by a Ryerson student, and featuring Ryerson athletes, but I think it has still remained a fairly honest series. It's not just 'Go Ryerson!' all the way through. So I think that kept it interesting and engaging."
While van Alst may still be coming off the high of winning this award, he shows no signs of slowing down. Later this month, he will be working as part of the production team on "Rotterdam, I love you," an anthology film featuring Canadian director Atom Egoyan in Rotterdam, Netherlands.
*
This story is part of a series on student success at Ryerson.
Related stories:
For industrial engineering graduate, it all comes back to soft skills