A healing journey through Indigenous fashion
PhD candidate reconnects with heritage at Ryerson
July 28, 2017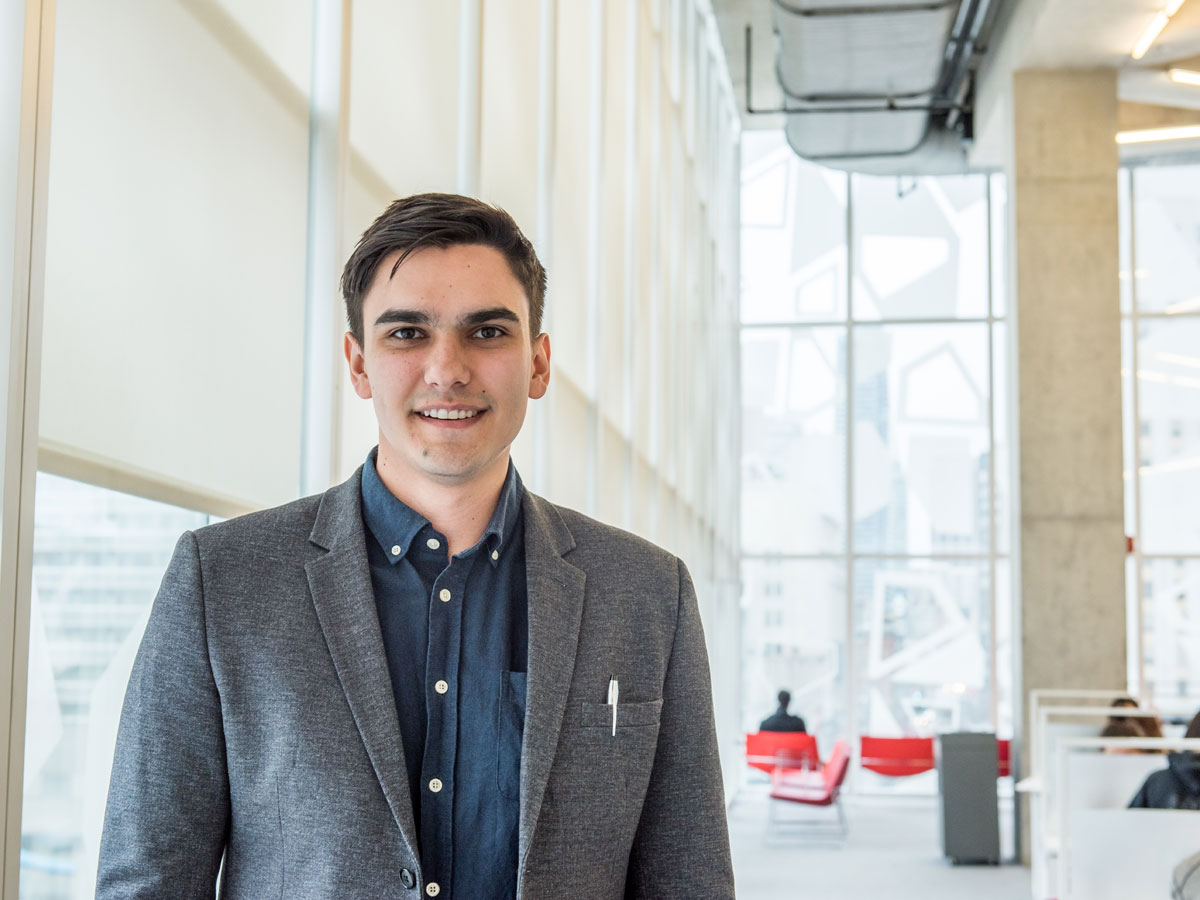 Growing up in small-town Ontario, Riley Kucheran, external link felt little connection to his Indigenous heritage. Though his mother is Ojibwa, and Kucheran is part of the Biigtigong Nishnaabeg community, he didn't begin coming into his identity until he moved to Toronto in 2010. "I knew I wanted to live in the big city, so I think I was looking for personal growth—even though I wouldn't have called it that at the time," said Kucheran, a Ryerson communication and culture M.A.
Did he yearn for a connection to his roots? "It was actually really recent—I call it my 'Indigenous turn.' … It's been this time when I've really been reflecting on my own heritage. But no, at that time I was separated physically."
That turn came last year. Kucheran, who earned a BA in arts and contemporary studies in 2015, was hired by Ryerson's School of Fashion, external link to help 'Indigenize' its curriculum. "That started my personal healing journey, which is a deeply spiritual process for many Indigenous Peoples," he said.
The school hired Kucheran for a semester to research, develop and deliver a one-hour lecture about Indigenous clothing. He examined clothing as a weapon of colonization in the residential school system, but also looked at how Indigenous communities have used clothing to reclaim identity. "While I talk about cultural appropriation, I also give examples of how we can work better together," said Kucheran. "I also talk about contemporary fashion designers, because a lot of people don't know that Aboriginal fashion designers are working today—it's not just historical clothing. And most importantly, I featured the voices of designers themselves."
Indigeneity has since become central to his research: "I was always looking at fashion, but what they call critical luxury fashion—high-end product that's socially and environmentally sustainable. That shifted." He began working with Cree/Métis fashion designer Angela DeMontigny, external link to explore "how an Indigenous designer might reconcile being in fashion, where your commitment to your community often conflicts with your need to make profit." This work is now part of his PhD thesis, which he is starting this fall.
"For my PhD, I'm starting an organization to help Indigenous designers, with Angela and a few other makers. We're going to launch the Canadian Council of Aboriginal Design, because there's no comparable support for Indigenous designers. The goal is to take this PhD space and this time to start this organization, and hopefully make it self-sufficient."
For Kucheran, one of the benefits of reconnecting with his heritage has been joining the Indigenous community at Ryerson. In addition to his work in the School of Fashion, he serves on the Aboriginal Education Council. "It's been so instant, and they've been so welcoming. Honestly, some of the staff there feel like my aunties—it's such a community and it feels like family. … Those kinds of connections, and just engaging with my heritage in a way that feels beneficial to the community, is really rewarding. I feel like I'm working toward something."
Ryerson supports Aboriginal students through a variety of awards, including the President's Awards to Champion Excellence (PACE), which recently received an anonymous gift to create $1 million worth of awards at Ryerson for Aboriginal students in partnership with Indspire. Kucheran received the Frank H. Hori Award for Aboriginal Students, a $5,000 scholarship awarded to distinguished academic achievers connected to the Aboriginal community.