RTA grad scores Emmy gold
Joseph DeBenedictis honoured for video work at New York Emmys
July 07, 2017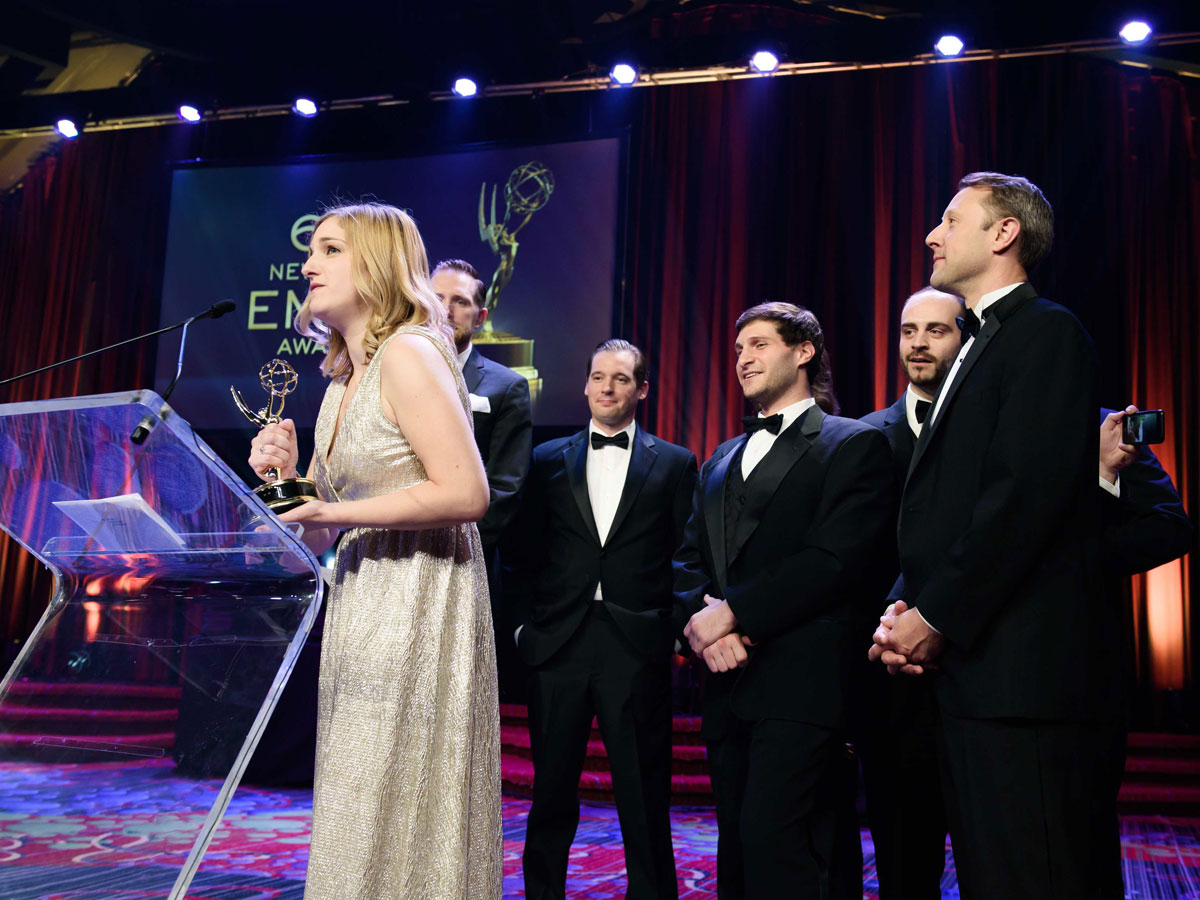 From Ryerson to the red carpet, Radio and Television Arts, external link '10 graduate Joseph DeBenedictis won a New York Emmy Award for his video editing work with the Buffalo Sabres.
DeBenedictis and his crew (including Travis Carlson and Sam Korotkin) from Pegula Sports & Entertainment won in the Sports Interview/Discussion category for their video on the Sabres: All Star/The Music Man from the Beyond Blue and Gold series. (Pegula owns the Sabres and other sports teams, including the Buffalo Bills and the Buffalo Bandits). They were honoured at a ceremony on May 6 in New York City.
"It was amazing—it was like being treated like an important person!" laughed DeBenedictis, speaking by phone from Buffalo. "You dress up, you rent a tuxedo, you sit at tables with a bunch of other people who look good, people hand you champagne, and you feel like royalty almost. We were only in New York for 24 hours, so we flew in the day of, had the ceremony, slept, and went back. it was nuts, overwhelming, and humbling.
"It's very amazing, and in the moment it was great," he continued, "but I think it makes us hungrier to do better work, not necessarily to win. To know you'll be rewarded if you do something great, but it's really about the work, and having fun."
DeBenedictis studied at Ryerson from 2006 to 2010, after volunteering at Durham's Rogers TV network and producing a cable comedy show, The Wee Show. After graduating, he worked as a video editor with the Canadian Football League before moving to Buffalo with the Sabres, and now works on videos for several Pegula teams.
Looking back at his time at Ryerson, DeBenedictis says he still draws on the lessons he learned in his end-of-year practicum project—a half-hour pilot about a used car dealership called Deal With It, external link. "I actually did a reality show, and that really taught me about story, and how to create something out of nothing. That's basically what I won an an Emmy for: creating stories and editing."