What it's like to pitch a business
Ryerson entrepreneurs win funding, training from Sheldon and Tracy Levy Aspiring Innovators Fellows Program
May 05, 2017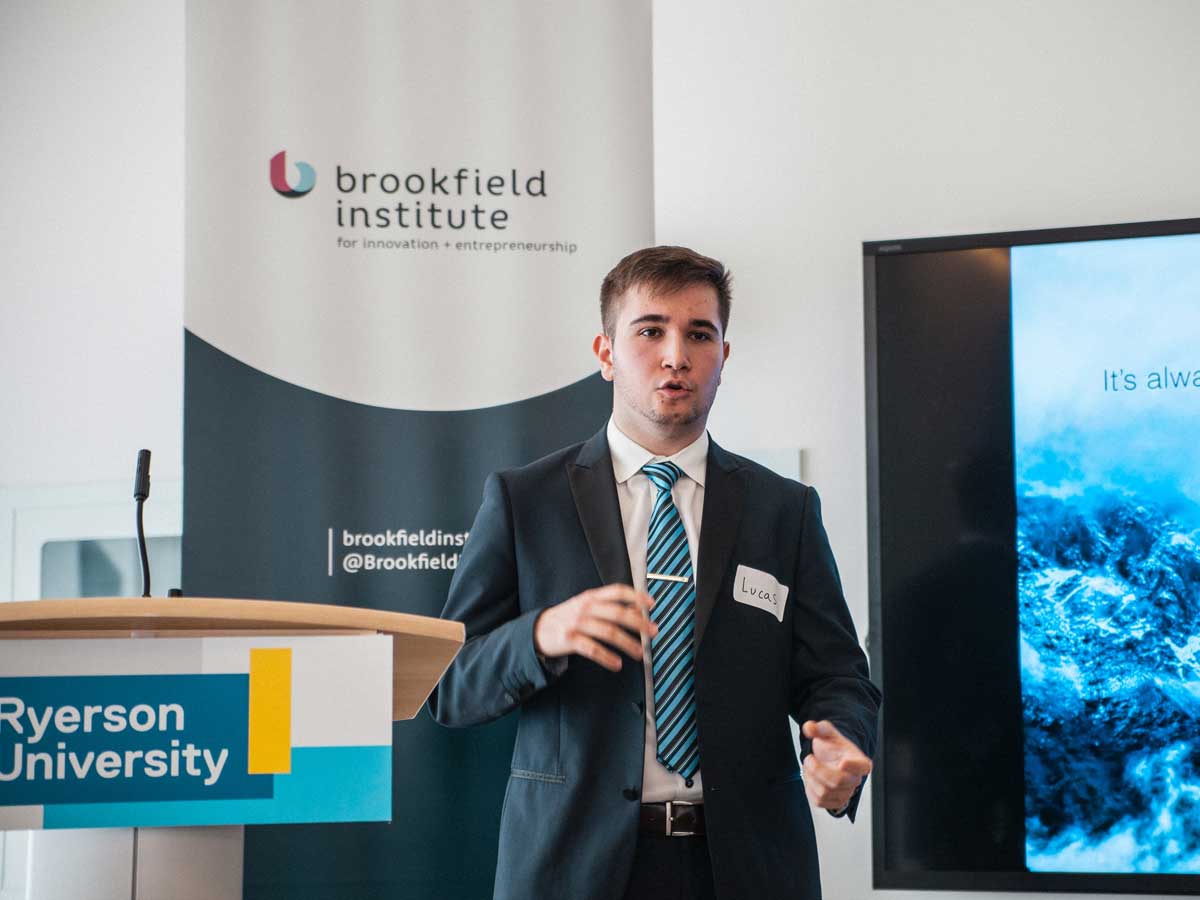 What is it like to pitch a start-up idea? For participants in the Sheldon and Tracy Levy Aspiring Innovators Fellows Program, external link, perspectives varied.
Here's one perspective, from Lucas Bruno, second-year commerce student at the Ted Rogers School of Management and co-founder and co-CEO of GIMME360°, external link: "Every single day you're selling your business, you're meeting people, and you're thinking. Preparing for a pitch like that really happens overnight. It's not something you need to spend a lot of time doing, because if you know your business, you can do one of those things blindfolded."
And here's another perspective, from Lisa Cumming, third-year journalism student and founder of Radio Reboot: "I was a nervous wreck!" she laughed.
"I don't speak publicly very well, so my heart was pounding—I was trying to stand away from the microphone so no one else could hear my heart pounding. But I did it, I got through it! I can't remember the exact timeline, but it was a good few days where I was writing and rewriting a speech, then I'd throw out one speech and start again."
Different strokes. Both were among the five Ryerson students whose startups were selected as Levy Aspiring Innovators. Created in partnership with Ryerson Zone Learning and the Brookfield Institute, external link, the program fosters student entrepreneurship with $5,000 in funding and training at Ryerson Basecamp, external link.
GIMME360° was created by Lucas Bruno with co-founders Josiah Crombie and Daniel Bokun, and inspired by their collective background in humanitarian work. "A huge question we would get when we were working for other charities was, 'Where is my money going?'" said Bruno. "That made us think. Even though we were just employees, we wanted to do more. We thought of an idea: 'Can we take people exactly where the money is going by using the latest technologies?'"
Their idea: bring augmented and virtual reality services to the humanitarian sector. "We threw our idea out there, and we got hired on by an NGO to go to Cambodia to do exactly that: film the NGO and what the money is going towards, and show how they're helping, and really bring Cambodia to the donors," said Bruno.
After a successful Kickstarter campaign, external link for their first product (a virtual-reality-equipped hoodie "for Netflix and outdoor active lifestyle"), the DMZ-based company is expanding its services from charity to the private sector. The business is now focusing on augmented reality for education and customer experience. "All the companies we're looking at in the competitive landscape are focused on gaming or heavy industry. We see huge potential in regular businesses and financial institutions," said Bruno. The prize money will go towards expanding staff.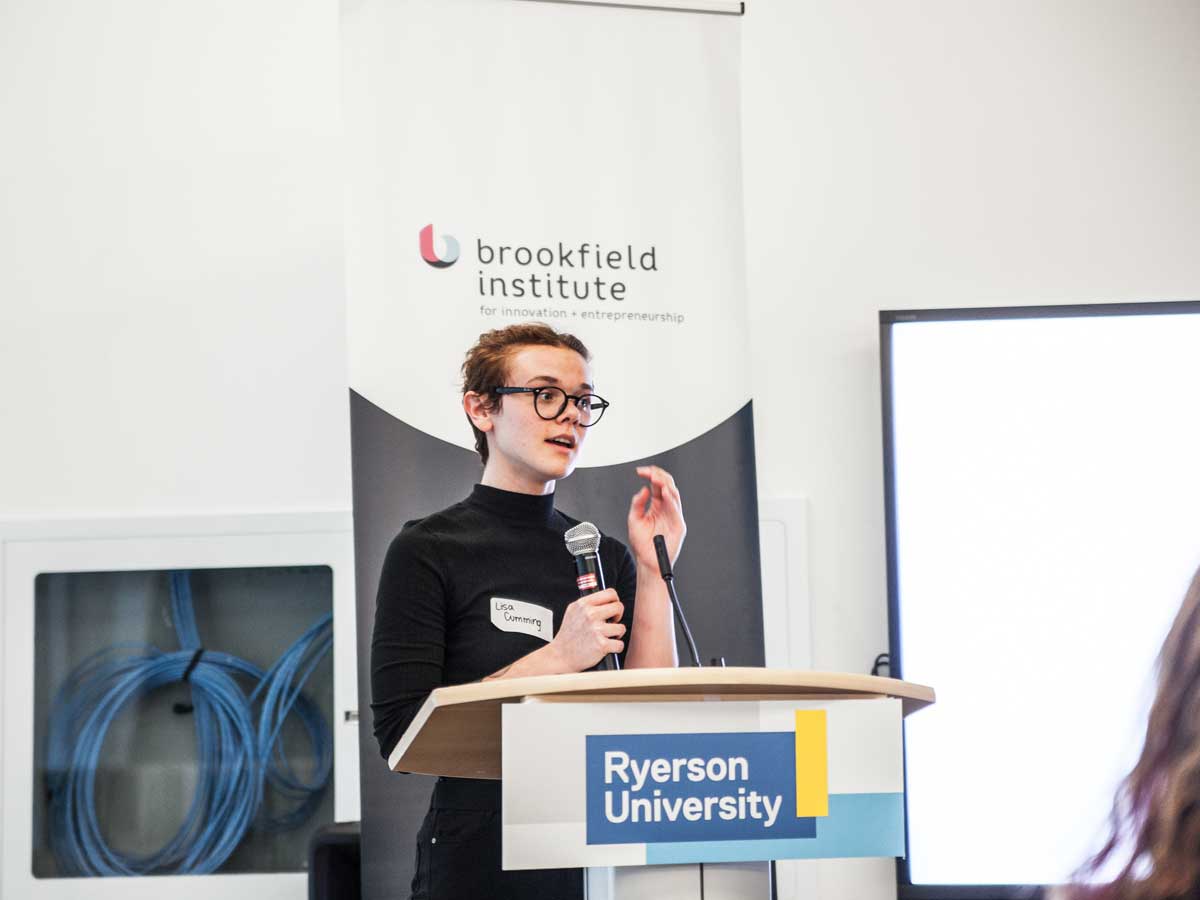 Aiming to transform a well-established medium, Radio Reboot is a 360-degree sound system that immerses the listener in a story. Founder Lisa Cumming remembers having an epiphany during a radio production class at the Ryerson School of Journalism.
"I was thinking that radio hasn't changed much. We do have some amazing podcasts—Serial, This American Life—but other than that, for what you hear on CBC and 680News, the format has pretty much stayed the same. So I thought, Why can't we change that? Why can't we incorporate some of the techniques we use in VR?"
Cumming is currently based in the Transmedia Zone, external link, which she calls "a great, great place. You go there, you sit down, and you just work—you get things done, and bounce your ideas off other people, and you have events all the time where you can meet everyone else in there." She'll use some of the prize money to rent studio space and equipment to create a podcast series.
Three other Ryerson students were also successful at the pitch conference: Dara Jarallah (Business Management, Entrepreneurship) with Shoppinglee, a platform to help female artisans from marginalized communities sell their work; Mark Zaidi (Faculty of Science, Chemistry and Biology), who is investigating new methods to synthesize aerogel; and Lakshmi Menon (Faculty of Science), with StackFarm, a new way to grow leafy greens.
For more information, visit the Sheldon and Tracy Levy Aspiring Innovators Fellows Program, external link.