Student group fosters biomedical innovation
Tetra Ryerson prototypes prosthetic arm and other medical devices
May 25, 2017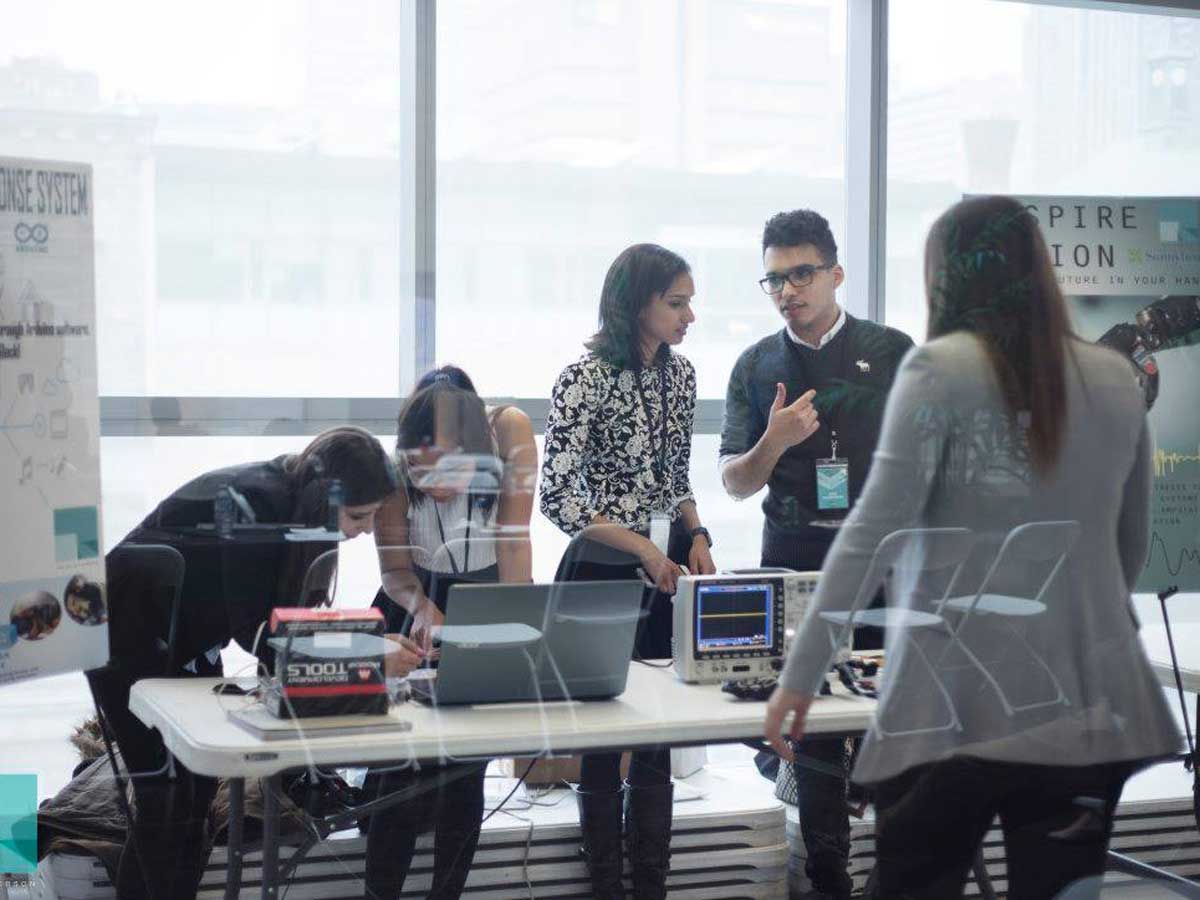 When students from across disciplines come together to create a mechanical, electrical, and computer projects they can make a big difference to people in need. Now finishing its third year, Tetra Ryerson has become a key resource for students interested in biomedical innovation.
As the Ryerson chapter of the North American Society of Tetra, this student-run group is focused on creating assistive devices for people with disabilities. In its short history, the group has experienced rapid growth, working with surrounding health facilities (including Toronto Rehab, St. Michael's Hospital, Sunnybrook Hospital) and expanding its membership (from 23 to 303 members).
Though the group was founded by Biomedical Engineering students, president Jennifer Eshoua notes that "it's open to every discipline on campus. We have people from business, we have people from fashion, we have people from architecture, we have people from computer science."
The year culminated with Tetra Ryerson's first Medical Devices Conference, held March 18 at the Sears Atrium. The 19 teams presented their prototypes to a panel of experts (including representatives from Toronto Rehabilitation, MaRs Discovery District, and the Toronto Tetra chapter). "I said, I think it would be a great idea if the projects students are doing could be showcased to the other students, and then we can invite people from different companies to come and see.' And that idea came to life in March," said Eshoua.
First-place honours went to a weight-bearing device that notifies users when they're applying too much pressure to a given area, created in partnership with St. John's Rehabilitation Hospital. Second place went to "Inspire Motion," a prosthetic arm technology. Third place was a wireless emergency response system, created for the South Asian Autistic Awareness Centre.
All competing teams worked on an extracurricular basis for the past 6 to 12 months, working on projects in the Design Fabrication Zone and the Isaac Olowolafe Jr. Digital Media Experience Lab. "My goal was: I want to learn how to 3D print," said Eshoua. "We all got an opportunity to learn how to use the software, how to use the printer, so that was a really cool, unique experience."
First-year student Danielle Ribeiro, who worked with Eshoua on the prosthetic arm project, says the program has helped guide her when picking classes. "For example, in our project we used an oscilloscope to demonstrate how we could use muscle contractions to make our prosthetic hand move. To do that, we needed a circuit, and I now know why I need to take ELE 202 – Electric Circuits, and how it can be applied to real-life situations."
Why join Tetra Ryerson? Eshoua offers several reasons. "One, there's direct feedback from the community. Two, you're learning a lot more than you would have thought possible in such a short time. Three, you become very close to the people you work with, because you're working through problems all the time. And four, you're meeting people at Ryerson and the Toronto community who can potentially help you in your future career."