Innovation through collaboration
Highlights from the fourth annual Ryerson Supercourse Showcase
Category:
Inspiring Industry Leaders
May 25, 2017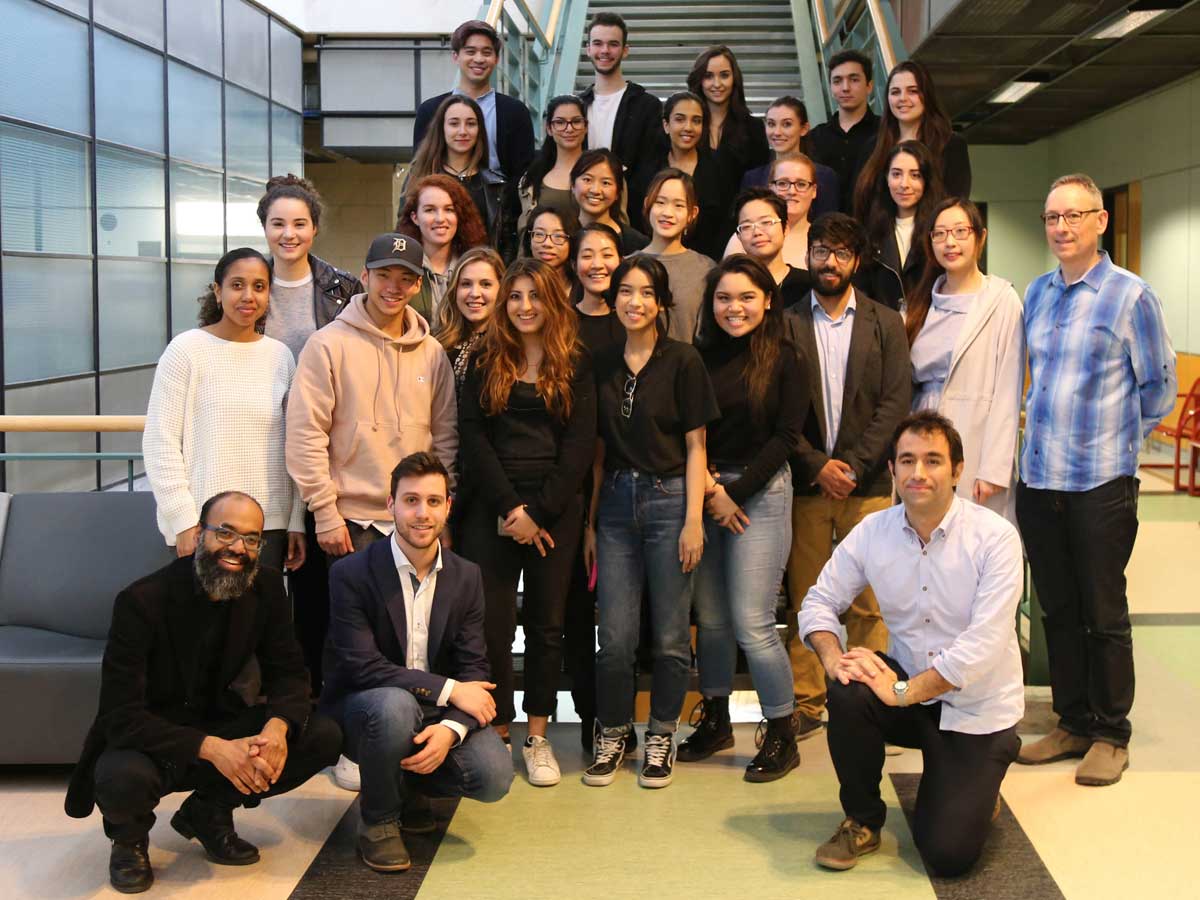 The Ryerson Supercourse is a unique annual course that challenges a group of students from different programs to work with external partners, to develop digital ideas into market-researched functional prototypes. At the end of the semester, students showcase their projects to the Ryerson community and partners. This year, the course involved first-year and graduate students from the Creative Industries, Media Production, New Media, Masters of Digital Media and Masters of Media Production programs.
At the beginning of the semester, the students formed 11 teams to solve business challenges for partners, which included: the Government of Ontario's Ministry of Transportation (MTO) and Treasury Board Secretariat, Canada4Refugees, external link and a major Canadian bank and a global hospitality and hotel transportation service.
"We met with students in January and talked about the current resources available for beginner driver education in Ontario," said Franca Ambrosio, manager, MTO, Road User Safety Division. "Students in the Supercourse had incredible perspective and delivered with innovative prototypes. Their ideas were excellent – some new approaches for us to think about."
The course, led by Professors Hossein Rahnama and Richard Lachman, was initiated by the RTA School of Media, external link, and receives support from the Faculty of Communication & Design, the DMZ, the Office of the Provost and Vice-President, Academic, the Ryerson Centre for Cloud and Context Aware Computing (RC4), and the Transmedia Zone, external link.
"The Ryerson Supercourse is a high-pressure environment where students gain practical, real-world experience in a unique classroom environment – it's experiential learning at its finest," said Rahnama, professor, Faculty of Communication & Design. "Without program silos, groups of students from various programs must learn to think outside-the-box, develop project management skills and collaborate as a team in order to develop a prototype in a matter of weeks."
Some of this year's projects included:
1. Beginner Driver's Education
An educational video game for new Ontario drivers that brings key learnings from the MTO Driver's Handbook to life. Aspiring drivers navigate a role-playing game, encountering real-world driving situations and testing their knowledge of the rules of the road. A second team built a game designed for users with experience driving in other countries, to learn and adapt to the rules and practices of Ontario roads.
2. 360 Car Experience
A mobile application for hotels and resorts that creates a personalized experience from the airport to the hotel door based on guests' past stays and preferences. Users can order services GPS-tracked to their arrival, or research and orchestrate the rest of their stay.
3. Divvy
An intelligent personal finance widget that encourages young people to make smart financial decisions through gamification, including achievable goal-setting and personal challenges. Divvy also educates users on relevant banking products to improve their overall financial knowledge.
4. ConnectUs
A concept for CBC to promote engagement and social cohesion through peer-to-peer podcast conversations that are owned and operated by the community. A CBC staffer described the project as "Cross-Country Check-Up meets Reddit".
5. Next Door
Designed in consultation with newcomer families in Canada and the Canada4Refugees advocacy group, Next Door is an application that lets local residents provide hyper-local recommendations, advice, landmarks and nearby services to help refugees get acquainted with their new neighbourhood.
"Year-after-year students from the Supercourse astound me with their entrepreneurial spirit and determination to solve real-world problems," said Richard Lachman, professor and director of research development, Faculty of Communication and Design and director, Office of Zone Learning. "Some students even choose to pursue their projects further, and we help them prepare and find the resources they need to get started through zone learning."
Interested in enrolling in the Supercourse? The course will re-launch winter 2017 as "RTA 924 Design Solutions," and will be open to all FCAD students as an open elective. Select it in your course-intentions now, or for more information, please email Richard Lachman at richlach@ryerson.ca.
Inspiring Industry Leaders is a series by the Office of the Provost and Vice-President, Academic, and Ryerson Today. Each story showcases the opportunities for student learning outside the traditional classroom. From internships to co-ops, conferences and industry travel – Ryerson students are gaining career-focused experience, enhancing their degree and discovering opportunities to make an impact in their field and on society.
Related stories:
Retail management students take on New York City
Five tips for amplifying your postgrad experience
Designing with heart
Healthful eats, fruitful careers