Sunset Neon selected to install Sam the Record Man signs
Industry leading signage contractor to restore, install and re-light iconic neon signs
March 07, 2017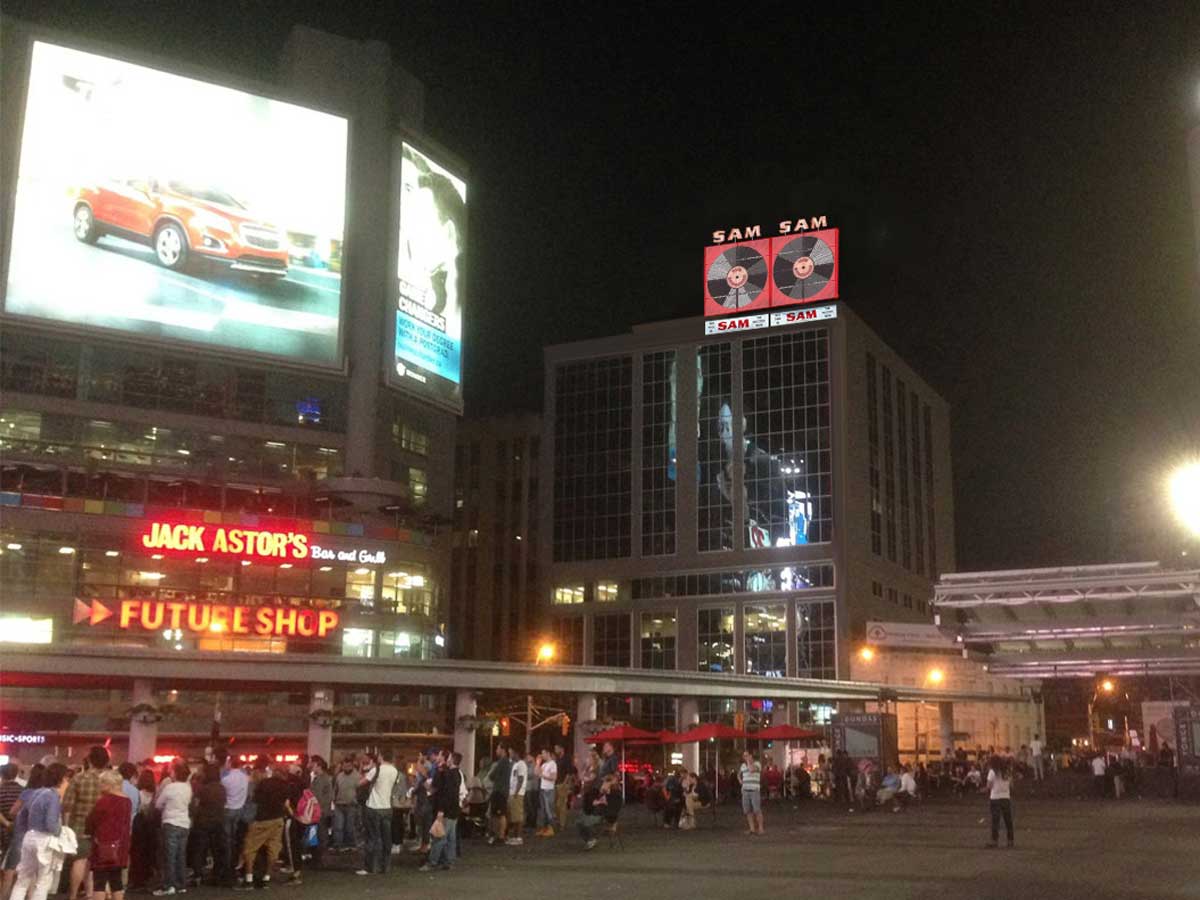 Ryerson University has announced that Sunset Neon, external link, opens in new window has been selected to restore and re-install the Sam the Record Man signs atop 277 Victoria Street near Yonge-Dundas Square. The project is expected to start in the spring and be completed later in 2017.
"We are very pleased to announce the iconic Sam the Record Man signs, with their spinning neon discs, will once again illuminate downtown Toronto," said Ryerson President and Vice-Chancellor Mohamed Lachemi. "We're very thankful to the City of Toronto and the Sniderman family for their ongoing support and patience. We are all looking forward to the signs lighting up Toronto later this year."
In preparing the site for the installation, the City and Ryerson had to undertake a number of engineering and feasibility studies to ensure that the signs can be re-mounted safely at 277 Victoria Street, taking into account weight, wind shear and other factors.
The neon signs will be refurbished before moving to its new permanent home later this summer. Ryerson University will be covering all costs associated with the restoration, installation and ongoing maintenance.
Statement from the Sniderman Family:
"On behalf of every person who remembers purchasing their first record at or whoever worked in a Sam the Record Man store , Jason and Bobby Sniderman, the sons of Sam Sniderman, want to sincerely thank Ryerson University and the City of Toronto for having fulfilled their commitment to reinstall the iconic "Sam the Record Man" signs. The relocation to Yonge-Dundas Square is the perfect "home" for them and it should be known that our first record store in downtown Toronto opened on the east side of Yonge Street just south of Dundas; so our signs will now be mounted above and shining down on the original location.
We want to specifically honour councillor Josh Matlow, who illuminated and championed the project at a time when it was fading and to the downtown councillors, Pam McConnell and Kristyn Wong-Tam, who were instrumental with their ongoing support. But our most genuine appreciation over these past years is reserved for city staff - John Livey, James Parakh and Stephanie Wai - for their dedicated efforts and guidance to have brought this to fruition.
And finally, we will always be grateful to Nicholas Jennings, the people of Toronto and to Canadian music artists from across the country who were outspoken and unyielding in their desire to have the signs installed in their original glory.
We are certain that our father would be so pleased with the work that has and will be done and that these iconic symbols of our store and the music industry will be a lasting legacy…which we will share with him and the community ... forever."
— Jason and Bobby Sniderman