Kenya welcomes students for immersive education experience
Partnership between Ryerson and Amref Health Africa opens world outside the classroom
Category:
Inspiring Industry Leaders
March 24, 2017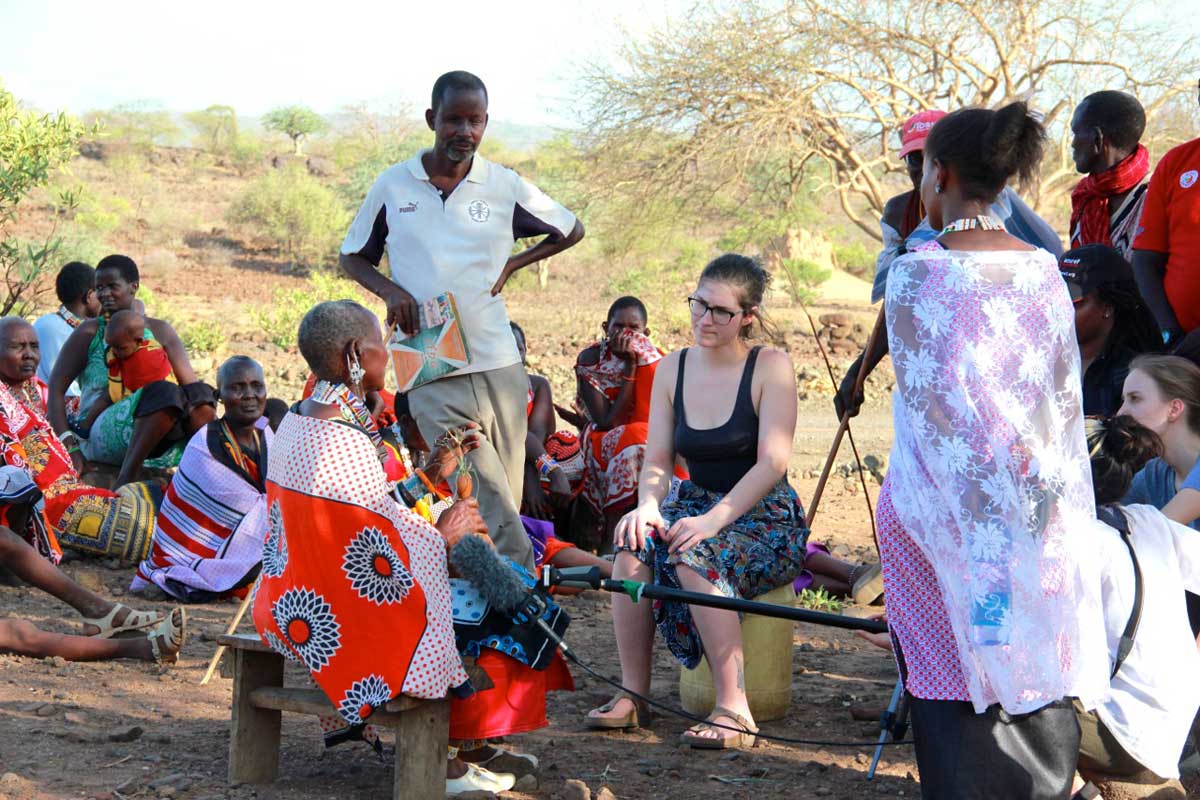 There's a world of education beyond the campus borders. Beginning on February 18, seven Ryerson students had an once-in-a-lifetime education experience when they spent two weeks in Kenya on a community engagement project with Amref Health Africa (external link, opens in new window) .
As part of the RTA International Development course, the students visited two Amref Health projects: the Magadi-based initiative Alternative Rites of Passage (a community-led project to end Female Genital Mutilation (FGM) and promote women's education), and the Dagoretti Child Development Centre in Nairobi (which supports children through education and art).
"It was the right amount of challenging and eye-opening," said Lori Beckstead, Ryerson RTA professor and leader of the trip. "It was an experience of being in a different way of life, living in a rural village in the heat and the dust and meeting new people from a different culture. The value for the students is to have the opportunity for an international experience. It's more than just time spent in the classroom."
With Alternative Rites of Passage, the group travelled to villages where Female Genital Mutilation is still a common practice, talking to everyone from village elders to young girls to women who were former circumcisers. They are currently editing their interviews into a short documentary, to be given to Amref to spread awareness.
"We really went in there not knowing what to expect," said Hannah White, second-year RTA student. "We'd never met these people before and didn't really know what their stories were. … It was interesting to watch how these people's customs are changing just from a little education about the harms of FGM. Their eyes open so big and they want to help support women."
At the Dagoretti Child Development Centre, homeless children can enjoy a safe community space for arts education (theatre, music, film) and play. The Ryerson students shot interviews with the students to develop a social media campaign. "We picked a different kid to focus on for each 30-second video, so we really have to make a connection with that one child," said White.
The experience gave students a chance to experience life far outside the campus. "We get caught up in our bubbles in North America—it's all 'Trump! Trump! Trump!'" said Maria Sartzetaki, second-year RTA student. "I didn't hear about Trump for two weeks when I was there, and I loved it! … Our media talks about North America as the centre of the world, but there are so many cool things happening around the world."
"I definitely came back with a new appreciation for my family," said White. "Family is something I've always taken for granted, and we met people who have so few things but their family, and how thankful they are for their family. And as an educational experience, I had never left North America before, so to experience a different society, and how people work and travel and eat was very eye-opening. In the rural villages, where people still do live in villages, I learned so much about their lifestyles and culture."
"We have a very skewed view of developing countries here in the west," said Lori Beckstead. "We're often presented with what you might call 'poverty-porn'—the poor, sad African child with the flies in her eyes, and that sort of thing. We're all human beings and have the same emotions and desires—and happiness, even. We get there and realize that life carries on under any circumstances."
*
If you are a student group at Ryerson planning to travel abroad we encourage you to connect with Ryerson International (RI) when you are in the planning stages of your trip. RI can offer advice regarding travel risk, international standards and best practices in the area of international collaboration. You can contact RI at rihelp@torontomu.ca (opens in new window)

Inspiring Industry Leaders is a series by the Office of the Provost and Vice President Academic and Ryerson Today. Each story showcases the opportunities for student learning outside the traditional classroom. From internships to co-ops, conferences and industry travel – Ryerson students are gaining career-focused experience, enhancing their degree and discovering opportunities to make an impact in their field and on society.
Related stories:
Retail management students take on New York City
Five tips for amplifying your postgrad experience
Designing with heart
Healthful eats, fruitful careers