Canada in the age of Trump
Avi Lewis talked Trump and Trudeau with father Stephen Lewis at Faculty of Community Services lecture series
February 02, 2017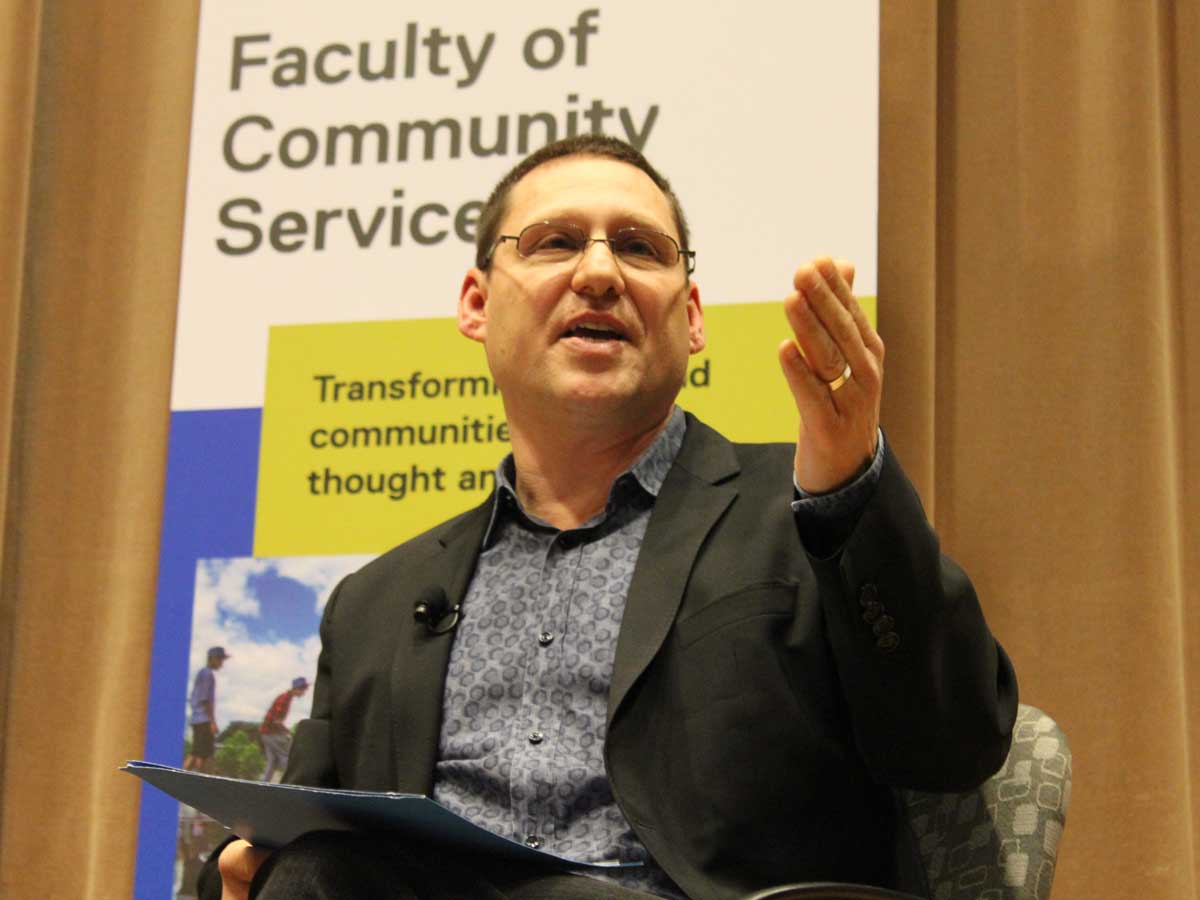 It didn't take long for the name "Donald Trump" to come up at the Faculty of Community Service, opens in new window's FCS in Action Lecture Series on January 31. As Distinguished Visiting Professor Stephen Lewis did an onstage interview with his son Avi Lewis, the elder Lewis offered a swift diagnosis: "We have the savaging of the political culture in North America and around the world, and in my considered opinion a moron in the White House."
In a discussion titled "Capitalism & Climate, Trudeau & Trump, Lewis & Lewis," the two generations of Canadian activists assessed the threat that the new president poses to left-wing causes, but also found reason for optimism in the protests since the inauguration. They also turned a sceptical eye to Canadian Prime Minister Justin Trudeau, and made a case for how the left should adapt to these two different governments.
Avi Lewis (co-director of The Take and This Changes Everything, and coauthor of the Leap Manifesto) began by emphasizing the importance of solidarity in difficult political times: "I am grateful to be in a room full of people tonight. I think in these moments we need to gather and reassure each other that we're going to fight." Noting the scale of the Women's March and the protests against Trump's "Muslim ban," he added that marginalized groups must work together.
"If immigrants are left to defend themselves, if the climate community are the only ones fighting for climate, if racialized communities are the only ones fighting racism, we will be divided and conquered and picked off. So the clear message of this all-out bombardment is: You're all targets. We have to urgently find the solidarity in that."
Pointing to the Democratic National Committee's sidelining of the Bernie Sanders campaign, and the senators voting for Trump's appointments, Avi Lewis called "selling out" the party's strategic failure. In response to how Trump tapped into those left behind by neoliberalism, he said "We actually need a return of the left to provide left-populist responses. … We have policies that we actually think are better. They've been sidelined in the American political machines. They are on life support in Canada. And they are alive and well in social movements."
Last weekend's shooting at a Quebec City mosque made clear that Canada is not immune to Trump's rhetoric, but Lewis noted that the Liberal government presents an opening: "What we have is a government that wants to be seen as progressive, and that has to be seen as a strategic opportunity for us—because they say occasionally good things, and we get to hold them to that."
The centrepiece of the night was a reading (from Toronto-based spoken-word artist Charlie Petch) of the Leap Manifesto, the "call for a Canada based on caring for the Earth and one another," coauthored by Avi Lewis. Lewis was sceptical of the Keystone XL pipeline, arguing that investment in public transit and clean energy would generate more permanent jobs. He suggested that Germany's turn to renewable energy is an example to emulate.
"We have a massive opportunity in Canada to actually hold our government to a higher standard," said Avi Lewis. "The thing is, Trump lowers the bar—everybody looks good next to him. So our job is to create a dynamic where it raises the bar. We actually have to be better, not just look and sound better."