Half-classroom, half-hospital
Psychology students learn to treat patients next door at the St. Michael's Hospital Family Health Team Clinic
January 12, 2017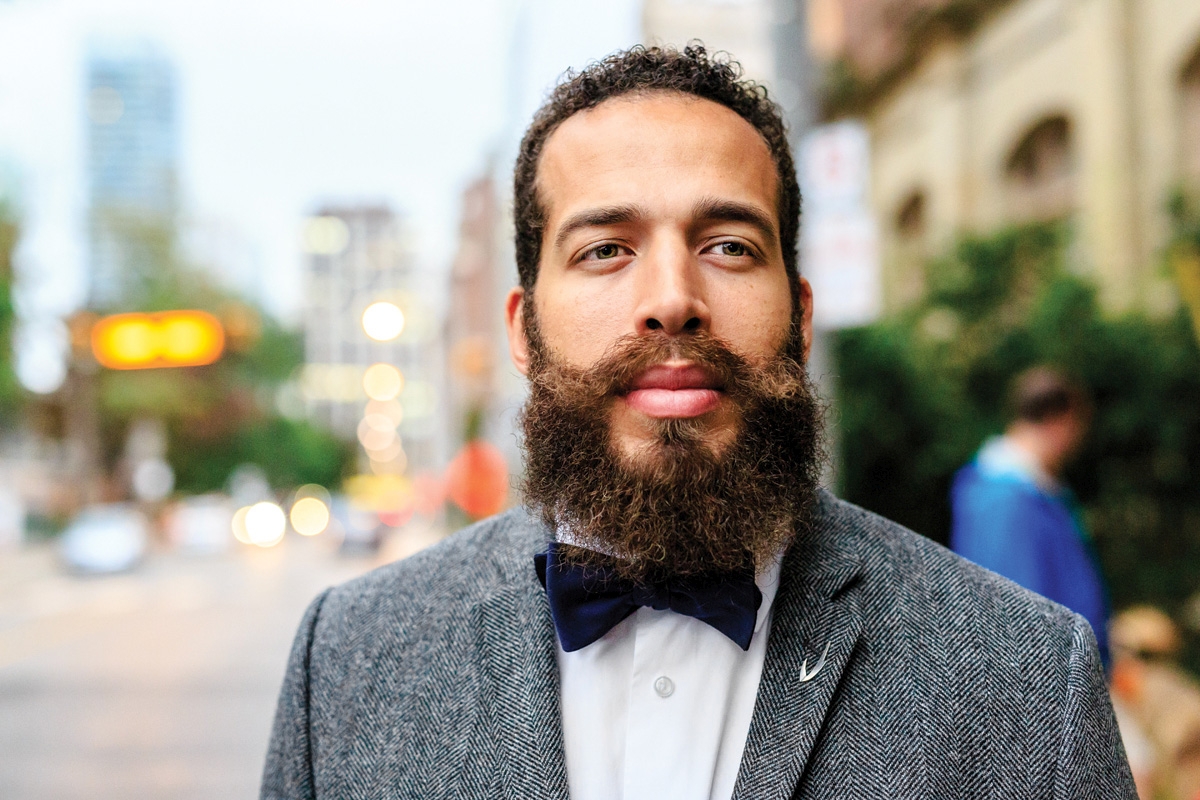 The low-rise building at 80 Bond St., nestled in the heart of downtown Toronto just two blocks from the Eaton Centre, blends in with its neighbours; most passersby hardly give it a second glance. But within this unassuming structure, patients in need of psychological care receive first-rate treatment – and a select group of Ryerson graduate students get a unique opportunity for hands-on training in clinical psychology in a diverse and challenging urban setting.
It's called the Psychology Training Clinic. Open since 2010, the facility is a collaboration between St. Michael's Hospital and Ryerson University's Department of Psychology – something that makes perfect sense given that the clinic's Bond Street location is exactly halfway between St. Mike's and the Ryerson campus.
"It's really a perfect location," says Kelly Horner, the clinic's director and student supervisor, as we stand just outside the clinic on a warm, early autumn afternoon. "The students can do their courses, and be involved in their research – but then they can also walk down the street and be involved in community mental health."
Graduate students in Ryerson's psychology department do the first of their three required practicums at the clinic, which is part of the St. Michael's Hospital Family Health Team Clinic. Here, they get hands-on experience with patients with an array of psychological needs, under close supervision by Ryerson faculty members. At the same time, the students get to interact with health-care professionals from St. Mike's – everyone from physicians and nurses to physiotherapists, chiropractors, dentists, dieticians, pharmacists, social workers and even lawyers.
Inter-professional setting
It's a "wealth of services," as Horner puts it, giving the students "the opportunity to train in an inter-professional setting."
What's also striking about the clinic is the diversity of its clientele and their needs. A typical client, in fact, often has more than one reason for seeking treatment. "We can get patients who may be seeing a physician for a medical condition, but also have some mental health concerns that may be exacerbating or impacting the medical condition," Horner explains.
"We're really fortunate to see such a diversity of patients," says Stephanie Cassin, who serves as director of clinical training, and, like Horner, also teaches in the psychology department. Even within the one-year duration of the practicum, students "see a broad range of diversity that many people might not see in their entire life, especially if they work in a more remote community," Cassin says. "[We see] diversity in terms of socioeconomic status, ethnicity, sexual orientation… Sometimes several of these at once."
All of this can be a little overwhelming at first, Horner and Cassin admit – but soon, they say, the students come to realize what a unique learning opportunity they have. "As they get toward the tail end [of the practicum], I think that they feel extremely well prepared for the subsequent training that they do in the program," Cassin says.
Every year, nine students do their practicum at the clinic, spending one day a week with patients at 80 Bond St., doing assessments and delivering treatments. Skye Fitzpatrick, a PhD student who specializes in borderline personality disorders, did her first practicum at the clinic in 2012-13, while working on her master's. Fitzpatrick recalls her first experience sitting down with a patient face to face, so early in her psychological training. "I was excited, but also terrified," she recalls, "because you've studied these ideas for so long, and thought about them in such depth – and then you're sitting in front of somebody and actually interact with them in a genuine way."
Like Cassin, she quickly became aware of the sheer variety of clients that pass through the clinic – often with multiple problems and concerns. "You're working with people who are, for example, not only depressed, but also homeless; a client who is very anxious, but is also HIV-positive, and maybe English isn't their first language. There are a lot of different factors at play that you're learning to navigate."
Real clients in a real clinic
One distinguishing feature of the practicum is that it takes place physically within a hospital setting, Cassin says. "I think our program is one-of-a-kind. They [the students] are seeing real clients and they get supervised by faculty members within the program, which is unique for a lot of clinical psychology programs."
As well, students have the option of videotaping sessions with clients – if the client consents – allowing their clinical supervisor at Ryerson to offer detailed feedback. "The environment really fosters collaboration," Cassin says.
Of course, other universities train psychologists – but many graduate programs either don't have an in-house practicum program (so that students must do their practicum training at another institution, with external supervisors); or, if they take place within the university, the students provide treatment to people recruited from the university or community or they may not see real patients (that is, they see "faux patients" recruited for the program to take part in mock interviews).
Ryerson students also benefit from having St. Mike's staff members by their side – or, at most, a call, email, or instant message away. "At first the students might be a bit cautious – not wanting to bother the doctors, for example," says Horner. "But they come out of this amazed at how approachable they are, and how interactive and intertwined the care is."
As Horner explains, the patients' records are completely electronic, and the students can share and collaborate on patient information with doctors and other professionals at the clinic instantly.
That instant access to expertise was something that also stood out for Andrew Brankley, a third-year PhD student who did his practicum at the clinic in 2013-14. Specializing in forensic psychology, which includes working with the criminal justice system (the clients he sees have often been in contact with the police or the courts), Brankley is now working part-time at the clinic, passing some of that knowledge on to a fresh cohort of students.
Providing care to the community
At St. Mike's, he says, he's completely comfortable approaching a professional, whether it's a social worker or a chiropractor or some other specialist, and asking for advice. "They're very open, they walk you through things," he says. The clinic "feels like half-classroom, half-hospital… It very much is a hospital, but it's also very much a learning environment."
As well as being a unique opportunity for the students, the clinic provides much-needed care for its clientele. Some 135 patients are treated at the clinic every year, with some 110 assessments annually. And unlike the vast majority of psychology treatments available, there is no out of-pocket cost to the clients.
"We provide assessments and treatments to people who typically wouldn't receive them," says Cassin. Similar treatment at a private clinic might cost around $200 per hour, she says; plus, often hospital-based psychology services have long waiting lists. Because the clinic is part of the St. Mike's family health unit, anyone receiving treatment there is eligible for treatment at the Psychology Training Clinic.
"I think it's mutually beneficial," says Cassin, "because these clients are receiving services, and our students are receiving outstanding training and opportunity to work with real clients very early on, as part of their education."
*
This story was first published in the January 2017 edition of Ryerson University Magazine, external link, opens in new window.