'There's no better than this' for resettled Syrian family
Ryerson University Lifeline Syria Challenge sponsors refugee families
February 18, 2016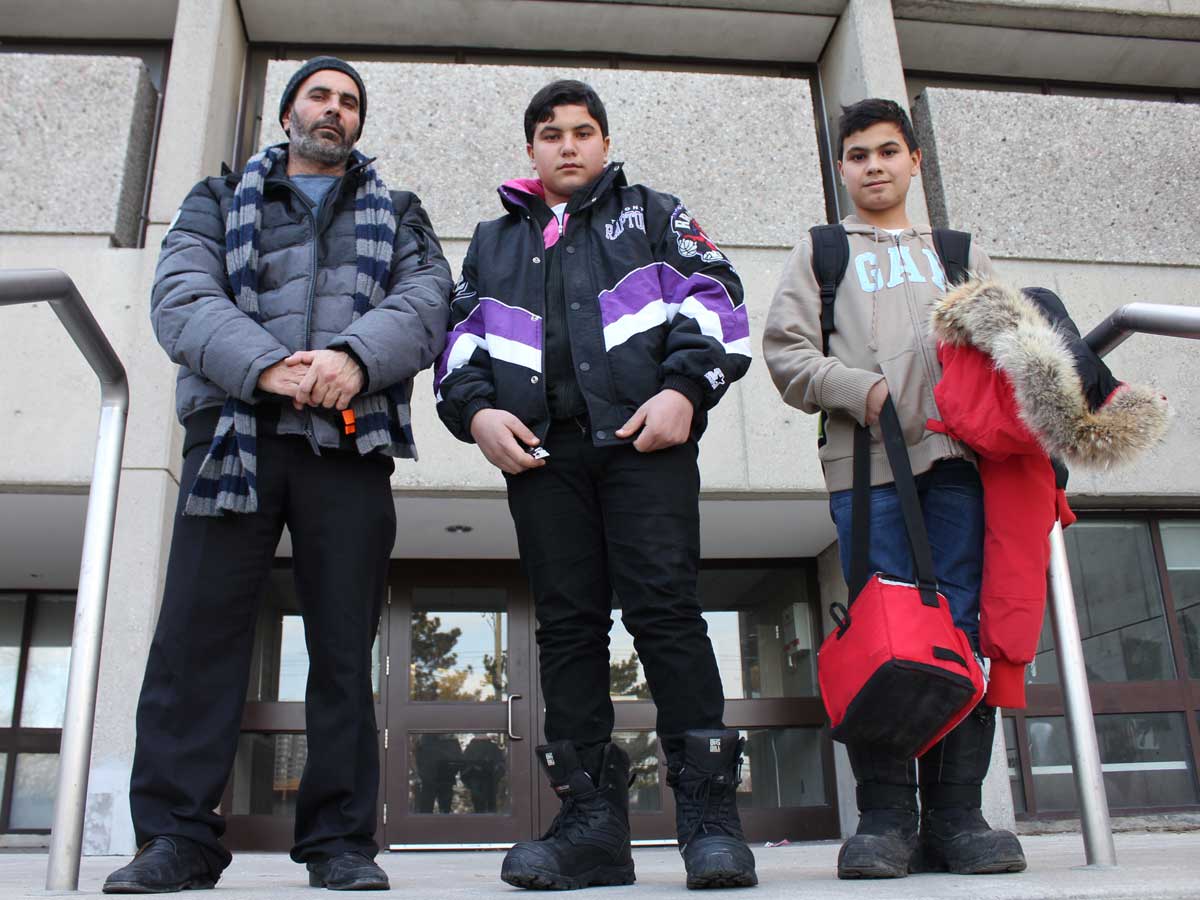 "The best thing about Canada is how organized everything is," said Mahmoud Al Rassoul, speaking through a translator. "Anywhere you go, there are actual sidewalks. You have to stand at the light, and then wait for the time to cross the street. You wait at the bus stop, and it will come on time. You don't have to wait extra time."

"Is it any different in Syria?" I asked.

"In Syria, we have the same rules, but people are the opposite," he said, laughing.

"Here, when we go grocery shopping, we stand in line and wait for our turn. In Syria, we don't do that. You would just go in line in front of people. I would try to go buy bread at a bakery, and there would be so many people that by the time it was my turn, there would be no bread."

If Canada still seems a little novel to Al Rassoul, remember that he only arrived on Dec. 18. Al Rassoul, his wife Isaaf Al Omar, and their eight children are among the 11 Syrian families who have been welcomed to Canada through the Ryerson University Lifeline Syria Challenge. When I asked what he thinks of his new home, Al Rassoul replied simply: "There's no better than this."

In response to the humanitarian crisis in Syria, Ryerson launched RULSC on July 20, 2015 to sponsor 10 families. In September the goal was increased to 25 families (100 newcomers) and then OCADU, York University and the University of Toronto joined in. Since its inception, the program has created 75 sponsoring teams to resettle 75 Syrian refugee families – 300 individuals in total – and raised more than $3 million. More than 1,000 volunteers have joined the effort which has been touted internationally as a model of social innovation.

"We were living in Lebanon, and there was no education or resources – either way, you would come out of Lebanon with nothing," he said. "I had a choice, but I wanted to leave Lebanon, because there is no education and no future there. They asked if I wanted to go to Canada, and I agreed.

"Everything changed for my kids," he continued. "First and foremost, there is education and doctors. They live in a very clean house, and despite the cold, it's much better than the conditions we lived in."

The program has also become a unique educational opportunity, with experiential learning for student volunteers from all four universities. Zena Salem, a first-year Ryerson journalism student, is volunteering as the Al Rassoul family's primary translator. "For the past week, I was with them pretty much every day," she said. "Now that I've started school, they have my schedule and they just go depending on my schedule."

Salem embraced the opportunity to help during the humanitarian crisis. "I was in grade 12 when the Syria situation began," she said. "I wanted to do something myself, but I'm just a student – I'm not financially independent. I looked at the ads, and I thought, 'Wow, that's a perfect chance for me to actually help out.' I'm fluent in Arabic, French and English, so it's perfect for me."

For Wendy Cukier, vice-president research and innovation, and executive lead of the Ryerson University Lifeline Syria Challenge, the program's success has far exceeded expectations. "When we started this initiative just six months ago, I don't think we realized how quickly we would reach 75 sponsorship teams and how much of an immediate and enthusiastic response we would receive from students, faculty, staff and alumni as well as the broader community.

"None of this would be possible without the generosity of our donors, the hard work of more than 1,000 mostly student volunteers, our knowledgeable staff, and our dedicated sponsor teams. They are working together to change the lives of more than 300 Syrian refugees for the better as they resettle in Canada."

Al Rassoul's family is settled in Scarborough, where seven of his children go to school (we met at John Buchan Senior Public). His children are taking lessons to learn English, and Al Rassoul plans to take courses required to work in construction. He says that he has been touched by the generosity of his adoptive country.

"One time, I was standing outside waiting for a sponsor to pick me up. Someone in a different car kept on waving – it was a stranger offering me a ride, because he thought I needed transportation. That's a very kind act."

To learn more about the Ryerson University Lifeline Syria Challenge, including how to donate and volunteer, go to https://www.ryerson.ca/lifelinesyria/.