Donation from Pascal Siakam Gives Law Students Opportunity with Organizations Working toward Positive Social Change
Toronto Raptor's generosity gives law students a chance to work with frontline organizations working with low-income individuals and families facing barriers to legal services
September 21, 2022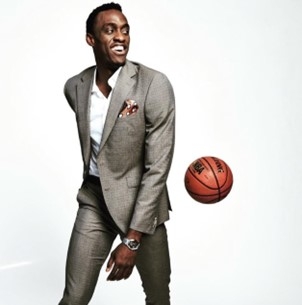 September 21, 2022 - TORONTO - Today, Toronto Metropolitan University announced that, thanks to a generous donation from Pascal Siakam and the PS43 Foundation Canada, students at the Lincoln Alexander School of Law had the opportunity this past summer to gain meaningful and paid work experiences with several organizations working towards positive social change.
The support of Mr. Siakam through the foundation allowed Canada's newest law school to broaden the reach of its Summer Experience Projects initiative to include organizations that otherwise would not have been able to engage students in summer roles and are often underrepresented as career options to young lawyers. These summer positions typically involve working with frontline organizations that assist Indigenous, racialized, and other equity-deserving communities who are facing poverty, discrimination or other systemic barriers to the legal system and/or education, social and mental health services.
Due to financial constraints, these social justice organizations often cannot afford to pay for summer student positions, and so opportunities for law students to learn from and lend their skills to these organizations remain quite limited. The support of PS43 Foundation Canada helped bridge this gap, creating a win/win proposition for both the students and the organizations.
Quotes
"My father understood that education has the power to change lives and I try to honour his passion for learning through our work at PS43," says Pascal Siakam. "Giving students at Toronto Metropolitan University's Lincoln Alexander School of Law the opportunity to contribute to and learn from organizations that have the public interest at heart is exactly the kind of empowering experience that can transform their futures." - Pascal Siakam, Toronto Raptor, Founder of PS43 Foundation Canada
"This past summer, I had the opportunity to work with Justice For Children and Youth - a Toronto-based legal clinic that offers legal services to young people who are facing poverty and homelessness. Mr. Siakam's donation to my law school not only allowed me to gain legal experience without financial anxiety, it also unlocked a new pathway for a potential career as a social justice lawyer. Mr. Siakam's generosity has directly impacted my future in a positive and meaningful way." - Shardaine Rowe Brown, 2nd-year law student at the Lincoln Alexander School of Law
"Our law school has a responsibility to prepare our students to become skilled lawyers and engaged citizens committed to serving their communities with compassion. We are immensely grateful to Mr. Siakam and the PS43 Foundation Canada for this generous gift, which gave our students an important opportunity to work hand-in-hand with communities in advocating for equity and social justice." - Donna E. Young, Founding Dean, Lincoln Alexander School of Law

-30-

About the PS43 Foundation Canada
Founded by Pascal Siakam, the PS43 Foundation Canada is a not-for-profit organization that finds unique ways to make a difference in the lives of children through education. Through financial literacy, sports, and life skills, our goal is to teach children and give them an advantage in society. The PS43 Foundation Canada is guided by one basic principle: dream big. For more information, please visit ps43foundation.com, external link.
About the Lincoln Alexander School of Law
The Lincoln Alexander School of Law at Toronto Metropolitan University is reimagining legal education in pursuit of a more just society. Our mission is to equip the lawyers of tomorrow with the contemporary skills and experience required to expand the reach of justice and respond to the evolving challenges that face Canadian society. To learn more, visit torontomu.ca/law.
About Toronto Metropolitan University*
Toronto Metropolitan University, formerly known as Ryerson University, is Canada's leader in innovative, career-oriented education. Urban, culturally diverse and inclusive, the University is home to more than 48,000 students, including 2,900 Master's and PhD students, 4,000 faculty and staff, and over 225,000 alumni worldwide. For more information, visit torontomu.ca.
*In April 2022, the university announced our new name. Learn more about our next chapter.
Media contact:
Irina Vukosavic
PR & Communications Specialist
Central Communications, Toronto Metropolitan University
647-563-8649
irina.vukosavic@ryerson.ca