Student spotlight: Sachi Shukul, School of Early Childhood Studies
This undergraduate student is passionate about children's rights
March 17, 2022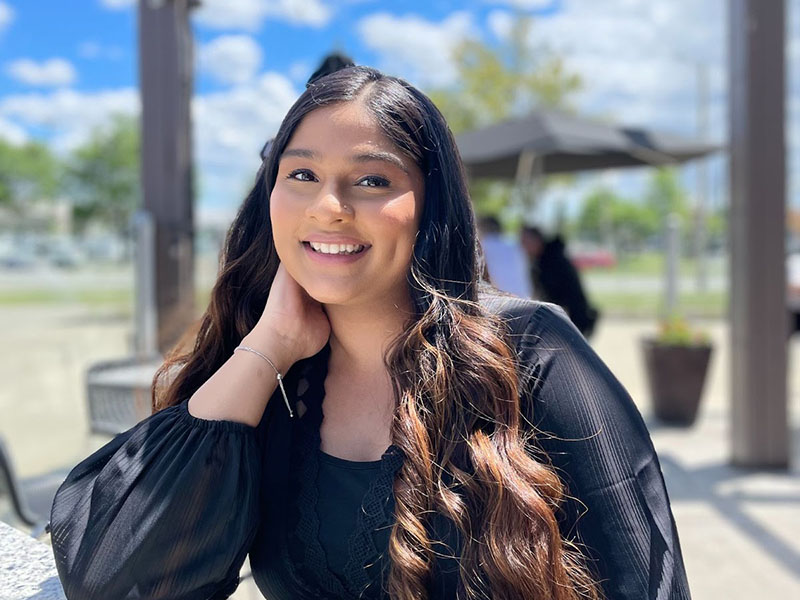 Sachi Shukul, an undergraduate student at the School of Early Childhood Studies (ECS), is involved with many clubs, including the ECS Course Union, and is passionate about children's rights. In her own words:
What are some personal qualities that make you a student leader?
I take the time to empathize with others and see things from their point of view. I'm caring by nature and believe that being good to others will come back to me. A leader should make decisions that improve the well-being of all. My friends and family know me to make others laugh. I go out of my way to ensure people around me are happy.
Tell us about your community involvement and leadership roles.
I am a research assistant and child and youth participant coordinator within the International and Canadian Child Rights Partnership (ICCRP). I'm also a member of the Student Association For Children's Rights (external link) , focused on raising awareness and advocating for children's rights globally, and an event ambassador for the Early Childhood Studies Course Union. At the course union, I manage communications for the Council of Exceptional Children. It is a group focused on inclusion, support and advocacy.

What do other students reach out to you about in your role as a leader?
Students often reach out to me about future opportunities with these clubs, my experience within different clubs, balancing work and school, my help networking with leadership and any tips to help them with their undergraduate experience.
Why is this work important to you?
I find happiness in helping others and creating better opportunities within my communities. Everyone deserves the right to thrive in society and access quality resources to achieve this. I strive to adopt an equity-based approach. This is important because I want to be an example for and encourage others to start their advocacy efforts and create their ideal reality. I hope this offers a sense of hope for those facing barriers and creates pathways for a more in-depth equity-based future.
What have you learned from your leadership roles?
I have learned that it is not enough to recognize what needs to be changed but to implement that change. It is important to put one's words into action, remain focused on the goal at hand and remain mindful of their success. I have learned that leadership takes constant hard work and dedication. This dedication drives me in the work I do.
Looking 15 years into the future, tell us what you would like to see improved in the world.
I would like to see an increase in children's rights and the importance of adopting a child rights perspective. Internationally, I would like to emphasize the importance of youth voice and participation in advocacy efforts. We often see adults making decisions for children rather than including them in these decisions. Child participation and youth voice are two things that I hope become more evident to ensure a safer and more equitable space for children; in simpler terms: working "with" children rather than "for" them. Through my education in the early childhood studies field and the child and youth care (CYC) field, I hope to create a better space for families, children, and practitioners, so that everyone feels safe and welcome.
Is there a course or professor who made a difference in your leadership endeavours?
I took a CYC course in my second year and was instantly drawn to the profession/teachings. I decided to continue taking CYC courses to obtain a minor. Professor Tara Collins encouraged my development as a participant in the larger community and individually. Collins' teaching style and values inspired me and led to my becoming a research assistant and child and youth participant coordinator working for the ICCRP under her supervision. I hope to use this knowledge and training in my future career as an educator and my present role as a student leader.
What is your advice to future community leaders and FCS students?
My advice is to ask the questions: "Why are you doing this work?" and "What does it mean to you?" They should ask this not just as they enter any field of work but also as they engage in their work. Doing something with passion is extremely different from simply doing something. When people have a passion for something, they tend to work harder, remain happier, and go above and beyond with their work. Helping others and creating change is truly what makes me happy. "The only way to do great work is to love what you do." - Steve Jobs
Leadership takes time and effort, and support from our community. Is there anyone you would like to thank for helping you advance your leadership and studies?
I would want to recognize the support and love I have always received and continue to receive from both my parents and my two younger brothers. Being the oldest sibling and only daughter has greatly influenced my leadership journey and skills. My role at home, helping my brothers with school and my parents around the house, has positively influenced the person I am today and the leader I hope to be in the future. With this, I would also like to thank my close friends, who have always encouraged me to try new things and never give up when things got tough. They were always a constant reminder that nothing is impossible and that hard work always pays off. Lastly, I would like to acknowledge my current ICCRP team for including me in such a beautiful opportunity, mentoring me in a meaningful way, and always acknowledging my hard work towards the group.
We appreciate leaders for their efforts to take care of our community. What are some things you do to practise self-care and balance?
I believe that self-care should be a top priority for all. Being in a field and faculty where the community is at the centre and the wellbeing of others is the main focus, everyone should ensure that their well-being is being taken care of before attempting to help others. During the pandemic, I found balance by writing in my journal, being thankful and taking my skincare routine to another level. I enjoyed getting back into reading and spending more time with loved ones. I have used strategies to reach out to others, including sending simple emails or texts to check up on peers and even planning virtual hangouts to reconnect and relax.
Student Leader Series

This spotlight is part of our Student Leader Series, where we invited students in FCS to tell us about their leadership. We hope their efforts and success inspire you. If you would like to submit a story idea, please contact Bonte Minnema at bminnema@torontomu.ca.