The top honour
Get to know the Gold Medallist from the Faculty of Community Services
November 08, 2021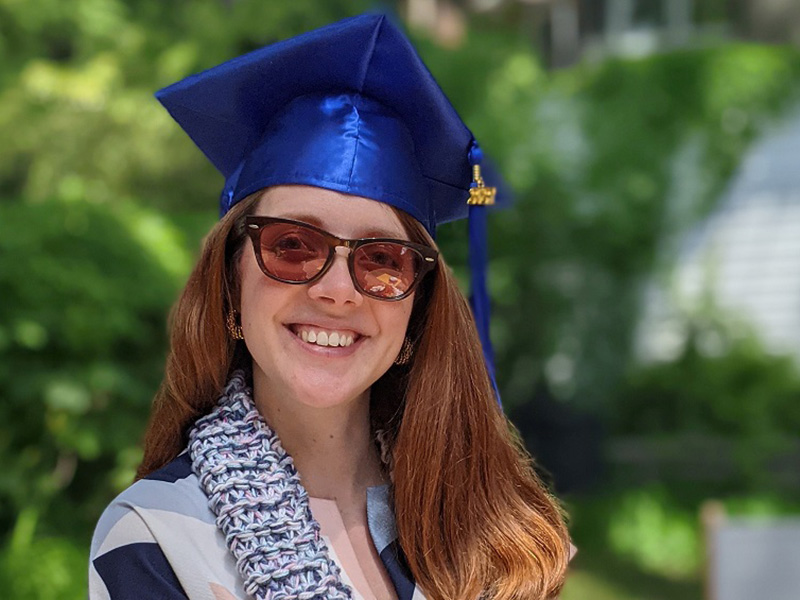 Emma MacGregor, master of nursing (MN) '21, will receive the Ryerson Gold Medal at the Faculty of Community Services virtual convocation ceremony on November 18.
The Ryerson Gold Medal is the university's highest award, given to students with outstanding academic achievement and involvement with the university, their profession and the community.
So what does it feel like to receive the university's top honour? We asked Emma to share some of her insights.
What does receiving the Gold Medal mean to you?
First of all, being nominated for the Gold Medal award is a huge honour to begin with. I remember my surprise and joy following my defense, to hear this nomination come up as a recommendation from my thesis committee. This compliment was the highest praise: supportive, positive acknowledgement of the excellence I had achieved with hard work on my thesis.
Imagine then my surprise to find out months later that I had won! I am overjoyed and honoured for my academic work and community service to be so recognized and distinguished. To me, this award represents the outcome of flourishing in a learning environment where my whole self is engaged, under the guidance of outstanding scholars and academics: Jasna Schwind, Lori Schindel Martin, Louela Manankil-Rankin (Nipissing University) and Oona St-Amant.
I'm sincerely encouraged by this recognition, and motivated to press on.
What advice would you give students entering their first year?
I would say that it's OK to take things slowly. Coming to university is a big change, there are lots of new ideas and routines to get used to. It can all come at you fast, and before you know it midterms are here. Take a breath, and first get used to these new surroundings: discover resources like the RAC, the library and the SLC. Find your "spot". Take the time to build relationships with the professors, students and peers that inspire you.
Do whatever you can to help you feel like you belong here, because you do. Take this first year to develop healthy routines and habits, laying the groundwork for what might be ahead for you, without worrying too much about what that will look like. Take care of your body and spirit while you develop your mind through education, and ask for help if you need it. You're not alone!
Do you have any favourite classes/teachers, and what made them stand out?
So many! First of all, Jasna Schwind (MN8936; MN8903; MN8904/05, and my thesis supervisor) has been amazing. She embraced my creativity, heard my voice and encouraged me to push myself. She skillfully helped me shape my voice into my thesis, with the shared goal of excellence. I have learned more from her than any single curriculum could contain.
Lori Schindel Martin (MN8921 and my committee member) taught me how joyful rigorous academic work can be, to take pride in my work and strive for excellence even if no one else is watching. Oona St-Amant (MN8902 and my external reviewer) meaningfully and enthusiastically encouraged me to follow my passions, showing me how I could do it and cheering me on as I did.
Each of these professors brought their whole selves to the classroom. By virtue of who they are, they showed me an example of what my professional path could look like. I learned that I could be an academic too, without having to give up being a person, having a family, or my creative, joyful spark. In fact, I needed all those things: who I am as a person is who I am as a professional.
How did Ryerson support you during your time here?
I benefited from this community in so many ways. I was financially supported by the Graduate Fellowship Award and the Graduate Development Award. I was also supported by employment opportunities: I worked as an exam invigilator, research assistant, teaching assistant, and even vaccine clinic nurse. This supported my development as a scholar and professional, while providing for me financially and allowing me to make connections with colleagues.
I made use of the writing support centre to help me work on my analytic writing, and I even got the opportunity to attend a writing retreat through the centre. These supports transformed how I think about the practice of writing, and allowed me to shape my voice into academic form.
I was also supported with massage, yoga and the women's only swim at the RAC regularly. This helped me slow down and listen to my body. The FCS Alamus Choir also helped me express myself in song, relieve stress and have fun with colleagues and peers in a warm and welcoming environment. Even in virtual practices, our voices uplifted my spirit.
What has been your proudest accomplishment?
As a scholar, I am proudest of my thesis, "Women's Experiences of Their First Pelvic Exam: an Arts-Informed Narrative Inquiry". I am proud that I was able to earn the trust of my co-participants to share their stories of experience just as they told them. With this work, I hope to invite healthcare providers, and society broadly, to listen to women with respect, and act with empathy. Receiving this award in recognition of my work is the cherry on top.
What are your future plans?
I'm currently starting a PhD program at the Ontario Institute for Studies in Education (OISE) at the University of Toronto, studying curriculum and pedagogy. I'm honoured to be learning from faculty who were involved in the development of my chosen thesis method: narrative inquiry. Here, I hope to deepen my connections between narrative research, arts-informed approaches, wellbeing and women's health. I plan to bring my scholarship into the field of education, to continue to develop my passion and support others to follow theirs.