Graduate planning students credit hands-on preparation in helping them win a prestigious award
Ryerson's design perspective made a difference
May 20, 2021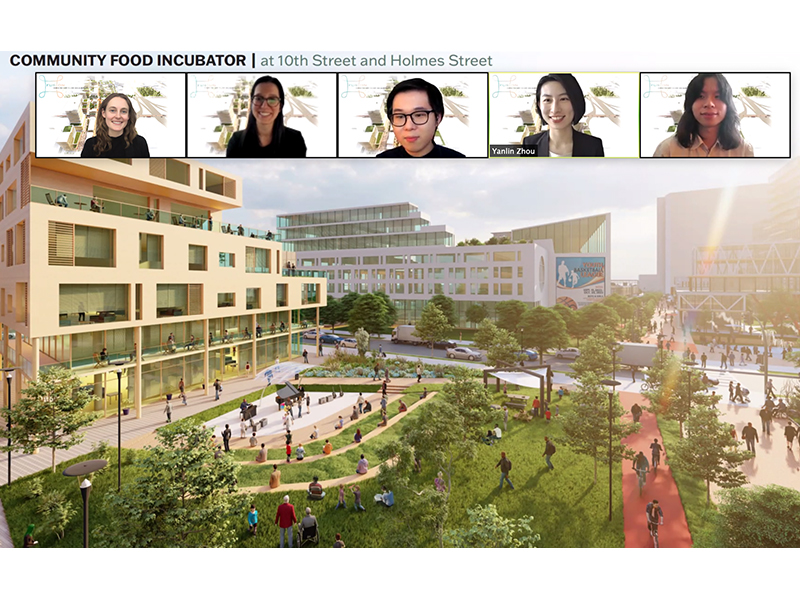 Graduate students Frances Grout-Brown and Leorah Klein of the Ryerson School of Urban Planning (SURP) at Faculty of Community Services (FCS), and their collaborators, were named winners of the prestigious 2021 ULI Hines competition (external link, opens in new window) and its $50,000 prize. They are the first Canadian entry to win this prize and were part of a team that also included students Yanlin Zhou, York University and Ruotian Tan and Chenyi Xu, University of Toronto. Recently we were able to reach out to Grout-Brown and Klein to learn more about this award and their entry into this competition.
The ULI Student Hines Competition (Americas) is a competitive and highly regarded competition that included 105 entries this year. "We were presenting to a large Jury of 15. The jury included professionals from across North America with significant industry experience, including real estate, construction, architecture, design, planning and development. Their recognition of our work affirmed the skills we have developed at Ryerson," said Grout-Brown.
"One of the challenges of this competition was working in a new city from afar within a short time frame. We wanted to make sure our proposal 'fit' within the culture and context of Kansas City, so getting recognized for precisely that was something our team was really proud of," said Klein.
"Our role as planners focused on policy and the human experience of the space," said Grout-Brown. "We started by reviewing existing local policy and strategy documents to understand the vision for the city and existing community needs. We also focused our time getting familiar with the space, walking around on google maps, getting to know the surrounding neighbourhoods and districts. Without being able to speak with residents, we looked at surveys and information within city plans to better understand local needs," said Grout-Brown.
"Ruotian and Chenyi focused on on-site design and buildings. Yanlin assessed the financial feasibility of our decisions. Frances and I focused on how space is experienced. We wanted to draw people in and connect to surrounding districts and neighbourhoods. Collectively- this allowed for the creation of a site that fits within Kansas City, reflects the authentic local character, aligns to resident needs, supports the local economy, and contributes to the vibrancy of the downtown core," explained Klein.
"There were key principles in the way we approached the planning aspects of the site that have been part of our academic experience at SURP. The program's focus on inclusivity and sustainability came through in our concept," said Grout-Brown. "We brought these principles to life within Fusion by including mixed-income housing (30% affordable), equitable access to transit and amenities, open public space to connect across our site, and active transit and social infrastructure to connect to adjacent communities. Our environmental focus, particularly our stormwater management strategy, was a foundational piece of our design concept," said Klein.
This attention to environmental sustainability and urban agriculture won the competition jury's approval. "Fusion stood out as it pushed a new paradigm for an urban neighbourhood based on the strong regional legacy of agriculture," ULI Hines jury chair Diana Reid wrote in a statement (external link, opens in new window) . "Their financing plan and design enabled economic resilience through small scale food growth and distribution, local culinary incubation, and research-driven employment opportunities," she said.
"The master of planning program within SURP is uniquely focused on experiential learning and taking on a holistic approach to learning. It's a program that connects theory to practice, where throughout various courses, we are charged with applying our ideas in practice. This experiential learning is particularly relevant to the rigorous studio course. It is all-encompassing looking at economic, socio-cultural, political, ecological and spatial elements, to be able to discuss significant and complex challenges that make up the planning field," explained Grout-Brown.
The team had a great experience working with SURP professors Steven Webber and Victor Perez-Amado, who acted as advisors to the project. "We were able to get really valuable insights and advice, particularly around development concepts, financial feasibility, design and architecture. Perez-Amado is also a former winner of this competition. Webber also brought in two professional advisors from his network: SURP alum Raymond Lee (external link, opens in new window) , senior associate at Weston Williamson & Partners, and Christina Giannone (external link, opens in new window) , vice president, Port Credit West Village Partners, who were extremely helpful in advising on our concepts. Their mentorship made this an incredible learning experience for the entire team. Recognizing how they shared their experience and knowledge with us as students is something that we would like to do in our future careers," said Grout-Brown.
"Our involvement with the ULI Hines project is a shining example of the hands-on learning opportunities that Ryerson provides to its students. Though the competition itself is hypothetical - the experience could not be more real. Engaging with students from other disciplines, we created an entire master plan in two weeks - it was a real-life project on fast forward. It was an incredible learning experience, and we're so grateful to Ryerson for enabling us to participate," said Klein.
"We also recognize how our foundational courses helped to prepare us to take on a project such as this. Ryerson has a strong curriculum and an outstanding lineup of professors, and we would both highly recommend this program to anyone interested in pursuing urban planning. It was an honour for us to represent Ryerson on the North American stage," said Klein.
Klein and Grout-Brown are graduating with a master of planning from SURP this year, and we look forward to finding out more about their exciting work in the future.