Equity and Inclusion Project Fund recipients
Seven projects that address anti-Black racism receive funding from the Faculty of Community Services
February 19, 2021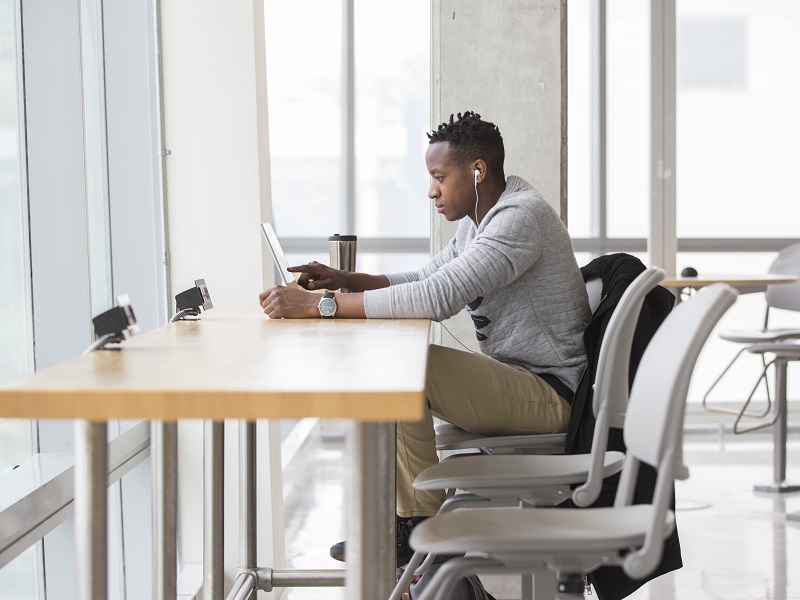 The Faculty of Community Services (FCS) Equity and Inclusion Project Fund is supporting seven projects this year with a total of $45,000 in funding.
The project fund was established in 2019 to strengthen equity and inclusion practices within the FCS community.
Given the national and global climate of anti-Black racism, this year the fund is financing projects that specifically address anti-Black racism and support Black students, faculty and staff.
Some initiatives are already underway, while others will begin to roll out over the academic year.
Black Births Matter Project
Mai Ngo, student, Midwifery Education Program
Karline Wilson Mitchell, director, Midwifery Education Program
Trish Frempong, alumna, Midwifery Education Program
With ongoing attacks on sexual and reproductive health and rights and high occurrences of gender-based violence and anti-Black racism, human rights for women and girls are needed now more than ever. The Birth Talks, external link, opens in new window is a Femmy award-winning podcast that inspires listeners to make the world a better place for women, girls and gender-diverse folk by sharing vibrant feminist pregnancy, birth and parenting stories. In partnership with the Midwifery Education Program (MEP) and Black midwife and former MEP student Trish Frempong, the Black Births Matter project aims to address anti-Black racism in healthcare by spotlighting Black birth stories. It will feature five episodes that involve Black midwifery and sexual and reproductive health rights experts across Canada. The Black Births Matter series will also include Karline Wilson Mitchell's work on Canadian Midwives of Colour, opens in new window. The series will culminate with an anti-Black racism workshop for student midwives and midwifery care providers, and a webinar that features the subject matter experts who appeared on the podcast.
Contact: mai.ngo@ryerson.ca
Black Nursing Student Association
Hilda Oni, Sanyu Galabuzi-Kassam, Fatimah Abdoulaye
Students, Daphne Cockwell School of Nursing
The newly established Black Nursing Student Association aims to create a community for Black nursing students in FCS. Through monthly workshops, a mentorship program and a summer skills lab program, the association hopes to address anti-black racism, harmful anti-Black ideologies, and implicit biases that affect healthcare providers and the care given to Black patients. The association plans to introduce handbooks called "Mind the Gap: A handbook of clinical signs in Black and Brown skin, external link, opens in new window" and "Dermatology Atlas for Skin of Color, external link, opens in new window" into the Collaborative Nursing Program. The handbooks display how symptoms and signs can present differently on darker skin, and highlight the lack of diversity in medical literature and education. Black nursing students have the understanding, knowledge, interest and lived experience to make a difference in healthcare. The association will focus on creating culturally competent and socially aware nursing students who develop into informed and positive healthcare providers.
Contact: blacknursingsu@gmail.com
Black Youth Engagement in Food Sovereignty
Julian Hasford, assistant professor, School of Child and Youth Care
Fiona Yeudall, director, School of Nutrition and Centre for Studies in Food Security
Ryerson and FCS have begun to support Black food sovereignty by establishing a Black Food Sovereignty Alliance of Toronto (BFSAT), a partnership between the Centre for Studies in Food Security, Afri-Can Food Basket, external link, opens in new window, and City of Toronto Confronting Anti-Black Racism unit, external link, opens in new window (CABR). The mandate of the BFSAT is to advocate for Black food sovereignty through annual symposia, policy papers and action research. Although Black youth can play a critical role in advancing Black food sovereignty and food security, there has been relatively little research and capacity-building to enhance the quality of Black youth engagement. This project will involve the development, implementation, and evaluation of an intensive workshop on Black youth engagement in food sovereignty, focusing on anti-Black-racist and African-centered perspectives. The workshop will be offered in conjunction with a BFSAT Food Sovereignty Symposium planned for 2021. It will be an opportunity for students, faculty, and community members to learn and exchange knowledge about anti-Black racism in such contexts.
Building Black Spaces for Virtual Dialogue and Connection
The School of Disability Studies' Anti-Black Racism Committee
Building Black Spaces for Virtual Dialogue and Connection will support Black students in FCS by connecting them with Black alumni and creating spaces for virtual conversations about their work at the intersection of disability and Blackness. Themes and topics for discussion will include: police brutality, anti-Black sanism, carceral and abolition care, environmental anti-Black racism and debility, Blackened madness, anti-Black excessive burden immigration policies, ICUgenics and state neglect in response to COVID-19, and anti-Black career immobility in disability and long-term care. Black alumni from the School of Disability Studies will be hired to share their experiences, insights, and advice with current students, by answering questions, offering guidance and facilitating discussion. By creating these spaces for connection, the project aims to facilitate meaningful dialogue between and across Black students and alumni. Students will share their experiences, frustrations, and successes and discuss barriers that need to be dismantled.
Contact: amanda.lin@ryerson.ca
From ABR 101 to Black Canadian Studies: A Pedagogical Framework for Learning and Integrating ABR in the Personal and Academic Development of FCS Students in Undergraduate Programs
Treisha Hylton, assistant professor, School of Child and Youth Care
This project aims to develop a pedagogic map for layering anti-Black racism across the developmental stages, both personal and academic, of four-year students across all FCS Schools. While most, or even all, schools at FCS already have or are currently developing curriculum related to anti-Black racism, this project aims to develop learning outcomes accompanied by relevant learning materials that provide for an iterative engagement of anti-Black racism. The project will take into account the curriculum components embedded in such work and the developmental and social context of students as they transition from adolescence into early adulthood. The project will assemble a team of 18 students, with two representatives from each school in FCS. The project's initial phase will consist of a weekly team dialogue geared toward sharing the pathways experienced by team members in their engagements with anti-Black racism. During the second phase of the project, the team will connect with external resources to collect further experiences on pedagogic approaches to layering learning across four-year programs. The third phase of the project will involve a series of dialogues with Ryerson colleagues across all FCS schools. These discussions will ask for input and feedback on the team's emerging vision of the pedagogic framework that forms the outcome product of this project. The fourth phase of the project focuses on the development of the product itself. The team will work to articulate the learning outcomes on a year-by-year basis and connect each learning outcome explicitly to the personal and academic development of students. The final product will be a booklet that brings to life a sequence of learning and teaching context in tune with the aims of the project.
Contact: thylton@ryerson.ca
Issues of Access Through COVID-19
Meredith Gillespie, co-chair, Equity, Diversity and Inclusion Committee, School of Urban and Regional Planning
Jao Dantes, administration officer, Equity Diversity and Inclusion Committee, School of Urban and Regional Planning
Adam Dhalla, communications officer and year one liaison, Equity Diversity and Inclusion Committee, School of Urban and Regional Planning
The purpose of the Issues of Access Through COVID-19 symposium is to learn about how issues of access have affected marginalized populations across Toronto and Canada during the COVID-19 pandemic. The symposium, taking place on March 5, will feature six speakers to share their perspectives on the challenges marginalized people are facing during COVID-19. Further, two keynote speakers will address a prominent intersecting issue of access that has emerged throughout the pandemic: anti-Black racism. These keynote sessions will explore how anti-Black racism is systemic, and actively works against Black people in almost every facet of life, including employment and education. The keynote speakers will shed light on how to actively dismantle systemic anti-Black racism, and the work planners can do to unlearn anti-Blackness in their profession.
Contact: meredith.gillespie@ryerson.ca
Leadership Development for Black Students
Olufunke Oba, assistant professor, School of Social Work
This project focuses on leadership development for Black students in FCS. A series of "Leading While Black" workshops will galvanize Black students to become change agents on campus and in the community. Workshops will include:
Sessions on myths about Blackness and lived experiences of Black Ryerson students
A leadership workshop facilitated by Tola Ayeni

, external link, opens in new window

, a Black certified leadership trainer/life coach and executive director with the John Maxwell organization
Personalized assessments, analysis and participation in vision boarding exercises
Explorations of Anti-Oppressive Practice
Additionally, participants will engage the FCS community through a colloquium or webinar and will have the opportunity to pursue training as John Maxwell certified trainers and public speakers.