Having found her calling at Ryerson, a recent graduate raised the bar on community organizing
Meet our 2019-20 undergraduate Gold Medalist and Board of Governor Leadership Award recipient, Alannah Fricker, Social Work '20
June 29, 2020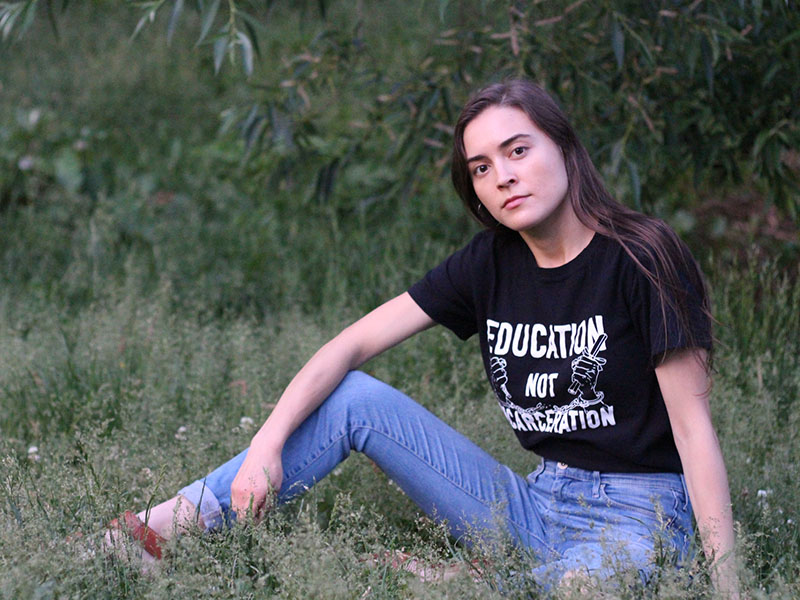 What does winning the Gold medal mean to you?
Winning the gold medal means a number of things to me. It means that the work I've done with my peers - in support of harm reduction, public health approaches to drug use, anti-stigma, mutual aid, and education about drug policy, sex work, police and prison abolition - is being recognized. It means that the many students, community members, staff, and faculty that have put in so much of the work on campus and made me a better organizer - are also being recognized. It recognizes the transformative work of the groups I am a part of, namely the Toronto Prisoners' Rights Project (TPRP), Canadian Students for Sensible Drug Policy (CSSDP), and the Toronto Harm Reduction Alliance (THRA).
But the single award also means that many other incredible community organizers, activists, and student groups - many of which are run by Black, Indigenous, racialized, (dis)abled, queer and trans folks - are not being recognized. I would not have been able to do the work that I did during my time at Ryerson, without the groundwork and wisdom of People Who Use Drugs and those who are low-income, under-housed, sex working, Black, and Indigenous, who continue to call out for liberation. While I am troubled by the award, I am immensely grateful and humbled by it, and the implications it has on harm reduction and abolitionist organizing on campus.
What is your advice for first-year students?
Join a student group that upholds your dignity, supports your wellbeing, builds your skills, challenges and expands your thinking, empowers you to take action and make a difference, and gives meaning to your time at University outside of your degree. If a group doesn't already exist - create one. There are many veteran student organizers out there with established students groups and unions, who can equip you with the tools and advice to take the leap. When I created my student group, CSSDP Ryerson, in 2018, I had never been part of a student group before and was supported in doing so after reaching out to the RSU - Ryerson's Student Union.
What do you know now that you wish you knew then?
I wish I knew what my power as a student was - that faculty and staff at the university were accountable to me and my peers and that if we raised our voices, we could be listened to.
What were your favourite classes/teachers academically? Why?
My favourite course was Homelessness in Canadian Society, taught by Sarah Jean Harrison, due to the number of community speakers with lived experience of substance use, homelessness, sex work, and anti-Black and anti-Indigenous racism. The course was flexible and there were opportunities to complete coursework in creative and artistic ways. The course has unfortunately been cancelled by the Chang School, and I hope it can be reinstated in its initial form with its original teachers as soon as possible.
I've also had so many wonderful relationships with teachers outside of the classroom. I want to say a special thanks to Dr. Ken Moffatt, the Jack Layton Chair, who has been an incredible teacher, mentor and colleague over the past 3 years, and who I'm endlessly grateful to work with. I also want to recognize Melanie Panitch, Kiké Roach, Kim Bailey, and Emily van der Meulen. Without their support and mentorship, I could not have accomplished the community work that I did in my time at Ryerson.
What were some of your favourite moments as a student? Why? Were there any challenges here?
There have been many memorable moments while I was a student at Ryerson:
Meeting my life partner and co-conspirator on a panel discussion.
Bringing speakers with lived experience of drug use, sex work, homelessness, and incarceration to talk at the university, paying them good honorariums, showing support and solidarity, and amplifying their calls for action.
Bringing Ryerson community members on tours of the Works Supervised Injection Site and witnessing their transformation and surprise at the importance of the site, how it operates, and how wonderful the people who work there are.
Training people in overdose prevention and response via naloxone and CPR training, and being able to give folks practical means by which they can become first responders to keep their own community safe
Do you have any thoughts about the world today? About graduating? And your hope for the world? And advice/wishes/challenges for those with you today?
COVID-19 has created a number of challenges for my work, including increased opioid overdoses in our communities, and heightened risks for prisoners who are kept in crowded, unsanitary conditions, on lockdown for most of the time, and released into communities without housing, clothing, food, and social support.
However, it has also created many opportunities for imagining and realizing transformative change. In response to the crisis and over the past 2.5 months, we've raised $96,000 for prisoners through the Prisoner Emergency Support Fund, run countless educational webinars, newscasts from inside prison, rallies, and organized dozens of petitions, press releases, and email and phone zaps to influence decision-makers. Recently, we've started a community project to organize alternatives to policing in Toronto/Tkaronto.
The murder of George Floyd and the recent deaths of Regis Korchinski-Paquet, D'Andre Campbell, Chantel Moore, Ejaz Choudry, and others at the hands of police called-in for 'wellness' checks have resulted in an enormous amount of grief and rage in Black, Indigenous, Brown, and other affected communities. But the anger and sadness, paired with the amount of free time that many people have due to COVID-19, offers much revolutionary potential. Things that seemed previously unimaginable to many, including police defunding, mutual aid, and the abolition of police and prisons - suddenly feels both mainstream and realizable.
While it has been a moment of deep sadness and hardship, out of the ashes people are rising up to demand liberation, social support, and autonomy.
What are your future plans?
This fall, I will be going to OISE at UofT to begin an M.A. in Social Justice Education. During and beyond this time, I will continue to fight for police-free schools, harm reduction, drug legalization and decriminalization, prisoner justice, and police and prison abolition. We have to believe that we will win, and increasingly, I believe that we can and will see these changes in our lifetime.
*portions of this article were edited on August 17, 2020