The top honour
Get to know the Gold Medallist from the Faculty of Community Services
October 22, 2019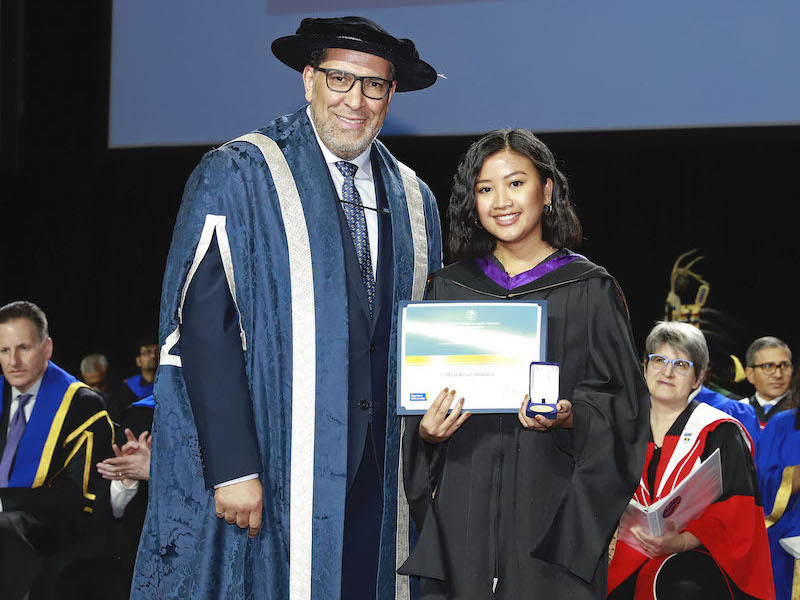 Maria Krisel Abulencia, Master of Nursing (MN) '19, received the Ryerson Gold Medal at the Faculty of Community Services (FCS) convocation ceremony on October 17.
The Ryerson Gold Medal is the university's highest award, given to students with outstanding academic achievement and involvement with the university, their profession and the community.
So what does it feel like to receive the university's top honour? We asked Krisel to share some of her insights.
What does receiving the Gold Medal mean to you?
The nomination alone was a humbling experience. Receiving this recognition reminds me of what is possible when we stop wondering if we've "done enough," when we act with intention and in alignment with our own values, and when we are surrounded by a community of support.
This award is collectively shared amongst my mentors, family, colleagues, and friends whom I've had the privilege of knowing and learning from. They taught me that equitable leadership is not about what you can take but what you can give. Receiving this recognition motivates me to contribute, collaborate and share more.
What advice would you give students entering their first year?
Practice compassion first with yourself, and then others. We are socialized to strive for perfection when we should really be striving for excellence. I've learned that stress arises from comparatively and obsessively thinking about how things "should be." We can liberate ourselves by practicing acceptance. Acceptance does not mean apathy. It is about meeting each moment without judgment but with gratitude and curiosity. We can do this by practicing patience as you continue to understand the post-secondary transition.
Lastly, find the people, practices, causes, and places you want to show up for. Then, do it consistently. Do it while no one is watching.
Do you have any favourite classes/teachers, and what made them stand out?
I first met Dr. Josephine Wong during NSE 31 (Community Health Nursing) and then the MN 8931 (Diversity and Globalization) course. Dr. Wong is an inspiring professor who invests in her students' growth beyond university walls. She is a catalyst in the classroom; always encouraging us to critically analyze existing paradigms and to resonate with course materials personally and professionally. I have never encountered a professor who invites vulnerability in the classroom. Dr. Wong's unique teaching praxis and commitment to capacity building motivate us to advance social justice in a way that is grounded in our own unique socio-historical contexts. She is the reason why I pursued graduate studies.
How did Ryerson support you during your time here?
Writing assignments and a thesis at the graduate level required additional supports and lots (and lots) of patience. The Student Writing Centre played a critical role for me during the initial adjustment period and throughout my program. I spent plenty of time learning from the supportive staff, and for that I am grateful.
There is something about connecting with other graduate students that humanizes the journey and reminds us how are all interconnected. I am also grateful to the Yeates School of Graduate Studies and Daphne Cockwell School of Nursing (DCSN) for facilitating professional development workshops and networking events to engage with our peers.
What has been your proudest accomplishment?
Undoubtedly, being the recipient of this award and defending my thesis this past April: 'Negotiating "Cultural" Identities: Exploration of Young Asian Women's Racialized-Gendered Experiences and Mental Well-being.'
What are your future plans?
I'm really curious about health equity and mental health promotion, specifically around Asian communities. I plan on pursuing my PhD in the near future. But until then, I'm continuing my engagement with community-based research under the mentorship of Dr. Wong. I am very thankful to the DCSN community for the support and countless opportunities for growth. I've learned so much at Ryerson, having completed both my undergraduate and graduate degrees here. It would be an honour to return and contribute to this community in the future.