Faculty award recipients
FCS community members are recognized for their exceptional collegiality and excellence in teaching, research and service
April 17, 2019
Every year, the Faculty of Community Services (FCS) celebrates the achievements of FCS community members at the Faculty Achievement Event held in April.
This year, FCS recognized four faculty members and one contract lecturer with faculty-wide awards that acknowledge exceptional collegiality and excellence in teaching, research and service. Congratulations to our 2018-19 recipients!
Janice Waddell Faculty and Staff Collegiality Award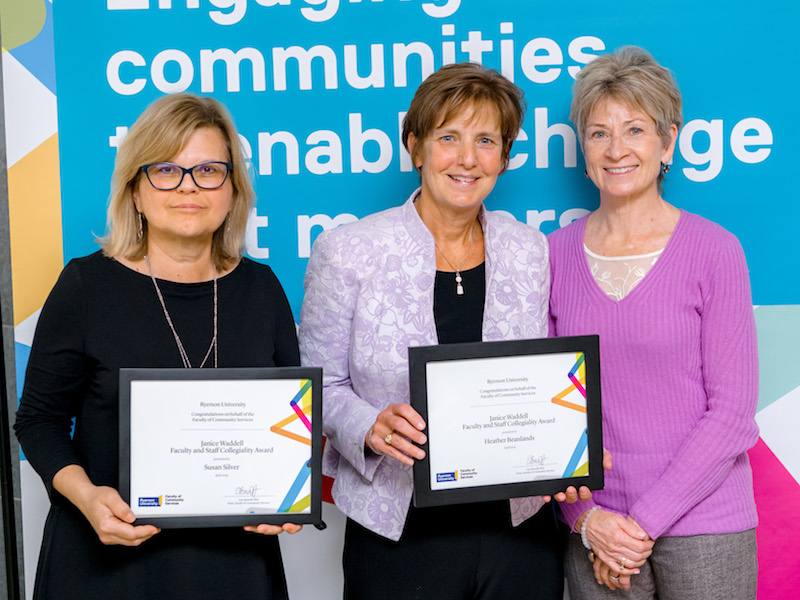 Heather Beanlands, Associate Professor, Daphne Cockwell School of Nursing, Faculty of Community Services
Heather Beanlands is recognized for her excellence in nursing education, research and leadership at the Daphne Cockwell School of Nursing. She has contributed to a positive work environment by promoting mentorship for new faculty, support and professional accountability. Beanlands has demonstrated her commitment to collaboration within the school through her active participation on multiple committees. She has participated in activities to enhance collegiality and the overall well-being of her colleagues. She has also taken on a number of leadership positions to support the work of the school, including as program director of the Master of Nursing program, and associate director of scholarly, research and creative activities.
Susan Silver, Interim Director and Associate Professor, School of Social Work, Faculty of Community Services
Over the course of her career, Susan Silver has proven herself to be a tireless supporter of the School of Social Work, a strong mentor, a collaborative leader and more recently, has gone above and beyond as interim director. She has epitomized the spirit and ethos of collegiality with her warmth, humility, tenacity, and encouragement of staff and faculty. Silver has given long hours to relationship- and trust-building, to collaborative and strategic planning, as well as to the support of her team.
Sue Williams Excellence in Teaching Award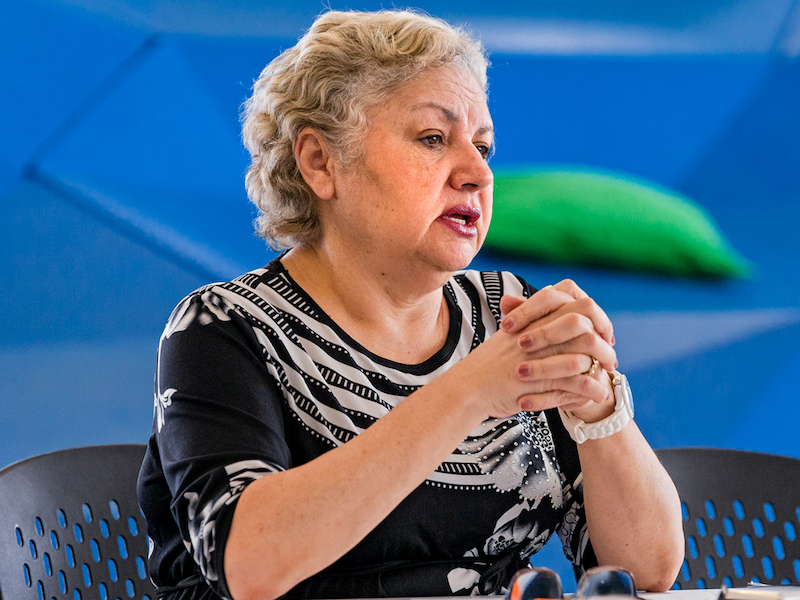 Margareth Zanchetta, Associate Professor and Associate Director, Scholarly, Research and Creative Activity, Daphne Cockwell School of Nursing, Faculty of Community Services
Margareth Zanchetta has recognized and nourished students' potential for scholarly endeavours, and was recognized in 2017 by the Council of Ontario University Programs in Nursing with the Excellence in Teaching Award. Her students have been published with her in peer-reviewed journals, have presented at national and international conferences, and have received research grants, awards and research assistant positions. Their success has continued in their pursuit of graduate and post-graduate studies. Currently, as an associate director of scholarly, research, and creative activities, Zanchetta has instilled a new culture of scholarly learning through knowledge translation workshops involving over 200 undergraduate and graduate students, faculty and instructors.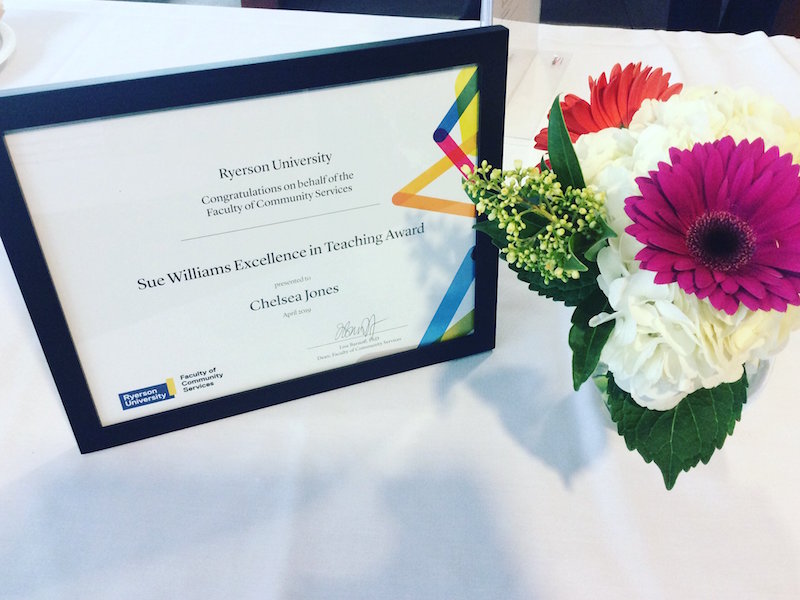 Chelsea Jones, Contract Lecturer, School of Disability Studies, Faculty of Community Services
Chelsea Jones is an inventive instructor and a leader in online pedagogy. By positioning access at the forefront of her praxis both online and in the classroom, Jones involves students in classroom building as a launching point for their learning. She skillfully designs creative classroom strategies to keep pace with her students—part-time, distant learners who are already working in community services. She brings a decade of journalistic storytelling and her research on the development of inclusive space-making through writing to her classes, advancing the Faculty of Community Services' approach to blending mind and action through teaching and learning.
Usha George Faculty Recognition Award
Kathryn Church, Director and Associate Professor, School of Disability Studies, Faculty of Community Services
Kathryn Church exemplifies engaged and sustained leadership, generosity of spirit, kindness, enthusiasm, and collegiality. Under her formidable leadership the School of Disability Studies has excelled in creating new scholarships and awards for students, has been recognized for its pedagogical innovation, and has supported a cadre of new scholars whose own teaching and doctoral and post-doctoral research programs are making enormous contributions to the exploding field of disability studies. Church, as administrator-in-chief, has stepped up to the challenges faced by programs organized for part-time students at a distance, and is a fierce advocate calling out administrative processes biased against them: awards whose criteria disproportionately favour full-time candidates, registration systems that require alternate processes for part-time studies, and student support services that are not available to on-line part-time students. At the same time, she epitomizes what it means to be an exceptional mentor and role model to faculty and students and a generous builder of community.