You are now in the main content area
Graduation & Beyond
The closer you get to the end of your program, the more you'll start looking ahead, beyond graduation. But don't wait until then to start planning out your career path. The university provides support services to help you weigh your options and become career-ready.
Road to Graduation
Did you know that you must apply to graduate from your program? Find out what you need to qualify, what happens during the convocation ceremony, important dates, fees and all you need to know about graduating. Visit the Convocation Office for FAQs, checklists and more.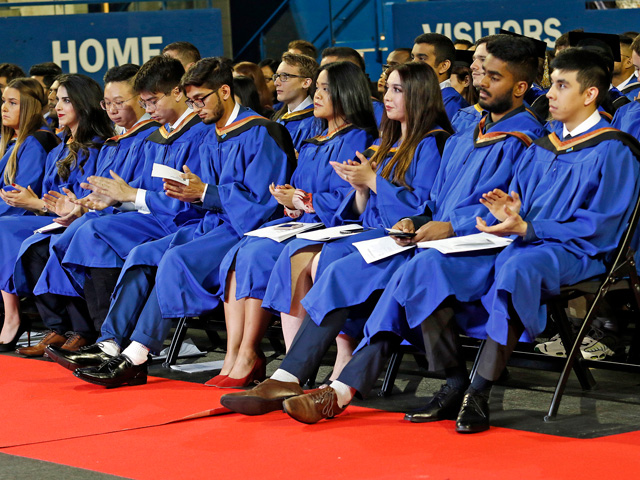 Workforce or Alternative Careers
Some of our students find entry-level technical roles after graduating from their program. Check out some of the roles and companies past graduates have landed under the broad umbrella of science.
Others work in scientific sectors, but in alternative roles, such as sales, marketing, communications or management. Still alumni pursue additional degrees in complementary fields such as education, medicine, dentistry.
Postgraduate Studies
An undergraduate degree is not a professional degree, but can be the first step towards a more specialized career in science. Science programs at the master's and PhD equip students with in-depth research skills that are highly sought in government, academic and industrial settings
 Did you know? Successful domestic applicants to our MSc and PhD programs are offered funding packages along with admission. Check out our graduate program.
"[TMU] is a wonderful environment to share ideas and be intellectually curious. My undergraduate experience inexorably set me down a career path in research, and I find it immensely gratifying. After graduating, I completed Master's degrees at Oxford and Harvard in Immunology and Epidemiology respectively, and an M.D. at Dalhousie. I am now a fellow in neuroradiology & intervention at Brigham & Women's Hospital in Boston, focusing on the diagnosis and minimally invasive treatment of brain and spine conditions."
 Did you know? TMU alumni can access Career Services for up to five years after completing their program. Check out what's available for alumni at the Toronto Metropolitan Career & Co-op Centre.