Creative Industries student self-publishes novel
How a third-year student puts a dystopian novel to print
October 19, 2021
Third-year Creative Industries student Andrea Bougiouklis, external link, opens in new window is breaking new ground by self-publishing her debut fictional novel, The Art of Becoming a Traitor. At the age of 20, Andrea has already established herself as a force to be reckoned with, and if her passion for storytelling is any indication of her future success, she has a prosperous career ahead of her.
We sat down with Andrea to get a better understanding of how she published her full-length novel, how it feels to excel in the creative industries at such a young age, and what advice she would give to aspiring writers.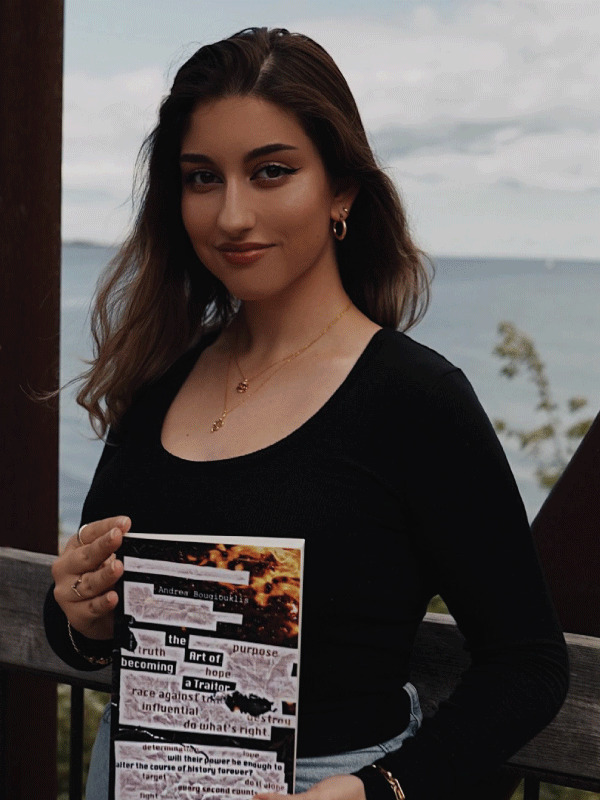 What's the meaning behind the title The Art of Becoming a Traitor?
The novel itself surrounds a young woman who learns that the war she had so integrally been a part of was one that was built completely on a false pretense. She finds incredibly incriminating evidence that suggests that the superiors and the mentors that she had been trusting for her entire life were using her as a symbol and that they planned to alter history entirely to erase all of their wrongdoings. In short, she has to become a traitor. But, she has to do so with poise, and with a plan - as she always has. So, there is a certain art to her path.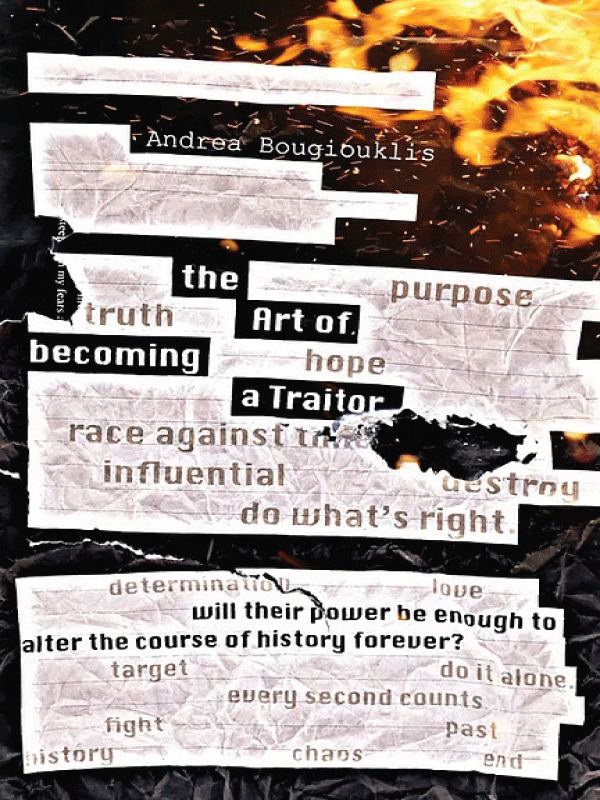 Where did you get the idea/inspiration for this novel?
It's really just a reflection of what I see in the world, set in a fictional future. I feel that there is something to be said about how we can perceive the world around us when looking at it from afar - sometimes we need to be a little further removed from something to better understand it, instead of being right in the middle of it and expecting to see it all. I take inspiration from real life, and I try to write fiction that reflects it.
How did your academic career prepare you for a career in the creative industries?
Learning a bit about the business side of the creative sector definitely helped me understand how to navigate the publishing industry in a way that I may not have otherwise been able to. My focuses in CRI (Creative Industries) are filmmaking and storytelling in media, so though neither is directly related to traditional publishing, both modules helped me better grasp how these sorts of things work.
How did you navigate the process of self-publishing, and what lessons did you learn?
I had no clue what the publishing industry was like going into it. I didn't know any authors, or publishers, or editors, and I felt a little overwhelmed by all of it, at first. Eventually, I went looking through the #MSWL (Manuscript Wish List) on Twitter and was able to find a few independent publishers, which is how I ultimately ended up getting a deal with 5310Publishing.
What advice do you have for aspiring writers who are considering self-publishing?
Genuinely, from the bottom of my heart, the best advice I can give anyone who wants to write and publish is to just try to do it. It isn't easy, and odds are you'll be rejected by agents and publishers an incredible amount of times before you're given some sort of offer, but until you get something written and start to make things happen for yourself, you'll never know. Worst case scenario, your story doesn't work out (yet), but that doesn't mean it should be abandoned. If you believe in it, someone else eventually will, too.
Andrea's novel is available for pre-order through her website, external link, opens in new window, and at large retailers including Amazon, Barnes and Noble, and Target.
The Creative School at Ryerson University
The Creative School is a dynamic faculty that is making a difference in new, unexplored ways. Made up of Canada's top professional schools and transdisciplinary hubs in media, communication, design and cultural industries, The Creative School offers students an unparalleled global experience in the heart of downtown Toronto.