You are now in the main content area
Curiosity Labs
Sometimes it can feel like everyone knows how to ask someone out, share with a partner our needs or get over a breakup but us. The reality is many of us struggle with fostering relationships. We created Curiosity Labs to be a shame-free experimental space to explore relationships with your peers.
In Curiosity Labs workshops we learn from each other, ask questions and build our relationship skills together. Through interactive activities, writing prompts and pop culture examples, we will explore ways we can flirt, set boundaries, handle rejection, apologize, communicate and deal with conflict. You will leave each workshop with tangible relationship tools. You can take all or one of the seven workshops throughout the school year. Curiosity Labs is a partnership with Consent is Golden Laurier and Consent Comes First.
Contact us to learn more osvse@ryerson.ca.
Curiosity Labs Workshop Series Include
Curious About Pleasure?
Do you know what brings you joy? How do you know something is giving you pleasure? Figuring out what feels good to you is paramount for your relationship with yourself and others. Join us to explore what pleasure principles are for you.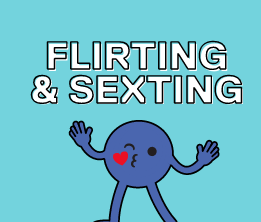 Curious About Flirting & Sexting?
Want to flirt or sext but don't know where to start? Join us to explore ways to flirt playfully, consensually and safely that feels comfortable for you.
Curious About Communication?
Having a nourishing relationship including sex life is about communication. Knowing what you want and need as well as listening to what your partner desires is key. Join us to explore ways to share, ask, listen and respond with care with a partner.
Curious About Boundaries?
Saying no to someone else is saying yes to ourselves. Boundaries show up in our lives every day - at school, at home, and in our relationships. Join us to explore what your boundaries are, how they can shift with different circumstances and how to assert them with others.
Curious About Having Hard Conversations?
Have you ever avoided giving feedback to a partner because you were nervous about how to approach the conversation? Join us to explore how to prepare for and begin hard conversations that can lead to collaborative action.
Curious About Apologies?
Do you want to make amends but don't know how? Does your pride or fear of rejection get in the way of accountability? It's never too late to apologize. Join us to explore ways to apologize when we cause harm.
Curious About Rejection & Breaking Up?
Have you ever been left devastated after the end of a relationship or struggle to cope when someone said they were not interested? Join us to explore how to compassionately deal with loss and change.