You are now in the main content area
Educators
We're going virtual!
Due to COVID-19, all in-person programs will not run during the 2020/21 school year. We look forward to meeting students and connecting with communities every year, but we know it is best to stay apart for now so we can come together again sooner.
Instead, we've moved online! SciXchange has produced several educational resources for educators to engage youth in virtual learning, including DIY experiment tutorials and lesson plans. They have been designed to be accessible for students to use virtually or in-person, and are tailored to elementary and high school age groups. Educators are welcome to use any of our resources, free of charge, at any time.
You may also request our volunteers to join your classroom virtually to help facilitate the activity. As a safety precaution SciXchange will not provide materials for each activity. This will be the responsibility of the school. If this provides a barrier to accessing our programs we can arrange alternatives.
In-class Educators will share the activity video with students and get them started. Our volunteers will help trouble-shoot issues that students have and provide a wrap-up for the activity. In the case of a virtual classroom, our volunteers will show the activity video and walk students through the steps of the activity.
Stay connected with us so you never miss an announcement!
Educator Newsletter, external link - Generally sent once per term, this email announces all of our available school programs for the term and how to register.
Volunteer Sign-up, external link - Our monthly volunteer newsletter allows volunteers to sign up for the events and shifts they're interested and available to help with. We'll provide training to get you started. See our volunteer page for more information.

SciXchange Newsletter, external link - Our general newsletter keeps the public and our community informed about upcoming public events and programs related to science outreach.
Lastly, follow us on Facebook, external link, Twitter, external link, and Instagram, external link to see what we're up to throughout the year!
Online Resources
The Royal Canadian Institute of Science has compiles online STEM resources for parents and teachers. It features some of the best science communication and education opportunities available virtually in Canada.


The Canadian Association of Science Centres has a list of online programming and resources from Science Centres and Museums across Canada. It features everything from virtual tours, how-to science experiments and meeting scientists!

Let's Talk Science has published online and virtual STEM-at-home resources for families and teachers. They have activities, videos and career exploration resources ready to engage your youth.


Need some good news? Browse our Good News Stories on ArcGIS StoryMap. This interactive map brings stories from around the world of how nature continues to thrive during the COVID-19 pandemic. This resource is updated weekly.

Get Started
Flexible Lesson Plans

We've put resources together for some of our favourite STEM topics! These lessons are geared towards grades 3-9 and include easy activities, accessible videos and readings. You can pick and choose which resources to use, or use all of them, which will take about 1.5-2 hours per topic.

In May 2021, we hosted the annual Science Rendezvous festival virtually! Science Rendezvous is a national showcase of science that takes place in over 40 different sites across Canada on the same day. Our virtual event included 17 different pre-made resources for visitors to interact with to learn science, such as games, podcasts and interviews with innovators and researchers, science student insight for budding scientists, and more. We encourage educators to incorporate any of these resources, opens in new window into their classrooms!
Scientist Chats
Students can explore STEM careers and learn about cutting edge research in our Scientist Chats series of videos. Our Let's Talk Science Coordinator, Adisa Julien, discusses a wide variety of topics and we answer students' questions about everything from pollution in space to the coolest virus.
Find the full library of Chats on YouTube, external link, opens in new window!
STEM-at-Home
STEM stands for the subjects Science, Technology, Engineering and Math. The series of BINGO cards below are designed to help students in grades 4-8 explore different topics in STEM including exploring career opportunities.
Studying and working in STEM offers many opportunities so the BINGO card takes a different approach to the STEM acronym. Each column on the STEM BINGO card stands for something a bit different:
Socialize - because you meet great people in STEM

Travel - because STEM can take you cool places

Entertain - because there's so much fun in STEM

Make - because STEM needs your creativity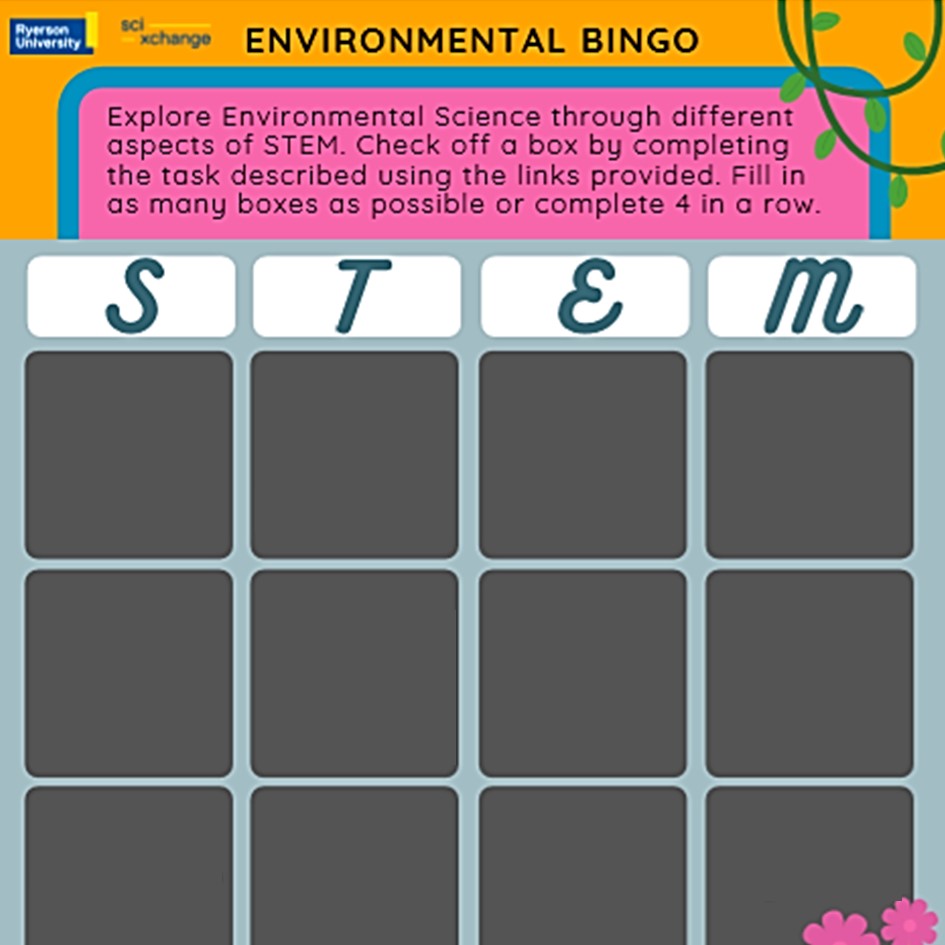 Space Science

Meet some amazing people working in aerospace and astronomy. Travel to Europe's Spaceport and tour the surface of an asteroid. You'll learn more about our travels in space and get to explore some tools that astronauts learn.


Environmental Science

Get outside and travel the world with these cool resources! You'll get to see the wildlife of the African Savannah, learn from inspiring folks working to help our planet, and even lead a group of Krill to safety.


Earth Science

Our planet is an amazing place to be. This topic will lead you to the tops of volcanoes to the depth of Earth's core. You'll get to make a moon crater and meet a dinosaur skeleton!

Stay In Touch 
Want to keep up to date with SciXchange's programs and activities? You can sign up to our Newsletter for updates from SciXchange. Teachers and other educators are encouraged to sign up for our Educator Newsletter. Members of the general public including parents are encouraged to sign up for our SciXchange Newsletter.

Want to get your class involved with Ryerson Science?
All of our programs are free of charge and and incorporate hands-on and minds-on science, technology, engineering and mathe (STEM) learning activities for youth of all ages. A typical visit includes 2-3 volunteers that will lead a demonstration, then work with the students to guide them through the activity on their own. Each activity typcally runs between 1-2 hours.
Browse through our elementary, high school, and community centre visit information to learn more about the types of activities we offer, and how and when to sign up.
Although we make every effort to fulfill all requests, a request does not guarantee a visit. We also only visit schools or community centres located in the Greater Toronto Area (GTA). Scheduling is subject to the availability of volunteers and travel restrictions.
Stay in touch
Keep up to date with our programs and services. We distribute our Educator Newsletter, external link, opens in new window throughout the year with updates on which programs are being offered and how you can sign up.
We welcome partnerships and visits from all schools and community centres. If you would like to sign up for a program please contact our coordinators with the requested program and preferable date and time. We will endeavor to return your email within 2 business days.
 scixchange[at]ryerson.ca
 416-979-5000 x4100
Booking Policy
We schedule activities on a first come, first served basis, according to our volunteer's availability. Please note that we visit one class per school, in one day, and rarely have the capacity to facilitate multiple activities to several classes back-to-back at the same school. In order to provide access to our programs, we do not book mulitple days with the same school. If you would like us to return to your school, your second request will be placed at the bottom of the priority list and we will visit all new schools before re-visiting schools within the same school year. Thanks for your understanding and cooperation.