Annual Report 2021
A review of SciXchange's growth and achievements throughout 2021.
January 19, 2022
The active agent for a science literate culture, and scientifically engaged nation.
Create opportunities for scientific discussion & critical thinking, guided by diversity and inclusion.
We engaged with 3277 individuals.
In 2021, we hosted 76 events and activities.
We virtually visited 11 cities in Ontario;
reached 2 different Canadian provinces;
and collaborated with partners in France.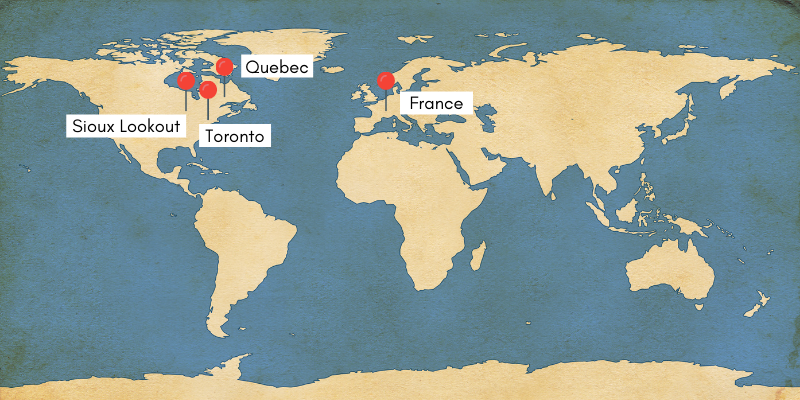 We were supported by 225 volunteers & partners;
who engaged participants for 245 hours.
We established 3 virtual programs tackling social justice issues in STEM, including climate justice, & amplifying the contributions of Indigenous Peoples and People of Colour
Solve Climate Workshops: Freshwater Conservation
SciXchange's Climate Change Workshops utilize climate science and a justice lens to educate students on advocating for action and solutions to climate challenges. The newly piloted Climate Change Workshop addresses freshwater conservation with the intent of educating high school students in Ontario about the importance of conserving freshwater in their daily activities and furthering their understanding of freshwater consumption patterns. The Workshop provides engaging and interactive content that help students learn about physical and virtual water consumption, freshwater scarcity, and how to calculate their water footprint.
The Missing Pages
SciXchange releases it's first season of The Missing Pages, a video series highlighting science from around the world to disrupt the idea of Eurocentric/Western science. From a historical perspective, experts from academia and communities that are underrepresented in STEM (Science, Technology, Engineering and Math) emphasize that our understanding of science (in a western context) has been shaped by people from outside Europe.
Through collaboration and consultation with historians, community members and equity experts, this 5 part video series included the following topics:
Communicating Science: The Science of Paper Making & Science Communication

Mathematics: The History of Mathematics from South Asia and the Middle East

Food Systems: Food Security and Sovereignty in Indigenous and Black Communities

Medical Science: The History of Medical Innovations & Theories

The Science of Racism: The Response and Legacy of the Eugenics Movement
You can watch the full series on YouTube, external link, opens in new window or check out the first video below!
Indigenous Scientist Chats
To amplify the voices of Indigenous Peoples and expand our understanding of science beyong Euro-centric research, STOODIS Science presented it's first ever Indigenous Scientist Chats! This 3 part virtual event featured the expertise of Joseph Pitawanakwat, Corey Gray, and Dr. Hilding Neilson, who shared their areas of study, and the impact Indigenous Peoples have had in science that usually go unrecognized.
The goal of the series is to showcase the contributions Indigenous Peoples are currently making in STEM, and challenge our modern ideas of science that are based on centuries strictly European work.
You can watch all 3 epsiodes on YouTube, external link, opens in new window, or take a look at one of the videos below!
We introduced our first French language programs
We were thrilled to incorporate French language learning resources by collaborating with The Cultural and Scientific services of the French Embassy and Prof. Beauchemin from Ryerson University, who created interactive activities and educational videos.
We also participated in the very first Canadian edition of La Fête de la Science, external link, a 10 day festival of science celebrated in France annually in November. Our Director, Dr. Emily Agard, was the first international ambassador for the Fête. Through this event, we established the French language portion of our high school series, the Let's Talk Sports Symposia.
Find the French Science Rendezvous activities on the official website, opens in new window, and watch Prof. Beauchemin's video below.
You can also check out a clip, external link of Dr. Agard describing what being the ambassador meant to her.
We hosted our 2nd year of Virtual Eureka! Camp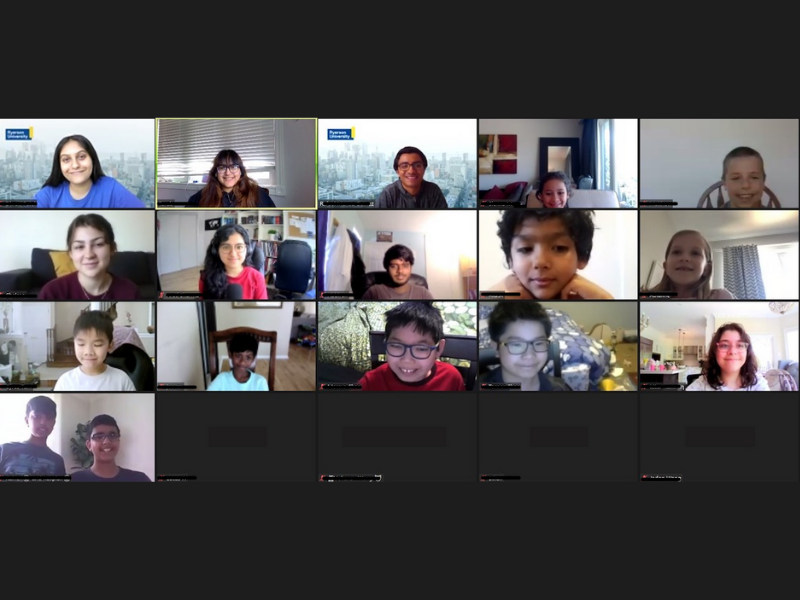 We shared the voices of many online.
Soapbox Science 2021
Soapbox Science is a novel public outreach platform for promoting women identifying scientists and the science they do. This event usually takes place at the Toronto Harbourfront, but we transitioned online instead and were able to reach cities we never have before. Using their virtual soapbox, our speakers shared cutting edge research with the general public and engaged curious minds of all ages. This wasn't your average science talk - we swapped powerpoints for fun props and panels for direct access to leading scientists.
You can view one of the speaker episodes below, and we encourage you to watch the rest on YouTube, external link, opens in new window.
Virtual Science Rendezvous 2021
After a pause on Science Rendezvous in 2020, we came back virtually in May 2021 to showcase the research and stories of our amazing network of researchers, professors, and students. We were excited to share interactive activities about medical imaging, social justice in STEM, and climate change research. Activities also included ways to see and incorporate science into our daily lives, such as exploring the ecosystems in our local neighbourhoods. Plus, we hosted our first French language programs.
You can check out the full line up of learnng resources on the Science Rendezvous at Ryerson website, opens in new window.