Highlights from National Indigenous Peoples Day 2022 at TMU
TMU community comes together to celebrate Indigenous culture and history through storytelling, craft-making, and Indigenous teachings
July 08, 2022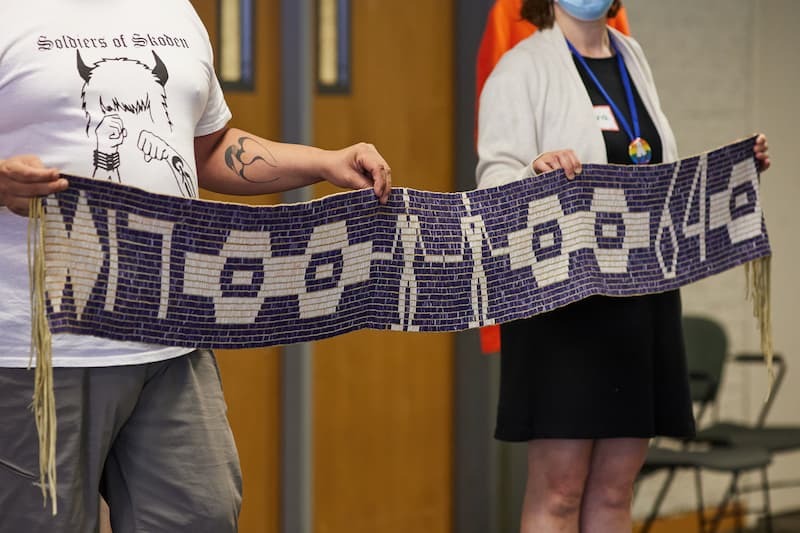 On June 21, the Toronto Metropolitan University community celebrated National Indigenous Peoples Day virtually and in person. The day consisted of events and activities such as children's storytelling, teachings on medicines and smudging, a virtual heart garden (external link) with messages to residential school survivors and families, craft and button making, a community lunch catered by Aboriginal Flair Catering, tours of the Indigenous Medicine Garden on campus, and an educational session titled Wampum belts woven through Anishinaabe history from Brian Charles, an Indigenous liaison for the provincial and federal government.
It is important for us to come together to recognize and honour National Indigenous Peoples Day as a community. It's an opportunity to celebrate the diverse cultures, unique heritage and exceptional contributions of Indigenous people. It's also a day to listen and learn from the Indigenous community, reaffirming our commitment to Truth and Reconciliation and to equity.

My sincerest thanks to everyone who joined in on the day's activities, for taking time both independently and with others, to learn about and reflect on Indigenous history in Canada and how we can become better allies and contribute to a process of anti-colonialism and reconciliation.

It is critical to name the realities and consequences of colonialism and to talk together about the challenges that colonialism and reconciliation present. We can together imagine a different way forward that reconciles the past and moves us toward a new chapter that is more equitable.

Take a look at some photos and takeaways from TMU's National Indigenous Peoples Day events:
Children's Indigenous storytime
The day started with the Early Learning Centre, the EarlyON Child & Family Program, the University Library and the School of Early Childhood Studies leading a children's Indigenous storytime outside in the Quad.
They read a selection of stories including My Heart Fills With Happiness by Monique Gray Smith, a Cree, Lakota and Scottish author. Each of the books read highlighted Indigenous authors and illustrators and stories that emphasize connections to the land, and relationality within community and the natural world.
The children were then invited to share what makes their hearts fill with happiness through drawing. Actively engaging young people in learning about Indigenous culture and about Canada's history of colonization is critical to meaningful Truth and Reconciliation.
In addition to these children's stories, the University Library made available a selection of books from their collection that highlighted Indigenous authors that all attendees could view and read.
Panel discussion: How to be a good ally
Back inside, a hybrid panel discussion took place featuring TMU staff, faculty and students who shared their stories and experiences learning and working together with the Indigenous community. Key takeaways from this session include:
The term 'ally' is someone who has privilege, but chooses to stand for and with marginalized communities by taking tangible, ongoing actions to dismantle systems of oppression;
There are many ways to be an ally to Indigenous peoples, as an ally your role is ongoing and requires commitment; and
As an ally, you are encouraged to speak up and intervene when someone is targeted, learn from your mistakes and stay engaged.
If you missed this session, you can watch the recording:
Tour of the Indigenous Foodways and Medicine Garden at the Daphne Cockwell Health Sciences Complex
In the afternoon, two groups of attendees toured the Indigenous Foodways and Medicine Garden located at the Daphne Cockwell Health Sciences Complex (DCC). The rooftop garden, which opened in 2021, includes a community gathering space, a greenhouse and garden plots dedicated to growing culturally significant crops and medicines.
Attendees learned about the different Indigenous medicines being grown, which include tobacco, sweetgrass, sage, chamomile, echinacea, skullcap and many more. Using traditional growing methods, the crops are harvested and distributed to Indigenous community groups both on- and off-campus. The garden also grows sumac and will soon be home to cedar trees.
Wampum belts woven through Anishinaabe history
To end the day's activities, Brian Charles, an Indigenous liaison for the provincial and federal government for over 20 years, offered a presentation about how wampum (tubular purple and white beads made from shells) have been used to record relationships and treaties between the First Peoples of the Eastern Woodland, as well as with settler societies in Canada.
This session offered attendees the opportunity to deepen their understanding of the meaning of wampum and how they have a responsibility to learn about, recognize and uphold the treaties through the wampum belts. It's important to acknowledge that self-education and lifelong learning outside of the classroom is essential to Truth and Reconciliation.
Charles is an off-reserve band member of the Chippewas of Georgina Island who has worked collaboratively with a small group of knowledge keepers to research and assemble a physical repository of wampum belts connected to Ojibwa history.
Thank you again to everyone who attended these events and took part in these important conversations. I would also like to commend the organizing committee for your hard work and dedication in making the day's events happen.
Though National Indigenous Peoples Day has come to an end, there are a number of upcoming opportunities to celebrate Indigenous culture and history on campus. Collectively, our community has made great strides in our journey of Truth and Reconciliation, and while there is more work to be done, I am proud of our steadfast commitment to confront colonialism, racism and inequity. I encourage all community members to continue listening to truth-tellers, to celebrate Indigenous history, culture and heritage and learn how Indigenous people have shaped Canada into the country we know today.
Upcoming events:
For more events, visit: https://www.torontomu.ca/aboriginal/events/