Black History Month Alumni Spotlight: Charlotte Crawford
March 04, 2021
Charlotte Crawford, external link, opens in new window is a Master of Professional Communication (MPC) graduate who works at Sampler, external link, opens in new window as its Content Marketing Specialist. Her Major Research Paper (MRP): "Technology Producers' Use of Language and Discourse To Shape and Reinstate Anti-Black Global Realities: An Analysis of Amazon's Facial Recognition Technology" speaks to the ways in which Amazon's responses to allegations of racial bias in its facial recognition technology (FRT) supports societal mechanisms of anti-Blackness. Further, Crawford discusses her perspective on Black History Month (BHM) and provides advice to other Black communications professionals. Crawford recently presented her MRP research as a panelist at York and Ryerson University's Critical Race and Media Studies Symposium. She will also be presenting her research in late March as a guest lecturer at California State University. Please look for her MRP in Ryerson's Digital Repository, opens in new window in the coming weeks.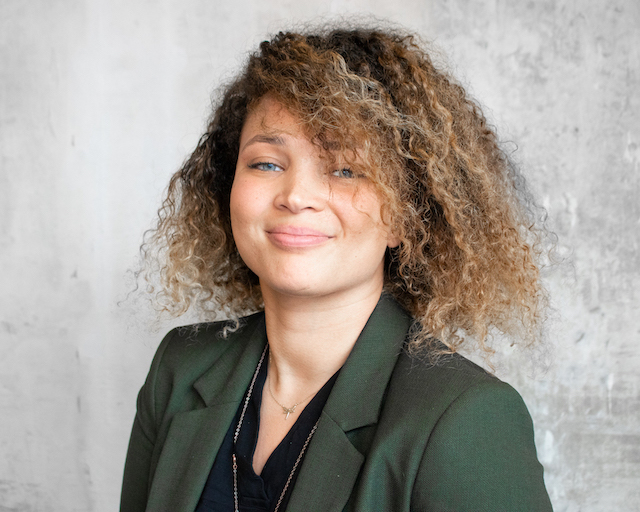 What inspired you to choose your MRP topic?
Through my work with my supervisor Dr. Shana Almeida, I realized how pervasive and dangerous the societal conception of technology as politically neutral or objective really is, and how much technology corporations' communications play a role in allowing the idea to persist in our world today. As Sayfia Noble (2018) points out, what is not often represented in governing discussions of technology is how the financial interests of technology corporations like Amazon directly influence and determine technological development and knowledge formation.
We know from Stuart Hall (1997) that communications from those with perceived authority in society or an industry are a primary site of meaning and knowledge for members of that group. It is also important to note that FRT is not just a nonconsequential piece of technology; rather, it is used in an artificial intelligence (AI) pipeline that can not only convict someone of a crime and put someone in jail, but can also determine future employment, housing and travel opportunities. I believe it is absolutely imperative we further investigate how technology producers contribute and reinstate racially-biased and anti-Black realties as natural or normal through their technology production and communications.
What are the key findings of your research?
My study involved a critical discourse analysis (CDA) (Fairclough, 2015) of Amazon's general description, external link, opens in new window of Rekognition (its FRT) and its specific response, external link, opens in new window to the ACLU's 2019, external link, opens in new window allegations of racial bias and anti-Black racism in the development and application of Rekognition within law enforcement. I discovered the examined communications from Amazon work to erase and silence claims of racial bias and anti-Black racism in FRT from the ACLU in cases like Robert Williams, external link, opens in new window.
Amazon uses a range of metaphors that minimize the detrimental impact of FRT on Black communities and appeals to North American historical and dominant narratives around law enforcement as innately good and Black people as naturally felonious throughout the FRT communications I examined. Further, Amazon never acknowledges the widely-documented anti-Blackness that persists in North American law enforcement practices and policy nor the proven racial bias of FRT that is widely discussed in FRT literature. As most members of the public do not know much about FRT, Amazon holds perceived technological and FRT authority. That said, through privileging certain experiences and narratives and minimizing others Amazon effectively erases the experiences of those who experience anti-Black racism through the use and development of Rekognition.
Amazon additionally enables what I coined as discourses of racial neutrality, in which a corporation positions itself as outside of, beyond, and/or immune to racially-biased and/or anti-Black relations of power. This combined with the dominant conception of technology as neutral, allows Amazon to deem any proven racially-biased FRT outcomes as a "glitch in the system" that has nothing to do with race. In doing so, I argue Amazon contributes to the large-scale project of reinforcing who holds power in North America and who does not.
What advice would you give to other Black communications professionals?
Know your worth; and don't let anyone tell you differently.
What does Black History month mean to you?
Black History Month feels bittersweet to me every year. Don't get me wrong, I am so proud of the achievements of my community worldwide, but I do aspire for everyday material where Black people are recognized, celebrated, and compensated for their ideas, work, and talent outside of a short, designated month. Black scholars' and leaders' contributions continue to be essential to the success of communications, technology, and other fields. Black history should never be regarded as a separate field of interest, but rather as an integral part of our collective pasts, presents, and futures.
Works Cited:
Fairclough, N. (2015). Language and Power: Third Edition. Routledge.
Hall, S. (1997). Representation: Cultural Representations and Signifying Practices. Sage Publications.
Noble, S. U. (2018). Algorithms of oppression: How search engines reinforce racism. New York University Press.