Join the conversation on curriculum transformation
TMU explores Standing Strong Task Force recommendation nine and equity outcomes across academic programs
March 17, 2023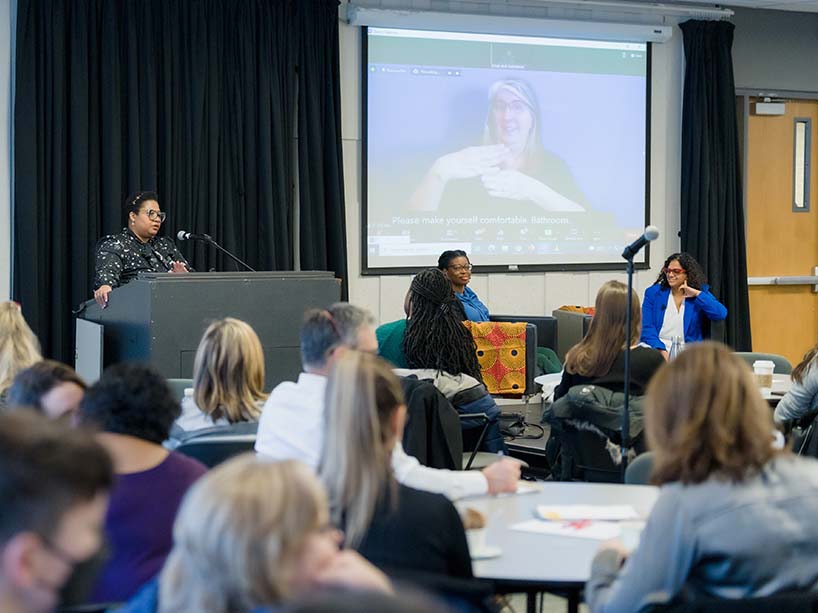 I am very pleased to serve in this new role and assist the university in implementing key recommendations of the Standing Strong Task Force (SSTF) report that focus on TMU's responsibility to educate. In the coming weeks, community members will have the opportunity to share their ideas about how to best implement recommendation nine in the SSTF report which outlines that the university should develop a plan to ensure all academic programs contain mandatory learning opportunities about Indigenous history and Indigenous and colonial relations for all students.
Additionally, these discussion opportunities will engage faculty members in exploring possibilities for broad attention to equity across programs. Insights, experiences and ideas from faculty, staff, and students are critical to success in these areas at TMU.
To begin our conversation, I am joining community members in conversations in various ways:
Connecting with community networks, leadership teams, and student groups
Public events that are open to students, staff and faculty
Events specifically for Black and Indigenous community members
Receiving written input sent to nextchapter@torontomu.ca
Given the relational nature and complexity of this work, the majority of the meetings will be in-person and on-campus. There will also be a virtual option.
I look forward to hearing from the TMU community and to working closely with the university's faculty members, whose leadership and experience is vital to achieving programmatic and curricular change. For more information about this work, I invite you to review the materials on the Next Chapter - Curriculum webpage, including an overview of curricular approaches to equity at TMU and my commitment to this role.
Meeting Days and Times
Participants
Day
Time
Location

All community - light lunch

Wednesday, March 29

12 - 1pm

POD 250

Virtual - All community

Thursday, March 30

12 - 1pm

Zoom

TMU Black students

Wednesday, April 5

1 - 2pm

Peter Bronfman Centre

Heaslip House - 7th floor

297 Victoria St.

TMU Black staff

Wednesday, April 5

2 - 3pm

TMU Black faculty members

Wednesday, April 5

3 - 4pm

TMU All faculty members

Wednesday, April 5

4:30 - 5:30pm

TMU Indigenous students

Thursday, April 6

1 - 2pm

TMU Indigenous staff

Thursday, April 6

2 - 3pm

TMU Indigenous faculty members

Thursday, April 6

3 - 4pm
Jennifer S. Simpson is special advisor to the president, equity, diversity, inclusion and decolonization (curriculum transformation).