TMU releases latest Employee Diversity Self-ID Data
The 2020 data shows progress in recruiting, representing and retaining a diverse workforce
July 26, 2022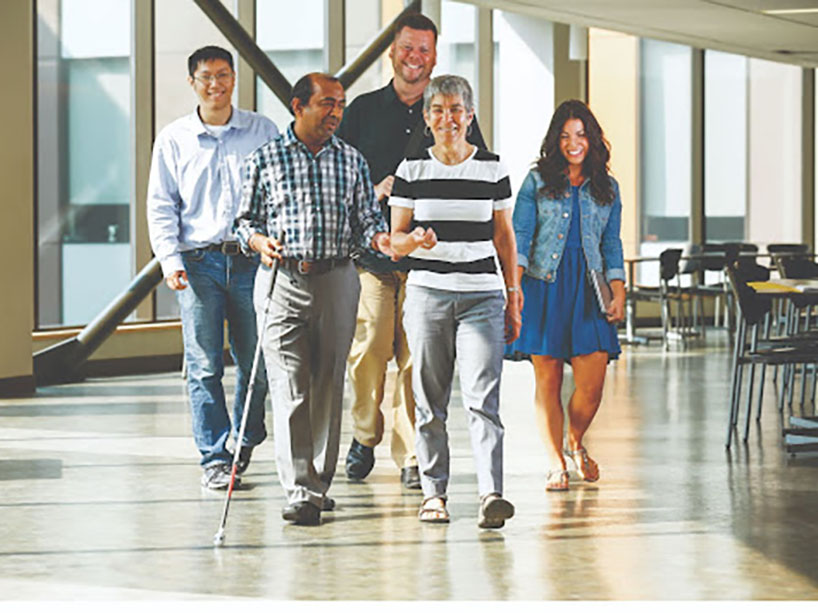 The 2020 Employee Diversity Data Centre is now live, with interactive data that provides an update on Toronto Metropolitan University's (TMU) progress in recruiting, representing and retaining employees from five equity groups: women, racialized people, First Nations, Métis and Inuit (FNMI) Peoples, persons with disabilities and 2SLGBTQ+ people. Black employees have also been presented as a distinct equity group so that the university can track its progress on confronting anti-Black racism and enhancing Black inclusion.
Published by the Office of the Vice-President, Equity and Community Inclusion (OVPECI), the data provides insights into how the university is advancing workplace equity, diversity and inclusion as part of TMU's commitment to transparency and taking action to address gaps in representation.The university community is invited to explore and engage with the newly released data to see where our strengths and opportunities lie, to sustain and build on our successes and make adjustments where necessary.
Key findings a measure of progress
People across the university are working to embed equity, diversity and inclusion into all aspects of what they do, says Tamar Myers, director of the Research, Planning and Assessment unit in OVPECI. This enhances the work of the university, and learning for all students, leading to better innovation and problem solving.
The OVPECI provides support in realizing the university's equity, diversity and inclusion (EDI) strategic initiatives, including a commitment to transparency in reporting the university's progress. This involves conducting research and gathering information, and providing education and awareness, among other priorities. The data centre is an important aspect of this work.
"The work that our team does to engage the university community in advancing equity, diversity and inclusion is starting to show up in the results that we see in the data," says Myers. "We have really great momentum that can be accelerated as part of the university strategy. It's important to make bold changes because the possibilities for what we can achieve are endless."
When we recognize and understand specific forms of discrimination, exclusion, racism and sexism...let us not forget the power of making common cause, the power of representation and solidarity... Let resistance to all forms of discrimination be the force that binds us.
Some key findings include the meaningful increase in representation of women among mid-level leaders and full-time faculty in assistant professor and associate professor roles, in comparison to community representation in the GTA and Ontario.
Moreover, there was a substantial increase in the representation of racialized full-time faculty in the assistant professor role, from 19 per cent in 2016 to 41 per cent in 2020, and notable progress in the representation of racialized senior executive leaders and team supervisors. However, the representation of racialized leaders at all levels remained below community representation of 51 per cent.
"There's been a substantial increase in Black faculty at the university, one of many signs of progress being made, even though we're really just starting to address the issues of anti-Black racism at the university," says Myers. The increase can be seen in Black full-time faculty in the assistant professor role, which has increased from five per cent in 2016 to nine per cent in 2020. However, the representation among mid-level leaders at four per cent and senior leaders at five per cent is well below broader community representation at eight per cent and has remained relatively unchanged since 2016.
The percentage of FNMI full-time faculty in the assistant professor role increased from two per cent in 2016 to four per cent in 2020. Since 2016, the representation of this equity group in supervisory roles has also increased from one per cent to two per cent. However, staff representation remained at one per cent.
The five year trend shows notable progress for women, racialized people, Black people and FNMI Peoples in many types of work at the university. However, continued creative and intentional action is needed for the university to build diversity in the pipelines to occupations in which equity groups are underrepresented. Additionally, the university can make more headway in recognizing transferable skills, equivalent qualifications and excellence in different forms.
View more key findings in the Diversity Data Centre.
Intentional and proactive diversification
To inspire action and provide a foundation for each faculty to build upon, the data centre outlines many initiatives already in place at TMU to address systemic barriers faced by underrepresented groups at the university.
Myers points out that there are some great initiatives underway within the various faculties to make them more inclusive and to support faculty members from equity-deserving groups in reaching their potential.
"It's a huge investment when we bring faculty members in, so it's really important to make sure they're successful, and it's critical to the mission of the university and to learning for students," says Myers. "One way we do this is by making sure there's enough faculty members from equity-deserving groups, either in that school or department or across the faculty who can connect with each other and support each other."
The future holds promise for increased representation
The data centre is a tool that reveals patterns and trends for university leaders, committees and decision-makers to advance EDI at the university, but it doesn't tell the full story of progress, or barriers that prevent progress. Myers encourages everyone to take a look at the data, in particular for different divisions and faculties to review the findings related to their specific areas and to meaningfully engage with the results.
"It's critical to have discussions in the faculties about building on their successes and perhaps addressing areas that they may not have realized need to be addressed," says Myers.
Setting a benchmark for the university
The OVPECI did not publish a 2020 Employee Diversity Self-ID Report report this year, instead opting to share findings through the data centre for employees, updating the 2018 data with 2020 data.
Your participation is essential to help the university determine where we are now, set goals to advance an inclusive workspace and measure our progress. Learn how to complete your Diversity Self-Identification on the Diversity Self-ID website.
The next Employee Diversity Self-ID Data will showcase 2022 findings with an expected publish date in 2023. In the meantime, the OVPECI will prioritize the production of the 2021 Student Diversity Self-ID report, which they expect to launch at the end of the year.