Long-standing employees reflect on decades of change
Special university event recognizes employees for years of service
May 13, 2022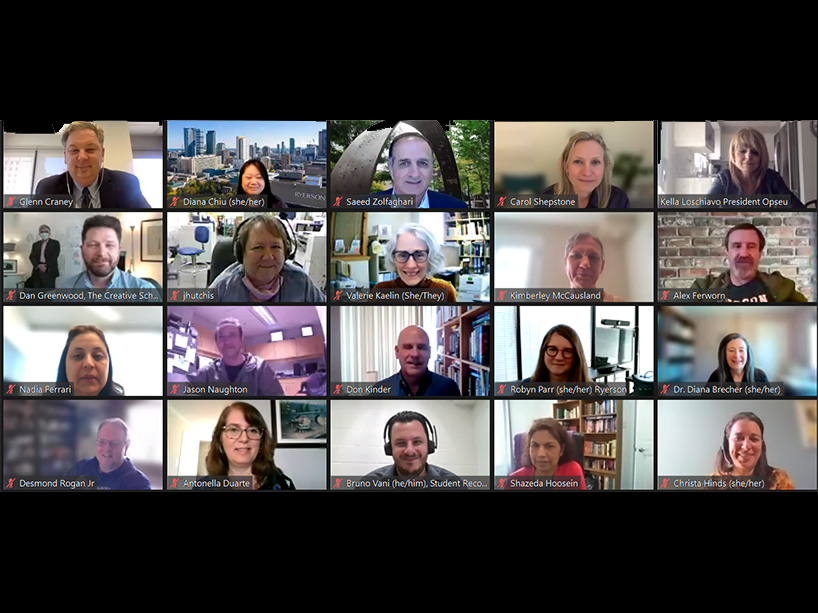 When Dr. Diana Brecher started working at Toronto Metropolitan University (TMU) as a clinical psychologist in 1991, it was a polytechnical institute with a small cluster of buildings. To her, it felt like a small town.
Brecher has spent over three decades here and yet she feels it has flown by. The long-service recognition event prompted her to take a moment to reflect that she has spent her whole career at the university.
During her time here, Brecher has watched the university evolve quite a bit, with new buildings, programs, graduate school and a law school. For her, it has been wonderful to be part of the evolution of the university as a place that champions diversity, entrepreneurship and innovation.
In addition to working at the university's Centre for Student Development and Counselling, Brecher was also adjunct faculty at the Ontario Institute for Studies in Education at the University of Toronto from 2000 to 2009 and is currently adjunct faculty in the TMU psychology department. She also started ThriveRU in 2016, a resilience-based training program, and co-created Thriving in Action with Deena Kara Shaffer.
Brecher's commitment to the university was commemorated at this year's long service milestones celebration, held virtually on April 14. The TMU "25 Year Club" celebrates the commitment of faculty and staff who have given a quarter-century of service. Long service milestones are also celebrated by the university after 30, 35, 40, 45 plus years of service.
"My congratulations goes out to all of our employees celebrating these important milestones," said President and Vice-Chancellor Mohamed Lachemi at the virtual event. "Whether you are marking 25 years or 50, you have been front and centre throughout decades of relentless evolution and growth. Our university's success is because of the talent and dedication of you and your colleagues."
Bridgette Stanton, a client services ambassador at the registrar's office, started 35 years ago in the admissions office as a filing clerk who would sort all of the applications manually.
"At that time, the applications were submitted in hard copies and I had to not only file them but match the transcripts to the files. I spent every day going through hundreds of boxes of applications."
Stanton moved on to work at the registrar's office where she helped sort through forms indicating course intentions for the fall or winter. Since then, Stanton says the university has evolved digitally - she is impressed that classes were conducted virtually for the past two years.
Working from home has been a welcome change for Stanton, who lives an hour outside of Toronto. She has enjoyed saving time on the commute and is looking forward to an early retirement where she'll explore her love for animals by working at an animal shelter.
This year, honorees received a meaningful gift box of items sourced from Canadian businesses that are Indigenous-owned, Black-owned or otherwise supporting specific causes. The theme was self care and the items include funky socks from Sock Footage, external link; hand-crafted soap from Yukon Soaps, external link; local honey from The Green Jar, external link; lip moisturizers KOA Natural Skincare, external link; and an Indigenous artwork face mask from Tribal Trade, external link.
The long service milestones event is part of the university's Recognition and Awards program. To view the full list of this year's honourees, please visit the Recognition and Awards website.
Related stories: