Anver Saloojee shares his vision for a more inclusive campus
Interim vice-president, equity and community inclusion discusses how the university can continue being a leader in equity, diversity and inclusion
March 17, 2022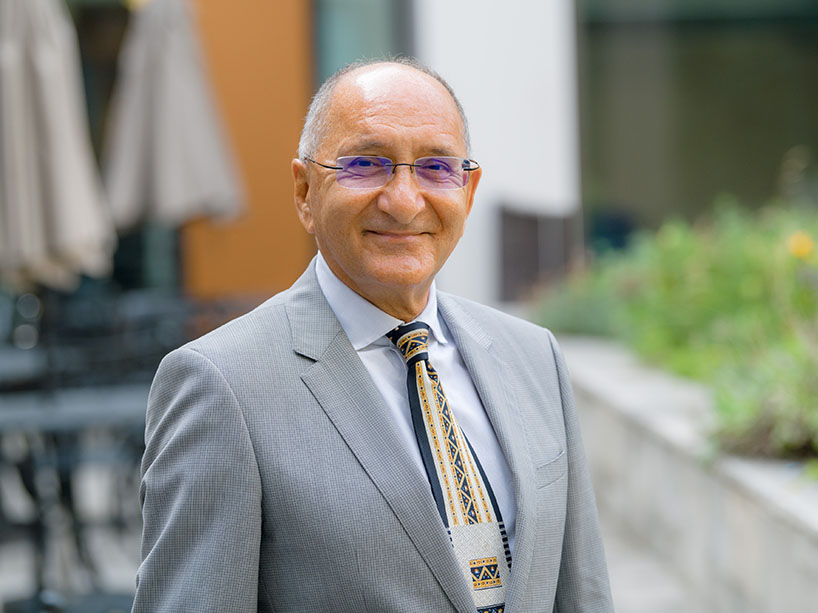 Anver Saloojee has been a distinguished member of the university community for three decades and has dedicated his career to research on human rights and equity-related issues. This month, he started his term as interim vice-president, equity and community inclusion, as Denise O'Neil Green concluded her tenure.
Recognizing that he has big shoes to fill, Saloojee plans to build on the solid foundation Green developed during her 10 years in the role.
"Dr. Green helped infuse the values of equity, diversity and inclusion into every corner of our community and everything we do," said Saloojee. "I will work to ensure that issues of decolonization, anti-Black racism, anti-Asian racism, antisemitism, anti-Muslim racism, and confronting all forms of discrimination remain firmly on everyone's agenda."
A passionate advocate and academic, Saloojee will now also serve as executive co-chair of the Presidential Implementation Committee to Confront Anti-Black Racism, co-chair of the Truth and Reconciliation Strategic Working Group, and chair of the Access Ryerson Steering Committee.
"I cannot think of a better leader to advance the work of equity and community inclusion at the university," said President Mohamed Lachemi. "Through his work with Ryerson International, Anver helped guide the university in its evolution into a global, urban institution, providing strategic direction on our international activities. He also successfully led the development of the Lincoln Alexander School of Law. His commitment to building an inclusive campus has remained unwavering over the years and I'm sure our community will continue to benefit from his leadership in this new role."
Top priorities
One of Saloojee's main goals is to help the Office of the Vice-President, Equity and Community Inclusion (OVPECI) become the community's first touch point – the enabler and strategic guide for everything the university does in relation to equity, diversity and inclusion.
"I aim to strengthen and fortify partnerships across campus in time for the new vice-president, equity and community inclusion to begin their term. And I will continue working with teams across the university that have been established to advance the Truth and Reconciliation recommendations," said Saloojee.
He describes his approach to achieving these goals as collaborative, supportive and forward-looking. An approach that builds communities of solidarity, reaches out to all sectors in the university to drive the work of decolonization and combat all forms of discrimination.
"Collaboration is essential to advancing the work of equity and community inclusion across the university. This is not work that can be accomplished by the OVPECI alone," Saloojee said.
He added that he would like the OVPECI to continue to be a leader in higher education. "We have brought new and innovative ideas into the sector. Other universities across the country turn to us for advice and support and that momentum needs to be continually nourished," he said.
For Saloojee, being forward-looking means prioritizing evidence-based and solutions-focused strategies to remain on the cutting edge of innovative approaches to advance equity, diversity and inclusion.
Finally, recognizing the need to support the strategic initiatives his office has been working on, Saloojee plans to focus on the people behind the ongoing work.
"The work of equity and community inclusion is hard work. It is work that requires patience, persistence and emotional fortitude. Those undertaking this work in my office are all amazingly strong and dedicated colleagues. I am energized and motivated by their commitment to EDI and to this university," Saloojee said.
"They, at all times, need to be encouraged, supported and nourished. I will do that to the best of my ability. We say that the values of equity, diversity and inclusion are in the DNA of our university, and my colleagues in the OVPECI and across the university are the constitutive elements of that DNA."
Related stories: