Queer activism's history in Canada shows a path forward
New book, Out North, tells how activism unites marginalized communities, sparks new opportunity
June 11, 2020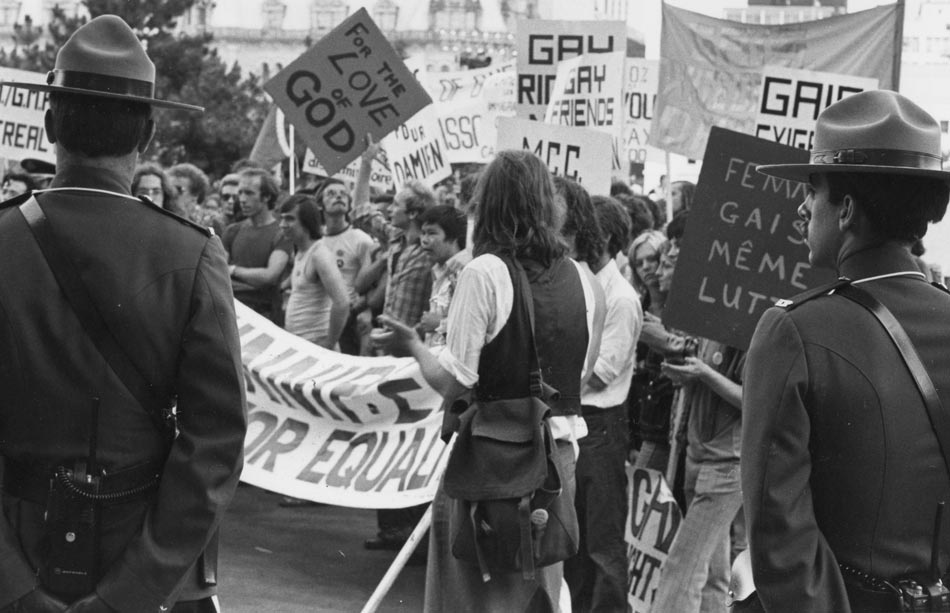 Pride month this year is shaping up to look a lot different than years' past. For the LGBTQ2+ community, June is meant as a month of celebration, remembrance, reflection and, well, pride. With in-person festivities cancelled this year, many of us are looking for other ways to celebrate community and kinship. Ryerson English professor Craig Jennex and Ryerson grad Nisha Eswaran (Literatures of Modernity '10) have given us a perfect outlet in their new book, Out North: An Archive of Queer Activism and Kinship in Canada (external link) .
Out North explores Canada's rich history of LGBTQ2+ activism from the mid-20th century through now, at a time when allyship and activism are proving essential on the world stage. Jennex, a volunteer at ArQuives (external link) , the world's largest independent queer archive, partnered with his good friend and fellow McMaster grad student, Eswaran, to develop a book that makes a small sampling of the wealth of material within the archive available to a wider audience.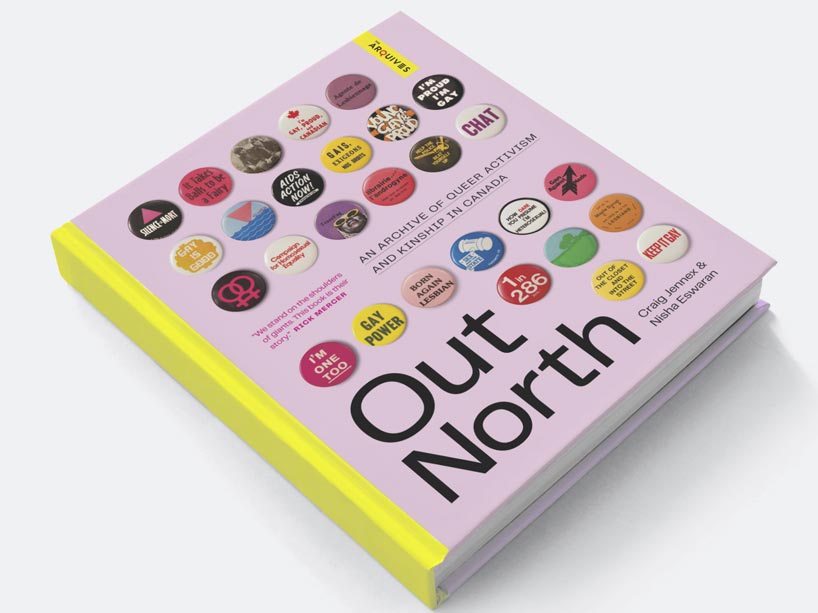 "Throughout this history we see many people who put their physical safety on the line to fight for this movement so that so many of us now can live completely different lives," says Jennex. "One thing that surprised me was not only their power and strength, but how interacting with the material traces of their lives affected me. Even though I haven't met the vast majority of the people in this book, I still felt a profound intimacy with them because I got to hold this material and see what they were writing, what they were creating, and what mattered to them."
Looking ahead
Throughout writing the book, Jennex and Eswaran took special care to try to connect the community's history to the present day. "At the time we started on this book, we were just hoping to find a way of bringing the archives to a wider audience," says Eswaran. "But Craig and I both felt very attached to the material at the archives, seeing it as one legacy of queer activism."
"Nisha and I were so struck by how we've been having these conversations about how we can create a more just and safe world especially for marginalized and oppressed communities for a really long time," says Jennex. "There's still so much learning that can be done from these historical movements."
The book is a perfect intersection of the archives' rich holdings, Jennex's research in queer culture and Eswaran's work on the notions of friendship and kinship. "We've been having conversations around collectivity and political action, and that's sort of how this book formed," says Jennex, who has been thinking about this more as anti-Black racism protests strengthen in the U.S. "I've been reflecting on the role that riots have played in the LGBTQ2+ movement in Canada, and the political utility and function of riots to push back on police violence. This book would not exist if it were not for riots against police violence that happened in the '60s, '70s and especially in 1981 with the Toronto bathhouse raids (external link) ."
The bathhouse raids became a moment of great intersectionality, says Jennex, as can be seen in the print flyers and literature from the time. "One of the things we saw in the weeks after the bathhouse raids was this really present idea that it's not just gay men who face violence at the hands of police in Toronto, but Black citizens, Indigenous citizens. There was an emphasis on coalition. There was a rally on June 20, 1981, where all of the literature from the rally talks about how now is the time to unify."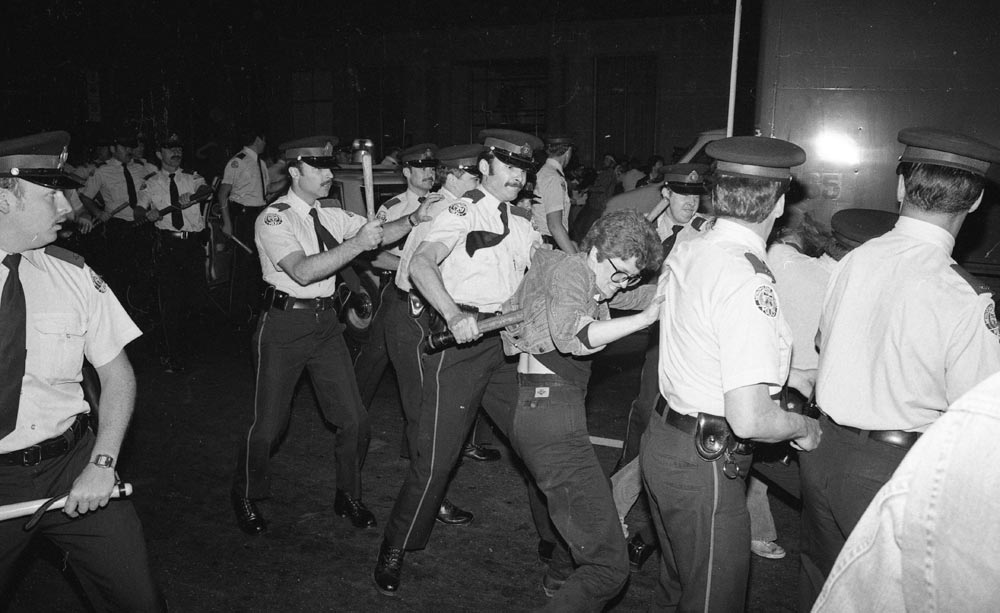 Why activism matters
Jennex says that throughout working on Out North, he and Eswaran have seen that the work isn't done, and a great number of past revolutions' "burning embers" can still be taken up today. "We tend to think of Canada in a progressive narrative, like for example now is the most safe time for LGBTQ2+ people, or now is the most queer moment and that might be true for some, but that certainly isn't the case for every queer person. There are specific examples and moments from the past where there was the potential for a totally different, more just world, and I think that part of what we can do in the present is return to these impulses from the past to continue with them. To pick up the torch."
Out North showcases the ability for collective activism to completely change the world and Jennex draws parallels to the anti-Black racism uprisings taking place right now. "It was activism, which was at the time characterized as violent, unnecessary and irrational action, that allowed for this book to exist and for me to live the life that I am," says Jennex. "We see this happening right now, where contemporary activism is being dismissed by some as irrational and unreasonable. But it's world-making."
"When we were writing the book, it seemed so important because so many different things were happening in the world: Trump's election, the shift from the gay liberation movement, anti-capitalist movements," says Eswaran, who hopes the book will serve as a helpful tool in tracing a history of activism so revolutionary groups don't get lost. "Even though the possibility exists to think about pride as just a party instead of a very complicated political movement, I hope that some of the things that have happened with the gay liberation movement to depoliticize it becomes a cautionary tale. Maybe the book will be important to remind us to hold onto the political nature of queer life."
Honouring pride in new ways
With in-person Pride celebrations cancelled this year in Toronto, it may seem easy to declare Pride as cancelled. But Jennex urges the community to seek other ways to find community, to celebrate, and above all, to remember. "It's important to keep in mind we can cancel the parade but we aren't cancelling pride or the need for pride, it's still so important for us to connect as a community and a collective, to feel that joy and power and agency when we come together," he says.
Eswaran sees this year as a chance to do some reflection. "I think one of the things that I've found really helpful – that I try to do all year but maybe it would be an interesting thing to do for pride this year – is read the queer writing that came out between the '50s and the '90s like Dorothy Allison and Leslie Feinberg, who did this really amazing and beautiful thing to write about a multifaceted queer struggle. Even though many of them are white queer writers, they're very grounded in working class and anti-racist struggle. I often go back to those things to sharpen my understanding of solidarity, as they're writing very much before the time of depoliticization of queer life."
Out North: An Archive of Queer Activism and Kinship in Canada is available now. To learn more about the ArQuives, visit their website (external link) . This June, Ryerson's Positive Space will host several virtual events to commemorate Pride.
Related stories: