Relationships provide the foundation for success
Monica McKay, director of Aboriginal Initiatives, is one of 18 employees recognized at 25 Year Club
May 28, 2019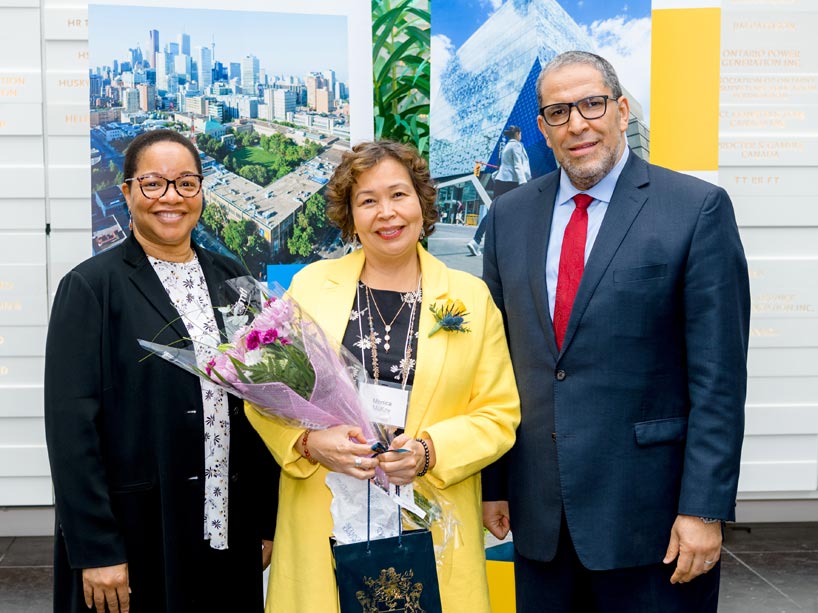 The year is 1993: Jurassic Park is the summer box office hit, Michael Jordan has retired from basketball for baseball and Monica McKay is a first year social work student at Ryerson University, looking for her first work placement.
Fast-forward 25 years, and McKay continues to make an impact at Ryerson. She landed that placement in Ryerson's Student Services in 1993, and now, as director of Aboriginal Initiatives, she is one of the 18 employees joining the 25 Year Club.
Earlier this month, all employees who completed their 25 years of service in the last calendar year were honoured at a ceremony recognizing their years at Ryerson, as part of the larger employee recognition program coordinated by Ryerson Human Resources.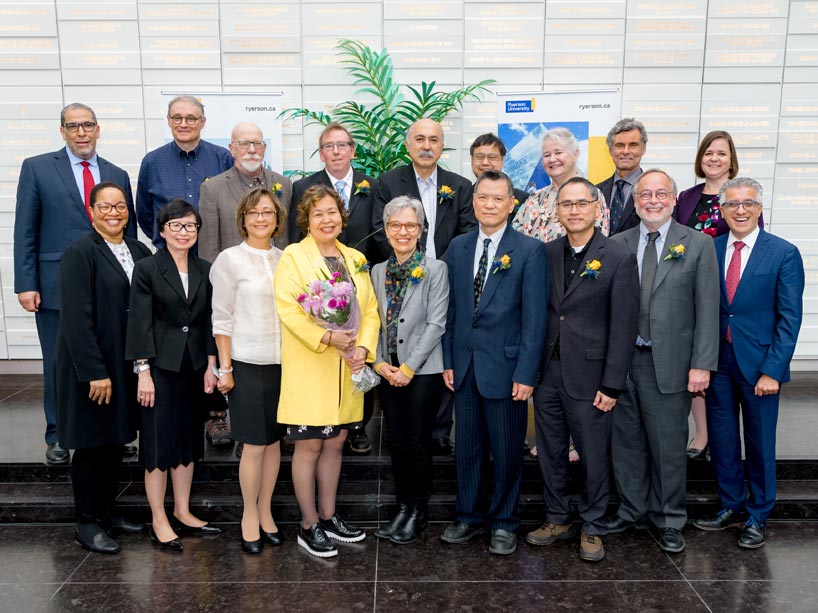 At the ceremony, President Mohamed Lachemi acknowledged another milestone moment from 1993: it was the year that Ryerson gained its university status. In acknowledging his appreciation, and thanking the employees for their service, Lachemi noted, "Our campus continues to evolve [and] the constant in all of this is the outstanding people."
As one of those outstanding people, what has changed for McKay, since she transitioned from a Ryerson student to Ryerson staff member? A lot. "My role initially started in front line work because Ryerson, at the time, didn't have many Indigenous services. My passion over the last 25 years was to see those services become more stabilized," says McKay.
As director of the Office of Aboriginal Initiatives, McKay is responsible for managing and coordinating the implementation of the Ryerson Aboriginal Education strategy and Aboriginal student success programs, as well as maintaining Indigenous-stakeholder relations. In the past 25 years, not only has there been a major shift toward Indigenous affairs in Canada, but McKay has also seen an evolution of what Ryerson has been able to offer its students.
"Student needs reflect the changes in our community and [now] we are able to offer pathways to grad school, career development and exchanges," she says. "We now offer holistic support."
After 25 years, McKay says the work continues. "As an institution, we need a strategic plan around community outreach, admissions and recruitment [for Aboriginal students]. I would like to see an expansion of our Indigenous access programming."
When reflecting further on her 25 years at Ryerson, McKay says she is thankful for the support that the Ryerson community provides. "My experience over the past 25 years has really been about building [Ryerson's Aboriginal Education Strategy] and I appreciate the critical support from senior administration to make that happen. In the Office of the Vice-President, Equity and Community Inclusion, I've not only received incredible support but have been encouraged to build on our success."
In addition to growing services for students, McKay says she has enjoyed the relationships she has been able to develop on campus, between programs and different offices. When asked what advice she would give herself in 1993, she offers a recommendation that anyone can apply to their lives: "Don't be afraid to put yourself out there and build relationships. It is critical and is the foundation to success."
See photos from this year's recognition event, on the Ryerson recognition program website at: www.ryerson.ca/recognition/events/25yearclub/2019/.
For information on other recognition events and opportunities, please visit www.ryerson.ca/recognition.