Breaking the barriers to education
How access to higher education changed two sisters' lives
March 19, 2019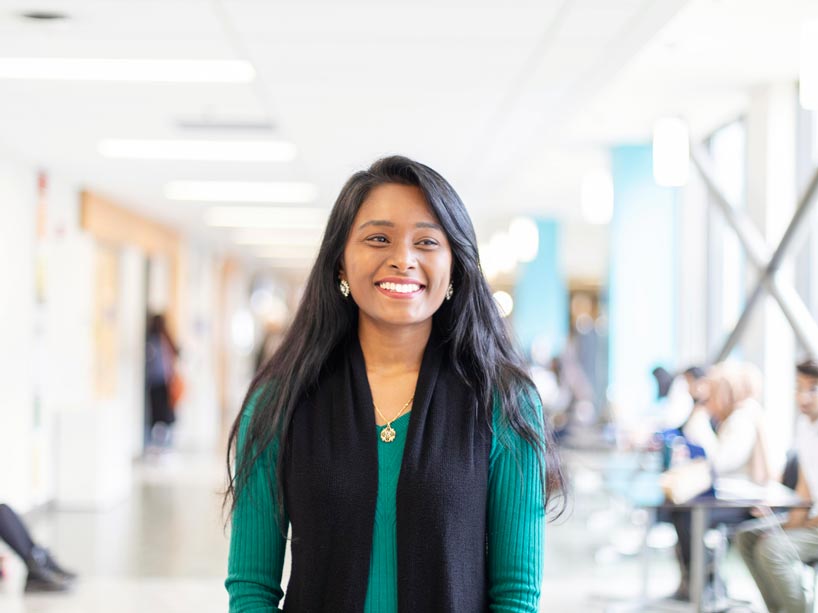 Being the first person in her family to attend university wasn't easy for Hajani Sivasubramaniam (BComm, '12).
"I was expected to complete post-secondary by everyone in my family," she said, "but I didn't have anyone to look up to or network with for advice."
Sivasubramaniam grew up in Toronto's Regent Park neighbourhood and her parents, originally from Sri Lanka, encouraged her to do well in school but she wanted to know how that was to play out.
Regent Park's Pathways to Education, external link program and later, Ryerson's Tri-Mentoring Program, helped her do that. "They helped me navigate the system, understand the requirements to apply and enlightened me on what resources and opportunities were available to help me be successful throughout university," she said. "They provided a lot of mentorship and guidance on how the system works and helped me narrow down the overwhelming choice of programs."
Founded in 2001, the Pathways to Education program has since been replicated across Canada. In its first 10 years, the high school dropout rate in its original community dropped by more than 70 per cent.
The Pathways program provided Sivasubramaniam with funding toward her post-secondary education, helped her apply for university and connected her with Jennifer Barcelona, now the manager of Ryerson's Tri-Mentoring Program (TMP).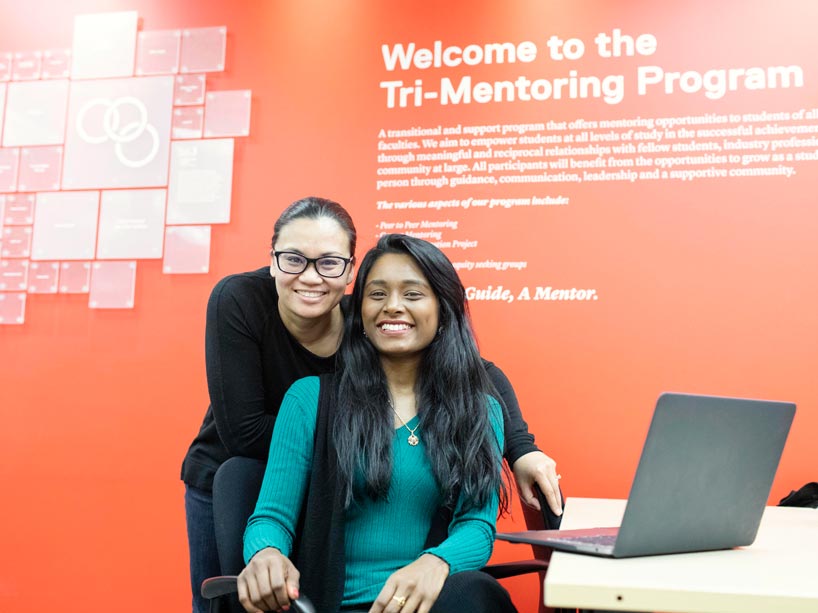 The power of peer-to-peer mentoring
When Sivasubramaniam began her studies at Ryerson in 2008 in business technology management, Barcelona encouraged her to become a mentee at TMP and invited her to volunteer with the First Generation program. Both programs offer peer-to-peer mentoring and support to help break down barriers to higher education.
"Jen told me TMP was like Pathways, with a similar support system and mentorship available," said Sivasubramaniam. "TMP matched me with another student in information technology management, who helped me understand what to expect, and his advice helped me decide to stay in the program."
Another resource Sivasubramaniam relied on in her first year was Ryerson student services.
"Lurana Kruchten was someone, like Jen, who played a huge supportive role for me from the Ted Rogers School of Management (TRSM) side."
In her first semester, after struggling through three exams within 24 hours, her grade average suffered, and she ended up facing possible probation.
"During my first year, I didn't know you could defer one of the exams. One of them was for a statistics class and worth 50 per cent of my mark," she recalled. "In the probation talk, student services explained my options and coached me through it."
The Ryerson ecosystem
At the time, Sivasubramaniam may not have understood how the system worked but she had a keen grasp of the importance of higher education.
"I learned failures and mistakes are the portals to self-discovery. I chose not to be discouraged because there were a lot of resources and opportunities available to me, I just had to level up my mindset to reach them," she said. "You're in school for four years and you should make the most of it. And if you're missing out on these opportunities, you're missing out on building up a better future for yourself."
Once she became involved with TMP, she was able to make excellent use of the Ryerson resources available to her.
"By being involved in TMP, I became aware of all the services available to students. They collaborated with other student groups and student services. I was well immersed in the Ryerson ecosystem."
The TMP and First Generation (FG) programs helped her apply for – and receive—bursaries and scholarships that helped her pay for school. And beyond funding, she made invaluable social connections.
"Tri-Mentoring recruited a lot of young leaders from each faculty," she said. "We had students from arts, engineering, fashion, and other programs, so in that one place we had the diversity of Ryerson life."
Giving back
As soon as she made it through to second year, Sivasubramaniam wanted to start giving back. She began to mentor first-year students and high-school students from low-income communities through TMP and FG and, by her fourth year, she also joined Women in ITM, where she helped establish networking opportunities with C-suite executives for colleagues in her program.
"I was able to bring in a CEO from SickKids hospital and a director from RBC as panel speakers," she said, "so I was able to contribute to the networks that the students needed."
Perhaps her greatest achievement in giving back has been to pave the way for her own family. Sivasubramaniam's younger sister, Janeni, followed in her footsteps by also enrolling at Ryerson in business technology management. Janeni also became involved with TMP and graduated in 2017.
Both sisters now work in the IT field, Janeni as a business analyst for Enbridge and Hajani as the manager of data strategy for Scotiabank.
"Ryerson fosters the culture of uplifting one another, and I am really grateful to take part in that," she said. "And that's what it's all about, we rise by lifting others."
Find out more at Ryerson Access to Education.