Journalism students find a different side of Hong Kong
School of Journalism course takes students on a once-in-a-lifetime educational experience
December 18, 2018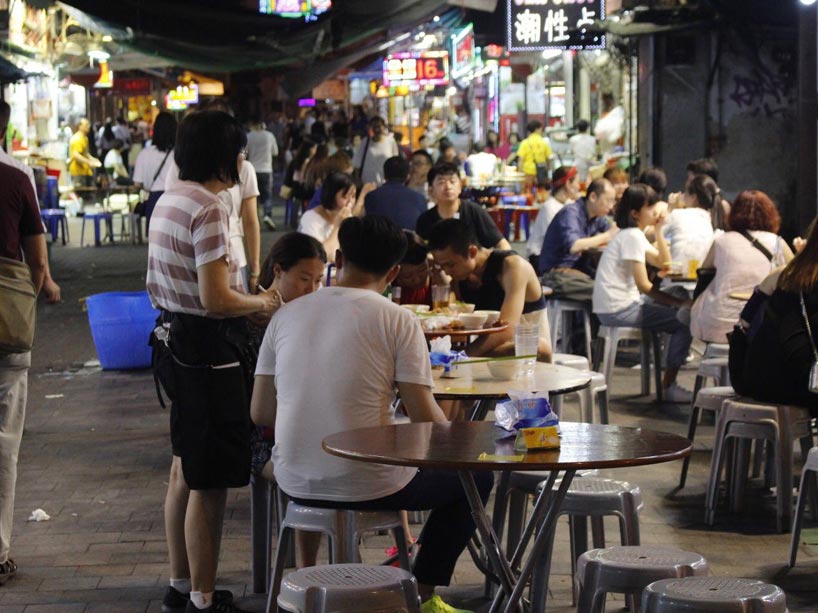 Imagine travelling halfway around the world to an unfamiliar city. Imagine creating a piece of journalism that captures something of that city's identity, all in the span of two weeks. And imagine if that city is Hong Kong.
A select group of Ryerson journalism students don't have to imagine.
Hong Kong 360, the Ryerson School of Journalism's first international-component course, offered 10 students a once-in-a-lifetime chance to apply their skills in one of the world's most dynamic and evolving cities. Led by journalism professor Adrian Ma in May 2018, the course had students reporting and presenting street-level stories using 360-degree VR video technology. Students also participated in the N3 Media Conference (external link) , a gathering of international journalists and ideas hosted by the Asia chapter of the Asian American Journalists Association.
"We knew that we're not going to be able to go there and write political stories or economic stories with great depth because we don't have that kind of knowledge," says Adrian Ma. "We wanted to focus on finding stories that international media wasn't really covering."
How do a bunch of western journalism students do justice to a city as complex as Hong Kong? Their strategy was to go small-scale. "The idea was: let's just go there and find stories about the people living there," says Ma. "We recognize that a lot of international media attention around Hong Kong is really focused on this binary argument between pro-democracy groups and pro-Beijing groups. Lost in all that important discussion are a lot of stories about the people there and what life is like there."
Looking beyond the familiar headlines, students found the political in the personal. Students profiled underrepresented groups like Hong Kong's LGBTQ+ and non-Chinese immigrant communities, and probed some of the city's under-reported trends. Did you know that Hong Kong—one of the most expensive real estate markets in the world—has entire neighbourhoods that are virtual ghost towns? Or how the changing fashions in Hong Kong formalwear are affecting traditional tailors?
"The experience makes you actually use the skills you learn at the Ryerson School of Journalism," says journalism student Stephanie Liu. "Finding our sources and reporting our stories in two weeks, we definitely felt pressure. "It's not like here where, if you can't find a source, you can keep searching. Once you leave Hong Kong, there's no going back—unless you want to pay for another plane ticket!"
Liu's story focused on dai pai dong restaurants—the open-air food stalls that once dominated Hong Kong's streets, but have been vanishing in recent years. "It's a big part of their culture and history, but unfortunately, the government has closed down a lot of them," says Liu. "There used to be hundreds, but now there are only about 20 left. I had the chance to speak with different owners to get their thoughts on it, and with that I wrote a feature, took pictures, and created a 360 video (external link) ."
Most of the students had never visited Hong Kong. Liu is a Cantonese-speaker, but with a heavy western accent. Navigating cultural differences became part of the educational experience. "It was kind-of tough when a lot of them recognized that I wasn't from Hong Kong, and they would say, 'Oh, don't talk to her, she's not from here,'" says Liu. "But there were instances when people were open, and getting to know the people first, and building a connection with them, helped a lot."
Hong Kong 360 was supported by the Ryerson International Experiential Learning Initiatives Fund (RIELIF), which supports the development and pilot of high-impact international experiential learning opportunities. Last year, 11 faculty-led proposals provided extraordinary global learning opportunities for Ryerson students.
This year, Ryerson International will provide a total of five grants of $10,000 each. The majority of the funding will go directly support student participation. The deadline to apply is Tuesday, January 15, 2019 at 12 p.m.