Ryerson researchers named Fellows of the Royal Society of Canada
Ruth Panofsky, Robert Burley and Lorraine Janzen Kooistra honoured as leading scholars
September 11, 2018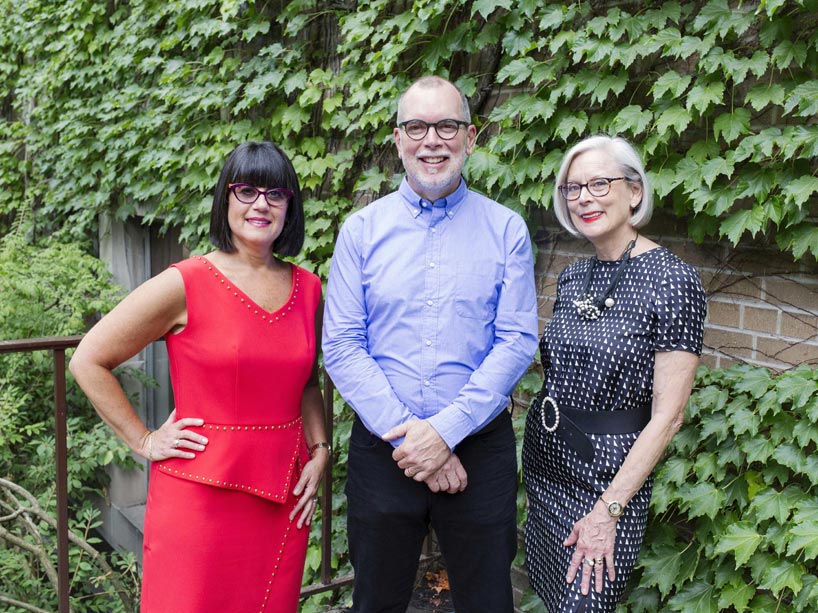 Three Ryerson professors have been elected Fellows of the Royal Society of Canada's Academy of the Arts and Humanities. Established in 1883, the Royal Society of Canada (RSC) recognizes the country's leading scholars, artists and scientists through a competitive, peer-juried process.
School of Image Arts professor Robert Burley, external link is one of Canada's most important interpreters of the role of nature in an urban context. Utilizing the lens of photography, his work is exhibited in some of the world's notable permanent collections, and his leadership in the acquisition of photographic archives was instrumental to the establishment of the Ryerson Image Arts Centre.
Professor of English Lorraine Janzen Kooistra, co-director of the Centre for Digital Humanities, is internationally renowned for her books on British Victorian literature, illustrated books and periodicals. Professor Janzen Kooistra's influential scholarship connects the materials and graphic forms of the 19th century as the original multimedia, and her leadership in digitizing these canonical works preserves them for the 21st century and beyond.
Professor of English Ruth Panofsky has established herself as a leading historian on Canadian publishing history, authorship and Canadian Jewish literature, in particular Canadian Jewish women writers. Through her pioneering work, she has advanced the parameters of Canadian literature and culture by introducing a range of diverse and exciting new voices.
"We are thrilled that professors Burley, Janzen Kooistra and Panofsky are recipients of this prestigious, lifelong honour – one of the highest a Canadian scholar can achieve in the arts, humanities and sciences," said professor Steven N. Liss, Ryerson's vice-president, research and innovation. "Through creative endeavours and the preservation and dissemination of cultural heritage and knowledge, these professors enhance and enrich our day-to-day lives. We're delighted to congratulate our colleagues on their fellowships and important recognition of their scholarship."
Professors Burley, Janzen Kooistra and Panofsky join Ryerson's previously elected fellows, who include professors Marta Braun, R. Bruce Elder and Irene Gammel in the Academy of the Arts and Humanities; professor emeritus Bin Wu in the Academy of Science; and dean emeritus Maurice Yeates along with professors Martin Antony and Candice Monson in the Academy of Social Sciences. The RSC also recognizes Canada's emerging researchers through The College of New Scholars, Artists and Scientists, of which Ryerson professors Catherine Beauchemin, Anatoliy Gruzd, Sepali Guruge, Trevor Hart, Ali Mazalek and Catherine Middleton are members.
The Royal Society of Canada's formal ceremony will take place in Halifax on November 16, 2018, during which the national collegium of 89 new fellows will be inducted.
View the complete list of newly elected fellows and their nomination citations at the Royal Society of Canada, external link.