First Nations knowledge and lived experience are key to new housing program
Community-based research project featured at WE Day
September 18, 2018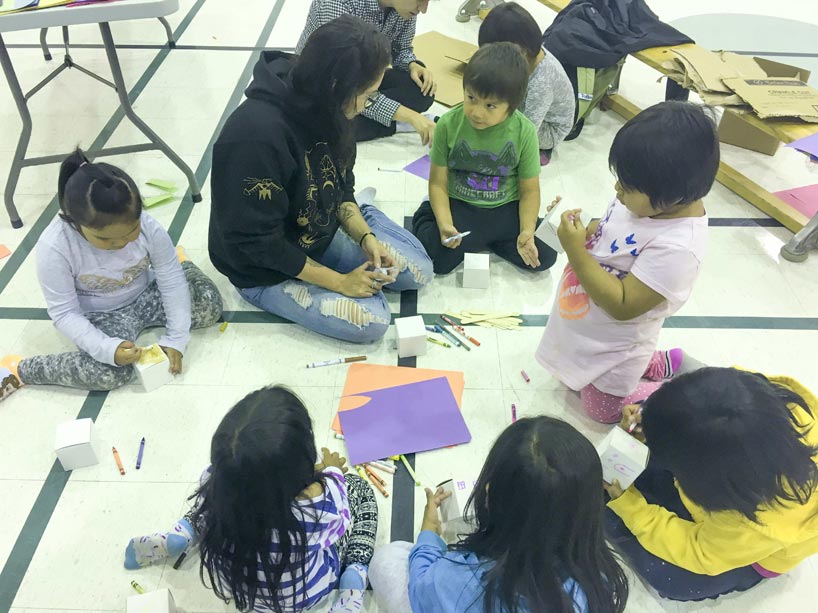 Ryerson researcher Shelagh McCartney has focused on housing issues throughout her career, working with marginalized communities in South Africa, Brazil and the Philippines. But more recently, the architect and professor of urban and regional planning has turned her attention to Canada's Indigenous communities. And it all started with a cold call to longtime First Nations advocate Judy Finlay.
A professor and graduate program director in Ryerson's School of Child and Youth Care, Finlay regularly goes with students and faculty to First Nations communities in northern Ontario. The goal: to better understand the communities' priorities and challenges and the resources they need to achieve wellness – on their own terms.
"I met Judy for coffee," McCartney says, "and now she's my closest collaborator."
In fact, during their first meeting, Finlay invited McCartney to join her next visit to the Near-North. And thanks to Finlay's introductions on that trip, and subsequent visits to the area about 500 kilometres north of Thunder Bay, McCartney is now working with First Nations communities to address their housing needs.
Indeed, those communities are facing many challenges, including a lack of clean drinking water, inadequate and unsafe housing, and tragically, multiple suicides. The latter two situations, in particular, are intertwined, says McCartney.
"Previous work by other researchers has shown that housing crises are directly tied to psychological health and suicide crises," she says.
But instead of building government-supported shelters that are one-size-fits-all, McCartney believes First Nations people should have input into the design and construction of new houses. That way, the homes will be appropriate for the climate, geography and culture of the people who will actually live in them.
"Everyone must have a voice," McCartney says. "That's why we're getting to know people in these communities – because they'll feel more attached to their homes if they have a say in how they are built." Also, she adds, Indigenous communities need their own policies concerning homes and how they're evaluated for livability.
Across Canada, homes must meet government standards regarding health and safety, and the number of inhabitants. The problem is, McCartney says, First Nations communities are measured against criteria they never had a hand in creating. Consequently, those communities are unfairly penalized for their culturally specific living arrangements, especially when it comes to government definitions of overcrowding.
From December 2016 to September 2017, McCartney and a team of researchers from her Together Design Lab (external link) – an initiative that grew out of her work with then-graduate student, Jeffrey Herskovits (now a research associate at the lab) – sought to better understand the ongoing housing crisis in Canada and the role of evaluation metrics in that crisis. The study, which was funded by the Social Sciences and Humanities Research Council of Canada (SSHRC), aided in subsequent projects with the First Nations of Eabametoong and Nibanamik in developing their housing strategies.
"The community of Nibinamik First Nation has been waiting so long to have new housing," says band manager Walter Oskineegish. "We now have a housing policy and a housing authority that looks after the policy."
Today, the Together Design Lab and Nishnawbe Aski Nation (NAN), which includes 49 First Nations communities across northern Ontario, have partnered on an innovative, three-year project to create better, more appropriate and adequate housing on- and off-reserve. Centred around First Nations knowledge and lived experience, the NAN Housing Strategy will create occupant-focused housing assessments, determine localized housing needs and develop housing action plans and solutions at the community and regional levels.
Initially, the strategy received a $200,000 SSHRC grant to pilot the housing-evaluation process. In June, however, the NAN Chiefs-in-Assembly passed a resolution to expand the pilot to a full strategy.
"We are making significant progress," says McCartney, who will present her team's work at WE Day Toronto on Sept. 20. The annual event, held at the Scotiabank Arena, brings together change-makers, celebrities and thousands of young people to celebrate social-action and empowerment initiatives in local communities.
With files from Will Sloan and the Office of the Vice-President, Research and Innovation.

Related story:
Home is where the heart is