Why your geography degree will get you a job
From retail to crime analytics to public health, geography is in high demand
February 02, 2018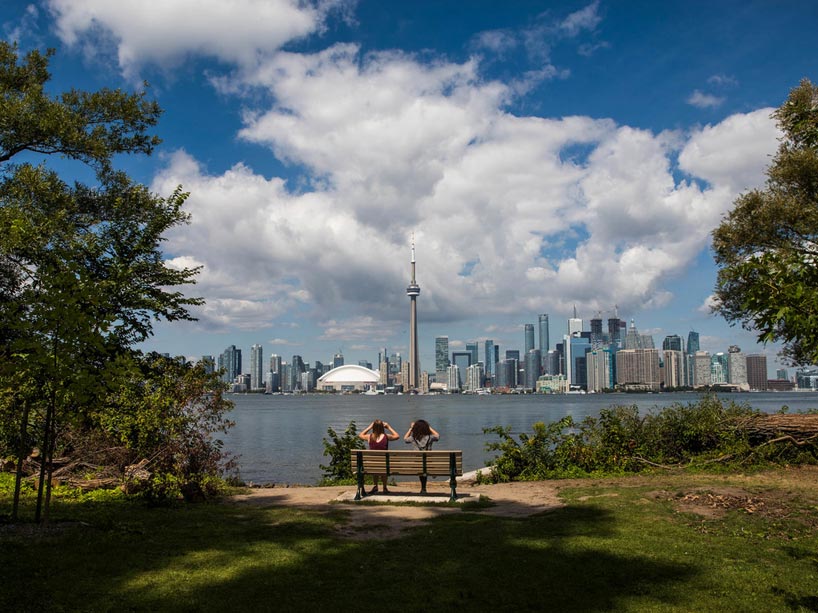 What do you think of when you think of geography? Maybe you remember studying a map in your Grade 9 class, wondering how you'd ever use this knowledge. But consider Heather Hart, a Ryerson grad (Geographic Analysis '13, and Master of Spatial Analysis '15) who now works as a Business Insights Consultant at McDonald's Canada headquarters, using spatial data to forecast product performance in the restaurants. "When we build forecasts, we consider all factors that may influence the performance of a new product including geography," says Hart.
"We use data to find out how restaurants are performing relative to neighbouring restaurants; predicting sales based on their locations; looking at the demographics of the people who live in and around restaurants; and even looking at regional divides on a larger scale across Canada—whether poutine works better in the Quebec market than in the Ontario market, or better in the Ontario market than the Atlantic market, and tailoring our offers to each region."
For Hart, geography presents nothing less than a new level of thinking. "Geography is the broadest discipline you can study because it touches a little bit of everything: financial, arts, geography, demography, everything."
Geography is a concept that spans across disciplines. "There's a geographic element embedded in everything we do, and we collect spatial data now way easier than ever before," says Joseph Aversa, academic co-ordinator in the Department of Geography & Environmental Studies. "Everything we do has a temporal and spatial stamp to it, and there's a need for people to handle that type of information.
"I'm a retail geographer, but if I wanted to change careers, I could. All the skills I've learned are highly transferable to multiple disciplines: the data might change, and the topic might change, but the skills are the same."
Ryerson geography graduates have been employed by retailers like Loblaws, Shoppers Drug Mart, and Canadian Tire, real estate companies like Oxford Properties, and all the major banks. Other grads work with the Toronto Police Service studying the geography of crime: "Is there a cluster of break-and-enters in a specific area? How do we mitigate some of those problems? Are certain places in the city more prone to gun violence? Or assaults? This can be modelled across different geographies," says Aversa.
Most of these businesses use GIS, a concept embedded throughout the geography curriculum at Ryerson. "It might be harder to find a workplace that doesn't use GIS than finding a place that does," said Aversa, who noted that data-driven decisions are increasingly informing both the public and private sectors. "Whether it's a business decision or a municipal issue like transit or planning, all these things have a high cost. In a pre-GIS world, it was not uncommon for people to make decisions based on experience. That still plays a major role, but it's not good enough: if they're going to invest millions of dollars in a decision, they need to make sure that it's backed with facts."
One major investor in GIS technology is the City of Toronto (external link) , which employs geographers in planning, transportation, waste management, parks and recreation, and most of its other units. A geography education can even come into play in the health field, with some grads now working at Toronto Public Health and St. Michael's Hospital. "Diseases diffuse across space, especially if they're contagious. One of the really cool projects our students worked on was looking at the diffusion of the Zika virus. They could actually model the spread and determine at what point in time an individual disease will reach these markets," says Aversa.
"In terms of a degree that can give you a job straight out of graduation, that's geographic analysis," said Claus Rinner, chair of the Department of Geography & Environmental Studies. "We have a different approach from many university geography programs. We've had an applied and professional approach to geography at Ryerson ever since the Geographic Analysis program was created in the '70s. When you look at the LinkedIn profiles of graduates from the last 10 years, many of them are data analysts, business analysts, market analysts, research analysts, data engineers."
To learn about more graduate success stories, visit the WhyRyerson? blog. For more information, visit the Department of Geography & Environmental Studies.
Related stories:
Spatial analysis students develop community asset portal for Toronto Police Service
Tracking the Zika virus
Ex appeal