Q & A with Michael Benarroch
Meet the new provost and vice-president, academic, and learn how he found his passion in academia
February 09, 2018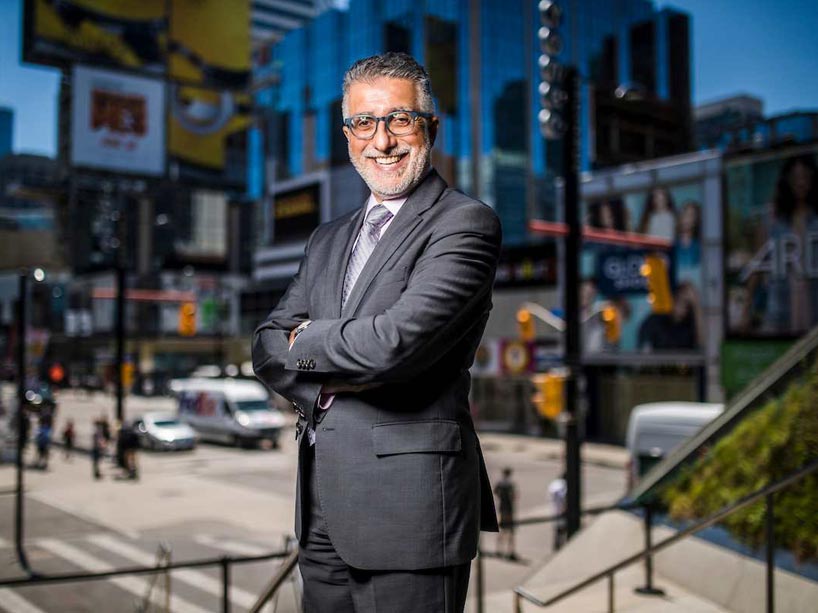 Tell me more about yourself; where were you before Ryerson?
Prior to moving to Toronto this past summer, I was living in Winnipeg with my wife and children. I was dean of the I. H. Asper School of Business at the University of Manitoba, and founding dean of the Faculty of Business and Economics at the University of Winnipeg.
Is Winnipeg home for you?
Yes, I consider Winnipeg my hometown. I was born in Tangier, Morocco and Spanish was my first language, but my family immigrated to Winnipeg when I was three. That's where I learned English. We were the first generation of my family to go to university and I was the first in my family to get a master's degree. My parents came to Canada to provide greater opportunity for their children to flourish.
Thinking back to your student days, what was the biggest obstacle you had to overcome?
I had the challenge of coming from a background that had no knowledge or understanding of what a university is nor what to expect as an undergraduate student. For me, when I enrolled at university, everything was a new experience. It was very challenging.
When I enrolled at Western, I experienced the gap of going from a very small university to a much larger school with much larger classes and a very different mix of students. At first, it was quite intimidating and the challenge of recognizing that I did belong and did deserve to be there was a big hurdle. I realized it was a matter of working very hard to succeed.
Is there a professor or teacher who had a profound impact on you?
I was not a great high school student. When I was an undergraduate student, the chair of the Economics department sent me a letter asking me to meet with her. She told me that I had a talent for economics and should pursue it. That meeting changed the way I viewed myself and the way I viewed my coursework; I began to really pursue and enjoy economics. The same chair gave me an opportunity to teach at a small college, which led me to realize the joy of teaching.
What's a vivid memory or lesson from your time at university?
I was all set to go into law school when my partner pointed out how much I loved economics and teaching. She asked me a very good question – why I would pursue law when it wasn't really a passion? She was right and I enrolled at Western to do a master's in economics.
What attracted you to this opportunity at Ryerson?
I believe that Ryerson is really pushing the boundaries of what a university can -- and should -- be. I believe it's essential that universities be strongly connected to the communities they serve and Ryerson is an excellent example of this – as a city builder, as a good neighbour, and through an extremely strong commitment to being an inclusive institution.
Ryerson has also made innovation and entrepreneurship a core part of its culture and I think it's exceptional how much of this is being driven by and for our students. Experiential learning -- not only for students, but also for our faculty – is a key aspect of the compelling work and research that our community is conducting.
Our world is changing rapidly and universities need to be more deeply connected to the community and world around them if they are to play a role in finding solutions to the complex problems we are facing.
You've only been here a few months, what's the best/most surprising thing you've learned about Ryerson?
The best thing is the passion that everyone in the community brings to this school every day. Students, faculty, staff are all engaged and energized. I'm very excited to be joining a community that is so committed to making Ryerson the best it can be and to be part of a university that doesn't necessarily follow a traditional path.
What's the one thing you'd like the Ryerson community to know about you?
I like to see myself as a very principled person with a strong sense of social justice. I would like to think my decision-making is based on this. I would like people to know that while we may not always agree, I will be honest and I welcome dissenting opinions and different perspectives.
I also really love the world of academia. Not a day goes by that I don't reflect on how fortunate I am to have chosen this path. I have travelled the world, I have researched and taught in subjects of my choosing, and I have taken great enjoyment in every aspect of this job – from developing mathematical models to teaching to being the Provost of a major Canadian university.
Universities have a huge influence on people's lives and directly contribute to people's success in a remarkable number of ways. I am looking forward to hearing from students and our alumni about the impact Ryerson has had – and will have – on their lives.
Lightning Round
What's your favourite part of campus?
Gould Street. I love seeing all the pedestrians – students, community members, neighbours – on our campus.
How do you start your day?
I like to get up very early and go to the gym – I enjoy spin classes. I also read the news every morning and prefer to read a print copy of the newspaper.
What app or technology can you not live without?
Since moving to Toronto this summer, I've been very reliant on GPS and on the traffic app Waze.
What's your favourite thing to do in your spare time?
I like to spend time with my family.
Do you play any sports?
I love basketball and used to coach a high school team. I also like to golf and cycling.
Last books read?
Americanah by Chimamanda Ngozi Adichie and The Undoing Project by Michael Lewis.
Favourite movie?
The Big Lebowski

Related stories
Michael Benarroch appointed Ryerson provost