New market-access program launched for female-led Canadian startups
Ryerson Futures and Innovation, Science, and Economic Development Canada partner to support expansion into India
February 20, 2018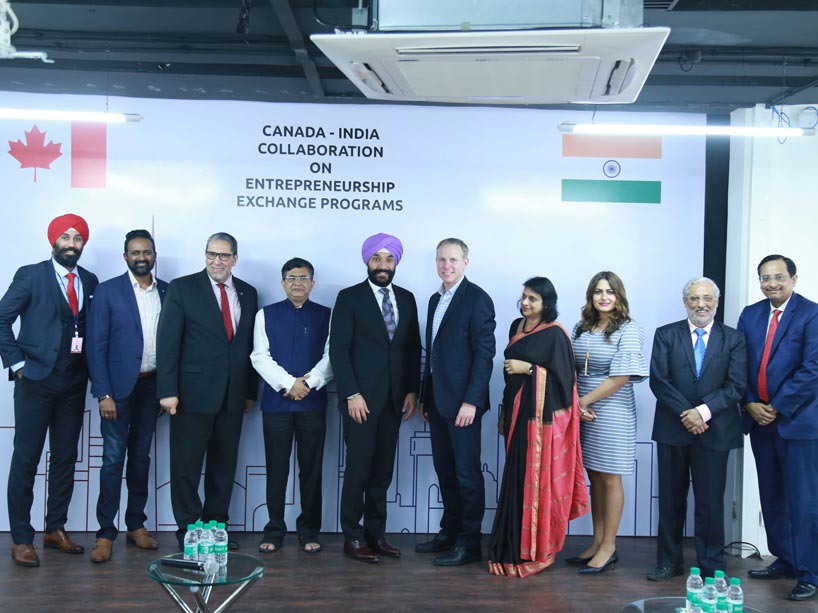 Women who lead Canadian startups have a new opportunity to expand into the Indian market thanks to a partnership between Ryerson Futures and Innovation, Science, and Economic Development Canada.
The market access program initiative was announced at the Zone Startups India, external link office in Mumbai, with Canada's Minister of Innovation, Science, and Economic Development Navdeep Bains, president of Ryerson Futures Matt Saunders, and Ryerson University President Mohamed Lachemi this week.
Toronto-based startup accelerator and seed fund Ryerson Futures, external link will source companies from across Canada each year and provide local boot camps to prepare the selected companies for Indian market entry. The group of female founders will receive local market access programming and connect with Ryerson's empoWer program—a female-focused accelerator in Mumbai—to a select group of female founders looking to expand into the thriving Indian market. The program is targeting 100 companies looking to scale internationally and provide market access. Selected companies will demonstrate that their growing businesses have the best chance of succeeding in a new market.
"Innovation is about finding solutions, and great ideas can come from anywhere and anyone," says Minister Bains, who also noted that the funding from his ministry and the Indian Department of Science and Technology is $1-million. "We cannot ignore half of our world's population as we strive to find solutions to the problems of today and create the jobs of tomorrow. Canadian companies are increasingly exploring India as a destination for investment and we are proud to participate in a partnership that will help even more startups expand beyond Canada's borders."
Zone Startups India, an established accelerator in Mumbai, is a joint venture between Ryerson Futures and the Bombay Stock Exchange. This program will welcome Canadian founders and provide access to their network of customers.
"Ryerson University is pleased to support the objectives of the federal government and be the bridge to international markets such as India for young Canadian entrepreneurs," says Lachemi. "As home to the DMZ, ranked the third best university-based incubator in the world, we have the experience and expertise to educate and train young innovators for success in India, Canada and elsewhere. The focus in today's announcement on women entrepreneurs acknowledges the importance of inclusivity in our future prosperity."
The program is aiming to assess, select, and send its first round of founders in November 2018, with a second round in fall of 2019. There is also a partner program being launched simultaneously, in partnership with the Government of India's Department of Science and Technology that will bring Indian founders to Canada to expose them to the Canadian market.
"Canadian founders are some of the most well-rounded and ambitious in the world," says Saunders. "We're excited to be able to expand our programming and support for these startups as they expand and thrive in a new market."