Law Practice Program named a Champion of Diversity
Ryerson's innovative legal program recognized by provincial government for boosting internationally trained lawyers
February 01, 2018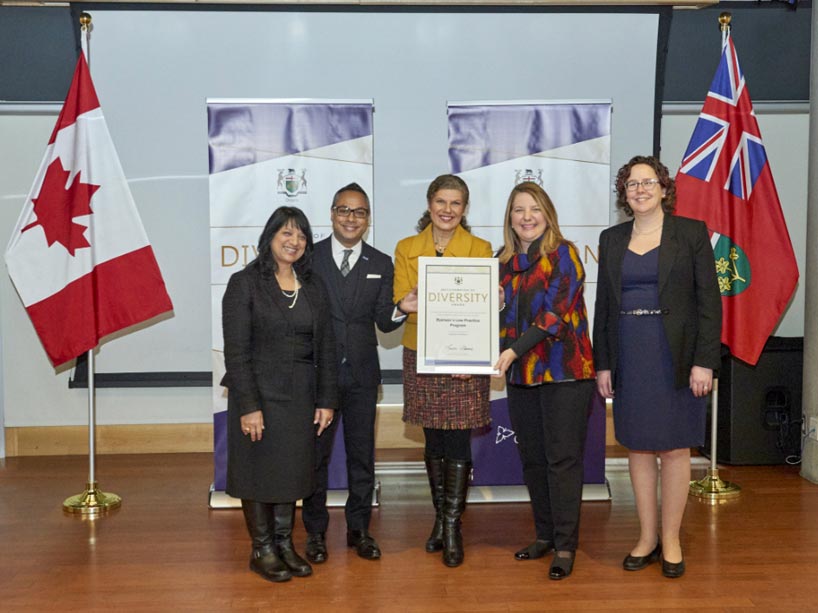 They have the training. They have the skills. All they're missing is a way in. For internationally trained lawyers, a lack of professional networks and hands-on North American legal experience can be barriers to the job market. That's where Ryerson's Law Practice Program (LPP) comes in.
Now, the LPP's mandate of diversity has been recognized by the provincial government: the LPP has received a Champion of Diversity Award, external link from the Ministry of Citizenship and Immigration in the category of Business Leadership in Immigrant Employment. A unique collaboration between Ryerson, the Law Society of Ontario, and the Ontario legal community, the Law Practice Program offers an innovative path to licensing, putting graduates from a variety of backgrounds through a rigorous training program and four-month work placement.
"When internationally trained lawyers first arrive here in Canada, they typically don't have a professional network they can rely on for the opportunities that would be available to other graduates," said Gina Alexandris, director of the Law Practice Program. "We can provide a network of colleagues, a network of professional mentors, and the opportunity to enter into activities and events hosted by many different professional organizations."
For lawyers entering a competitive marketplace, a professional network can be a make-or-break situation. Lawyers from diverse backgrounds are at a disadvantage. "The profession has responded poorly to these issues," said Alexandris. "There are huge pushes right now for the profession to recognize that diversity is critical, and if you look at the face of Canada and Ontario, you'll see how important it is."
One of the first cohort of LPP students from 2014 was Roseanna Dat, a Guyana-born and trained lawyer whose placement at Fasken Martineau led to her joining the law firm as an associate. "I was working full-time and doing my entry exams, and I had to decide if I wanted to do articling," said Dat. "Some people that I met talked a lot about how difficult it is to find an articling position, and how a lot of it is unpaid, and there are too many students looking for positions."
Dat, who nominated the LPP for the Champion of Diversity Award, praises the program for its respectful treatment of its students. "The program is very appreciative of the fact that a lot of people studied in different jurisdictions and have now migrated to Canada," said Dart. "They don't turn our minds away from that—they recognize it. They have a lot of discussions and diversity panels to address those issues. At the same time, they also taught us what we needed to know to settle into a new environment."
The potential impact of diversity on Canada's legal profession is not lost on Alexandris. "As we have put alumni out there, they are now in hiring positions, or are encouraging their employers to think of our candidates. The more talented individuals from the Law Practice Program that are out there, the more that the profession learns about the opportunities.
"We've often said that we're the Law Society's best and most successful diversity program. Half our candidates are foreign-trained, and when we looked at Year Two responses, we had 57 different languages spoken, and a diversity of talent as well—students with master's degrees and PhDs, and many schools represented. We offer training for all, and the networking is also important for students that are trained here, but if you don't have that network established or available to an internationally trained lawyer, it's that much more critical."

Related stories:
Law school proposal approved by Federation of Law Societies of Canada