What it's like to be a male midwife
Midwifery student discusses building trust, clearing misconceptions and being humbled by strength
January 12, 2018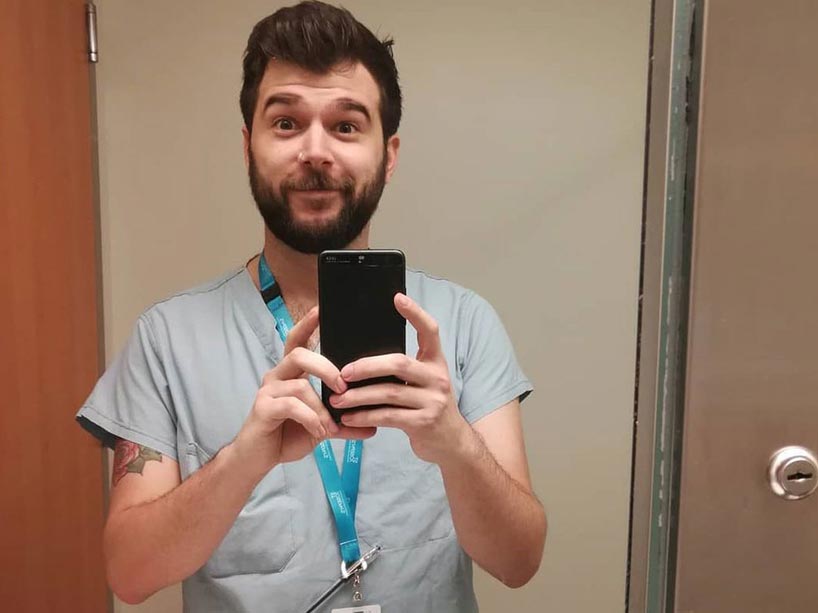 In 2020, if all goes according to plan, Spencer Sawyer will become the first male graduate of Ryerson's Midwifery Education Program. But even if he doesn't look like a typical midwife, the profession is in his DNA. His mother and grandmother were both labour and delivery nurses and his own birth was attended by his great aunt. "I suppose it's like a family business—I come from a family of labour and delivery nurses," says Sawyer.
Sawyer learned more about that family business while pursuing his Women & Gender Studies degree at the University of Toronto, where he graduated in 2014. Now in his second year at Ryerson and beginning his clinical placement, Sawyer is a strong believer in the philosophy of midwifery.
"Midwifery prioritizes the right things, and it's having a bit of a renaissance at a time when it's really needed," he says. "Being a patient in the healthcare system can feel like a lot of decisions are being made for you, or that you're not really in control of what your experience is like. Midwifery puts the power in the hands of the clients, and allows them to shape a birth experience that is very powerful and meaningful to them and their families."
In his clinical placement, Sawyer has been able to participate in the prenatal appointments between midwives and their clients, where they can discuss issues that might not come up in a doctor's visit. "You really do build up a trusting relationship with someone where they know that you're going to present them with options at every step of the way, and that the client will be able to make choices on what's best for them," says Sawyer. "Midwives also care for people six weeks post-partum, so we're there for the full spectrum of care. That continuity of care really does build an intimate, trusting relationship."
Being a man in an almost completely female-dominated field is not without its challenges, but Sawyer values the trusting relationship that midwives and clients build. "When you're working with women and trans people who are having babies, everyone has a different life experience, and some of those people seek midwifery care for a more women-centred healthcare approach. For some people it can be challenging to find out, 'Oh—my student is a male. I didn't know there were male midwives.'
"But even when it comes to clients, I've been so lucky to have such generous people who are so concerned with the education of midwives that they would take on any student just to grow the profession."
Sawyer knows that a male midwife is a novelty, but he wants to use that novelty to educate about labour and delivery. In December, he launched "31 Days of Midwifery," an Instagram, external link campaign to explore midwifery care. "There are an immense amount of misconceptions about birth and pregnancy generally, and I think a lot of folks learn about this through popular media," he says.
"The idea of this screaming individual who's in all of this pain with all of these surgical procedures going on—it's so far from what so much of birth looks like, and I think it's important to resist the idea of what a TV or movie birth looks like."
For Sawyer, the experience of being present at births has been deeply powerful. "You see strength in people that you really don't see anywhere else. To be able to watch someone go through what can be an incredibly challenging experience and still prioritize the needs of a newborn is one of the most humbling, selfless things a person can see. And to see a team of family members and friends and the birthing person and their partner and midwives all working together to create this experience that slips out of time—that's the only thing everyone is focused on, it's incredibly humbling."
*
POSTSCRIPT (Added January 18) - "I want to thank the Ryerson community for this feature, but needed to contribute something that is missing from my dialogue above. Midwifery is a powerful and amazing profession precisely because of the women who have worked to make it so. The history of midwifery is one that has always had to resist patriarchy and systemic oppression, and to ignore that would be to sweep under the rug the work of countless women and trans folks who have done, and continue to do, vital work in keeping midwifery alive. I benefit immensely from the work of my peers and colleagues, and as a white man, experience much more privilege in the world of healthcare than I ever experience challenge or hardship. Midwives across Ontario are fighting right now to address pay inequity on the basis of midwifery being an almost exclusively female profession. It is essential to keep in mind that despite the existence of a male midwifery student in the program, midwifery continues to face challenges deeply rooted in sexism and misogyny. If you are interested in learning more about the incredible work of midwives across Ontario, please check out the Association of Ontario Midwives at www.ontariomidwives.ca, external link." - Spencer Sawyer