Let's talk about sensors
Electrical Engineering grad's startup gets support from Esch Awards and iBoost
January 09, 2018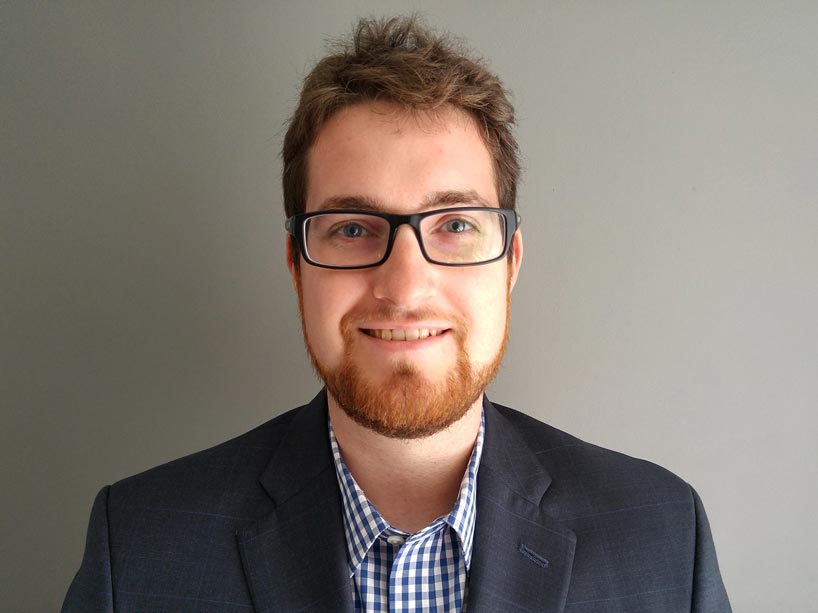 Ryerson Electrical Engineering graduate Nicholas Burgwin is launching a new startup that seeks to disrupt the industrial sensing market.
FIBOS, external link has created a fiber optic sensor measurement platform that replaces the conventional electric strain gauge technology in electronics with advanced, affordable optical sensors. With sensors being used in almost every industry, FIBOS has the potential to make big waves in the oil and gas, energy, and test and measurement sectors.
Burgwin (CEO and co-founder, with Michael Bakaic, of FIBOS) enrolled in the master's program at Ryerson in 2014 after contacting Electrical Engineering professor Xijia Gu. Burgwin had been working at a small company researching fiber optic sensors, and learned that Gu manufactured sensors at his Ryerson lab. "I found the technology quite interesting, and there was a gap in the marketplace for something that was a high-performing optical sensor, but with the accuracy and capabilities of traditional electrical sensors."
Officially launched in 2016, FIBOS has received major financial support, winning all three stages of the Norman Esch Engineering Innovation & Entrepreneurship Awards, was incubated at iBoost, and won several Ontario Centres of Excellence, external link (OCE) awards. "My background is in engineering, not so much in business, so those applications really force you to answer questions you might not always be thinking about when you're developing technology," said Burgwin. "There's a constant pushback about what value you're actually giving to potential customers. Those questions and the thought that goes into answering them are incredibly helpful: you need not only a technology that works, but also an understanding of how it helps people and why it has value."
When asked about the benefits of iBoost, Burgwin said, "For me, it's access to individuals who have more experience. The advisors, the folks who run iBoost—it helps to talk to people who can bring experience to the questions you have. Problems that might be simple to them might be major roadblocks to people starting companies. Learning from other people's mistakes is a lot easier than doing it ourselves, so having access to those people is critical."
FIBOS is currently developing partnerships with manufacturers, distributors, and industries, and has received a $500,000 order from the federal government through the Build in Canada Innovation Program, external link. Through this program, FIBOS is delivering products to four different groups within the National Research Council of Canada. "The intent of the program is for the federal government to act as your first customer," said Burgwin. "The beauty of it is that it forces you to have a supply-chain and manufacturing, and also lets you put units in the hands of customers and get friendly feedback."
For more information, visit fibos.ca, external link.